Press Release
2023.03.01 UP
【 Press Release】Inter BEE 2023 Exhibition Announced Japan's Largest Comprehensive Media Events to be held at Makuhari Messe
[Outline] Period:Makuahri Messe Venue: November 15 (Wed) ~ 17 (Fri)

Online Venue:November 6 (Mon) ~ December 15 (Fri)

[Accepting Exhibitors] Application:March 1 (Wed), Primary Application:until May 31 (Wed)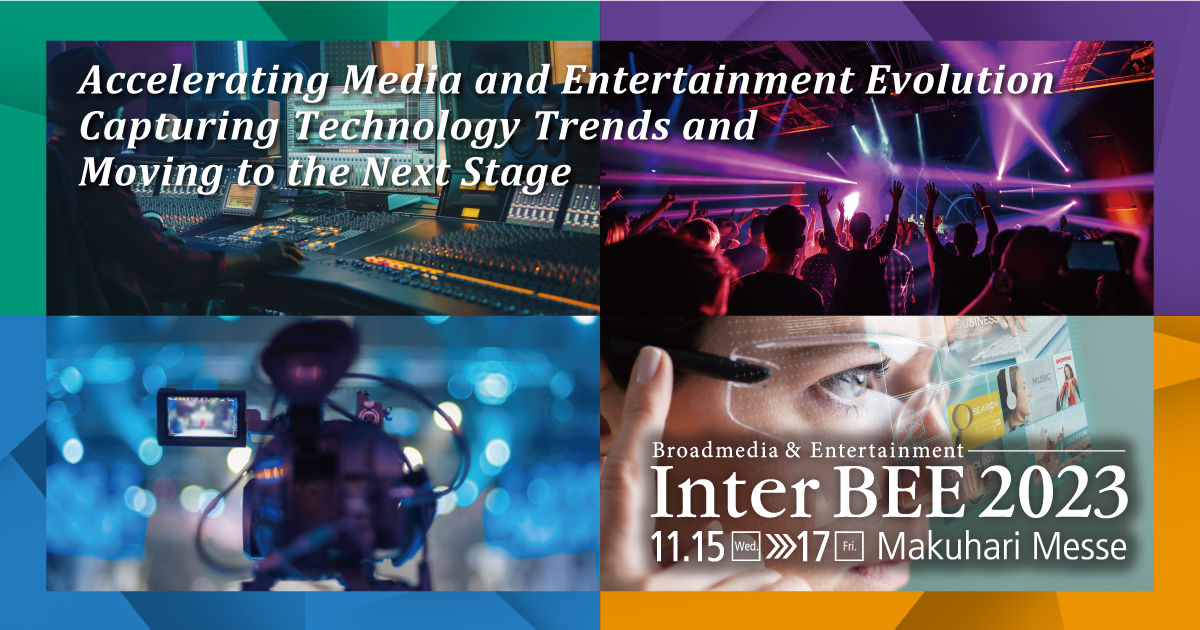 The Japan Electronics and Information Technology Industries Association (JEITA; Representative Director/Chairman Takahito Tokita, President & CEO, Fujitsu Limited) announced today that it will host Inter BEE 2023, a comprehensive media event, at Makuhari Messe from November 15 (Wed) to 17 (Fri), 2023. Applications for exhibiting at Inter BEE 2023 will be accepted from 10:00 a.m. on March 1 (Wed), with the first deadline for applications being May 31 (Wed) and the second deadline for applications being June 30 (Fri).
■A comprehensive media event that creates new dimensions of business opportunities
Inter BEE is one of Japan's largest comprehensive media events where professionals in various fields of media and entertainment gather. One of the features of Inter BEE is that it brings together a wide range of people from the audio, video, and communications industries, as well as media and user groups. Inter BEE aims to create business opportunities by providing a real communication space where people can meet, experience, and interact with each other on the business stage, covering all areas of content creation (production), delivery (transmission), and reception (experience).

In addition, some of the category names have been renewed this year in order to broaden the scope of exhibitors in response to the various fields of the evolving industry, such as entertainment-related technologies, equipment products, content expression technologies, and solution technologies. The exhibition area will consist of four categories: "Professional Audio", "Video Production/Broadcasting Equipment", "Entertainment/Lighting" (formerly "Video Expression/Pro Lighting"), and "Media Solutions" (formerly "ICT/Cross Media").
■Reorganize special programs to accelerate the attraction of new exhibitors
Theme-specific special events will be reorganized. The former INTER BEE CONNECTED will be renamed "INTER BEE BORDERLESS" and its theme will be the evolution and business beyond the fusion of broadcasting and communications. INTER BEE CREATIVE will set up an exhibit area for video marketing, welcoming visitors from the advertising industry, including advertising agencies and advertisers. At INTER BEE IGNITION x DCEXPO, a start-up area will be set up to serve as a point of contact for advanced content production-related technologies and businesses. INTER BEE IP PAVILION will continue this year, aiming to provide a system sharing experience that transcends the boundaries of broadcasters.
■Hybrid format: in-person and online.
Inter BEE 2023 will be held in a hybrid format. The Makuhari Messe venue will focus on the user experience, providing a venue where a wide variety of professionals can actually experience the equipment and solutions. The online venue will be positioned as a complementary venue for information dissemination, and exhibitors will develop measures to enhance their information dissemination.

Inter BEE 2023, now in its 59th year, will continue to work with and support the progress of the media-related industry. While continuing its history as a venue for creating business opportunities, Inter BEE 2023 will contribute to the evolution and expansion of a wider range of related fields and provide advanced and useful information to as many professional users as possible.
Details of Inter BEE 2023's various projects and conferences will be announced as they become available.

Name : Inter BEE 2023

Period : <Makuhari Messe> November 15 ~ November 17, 2023

<Online> November 6, ~ December 15, 2023

Venue : Makuhari Messe and Online (https://www.inter-bee.com/)

Admissions : Free(Registration Required)

Organizer : Japan Electronics and Information Technology Association (JEITA)

【Inquiries for Press and Media personnels】

Japan Electronics and Information Technology Association (JEITA)

Public Relations Office

TEL:03-5218-1053  E-mail:press@jeita.or.jp