Press Release
2022.03.01 UP
Inter BEE 2022 Exhibition Announced Japan's Largest Comprehensive Media Events to be held at Makuhari Messe for Second Consecutive Year
[Outline] Period:November 16 (Wed) ~ 18 (Fri), Venue:Makuhari Messe/Online

[Accepting Exhibitors] Application:March 1 (Tue), Primary Application:until May 31 (Tue)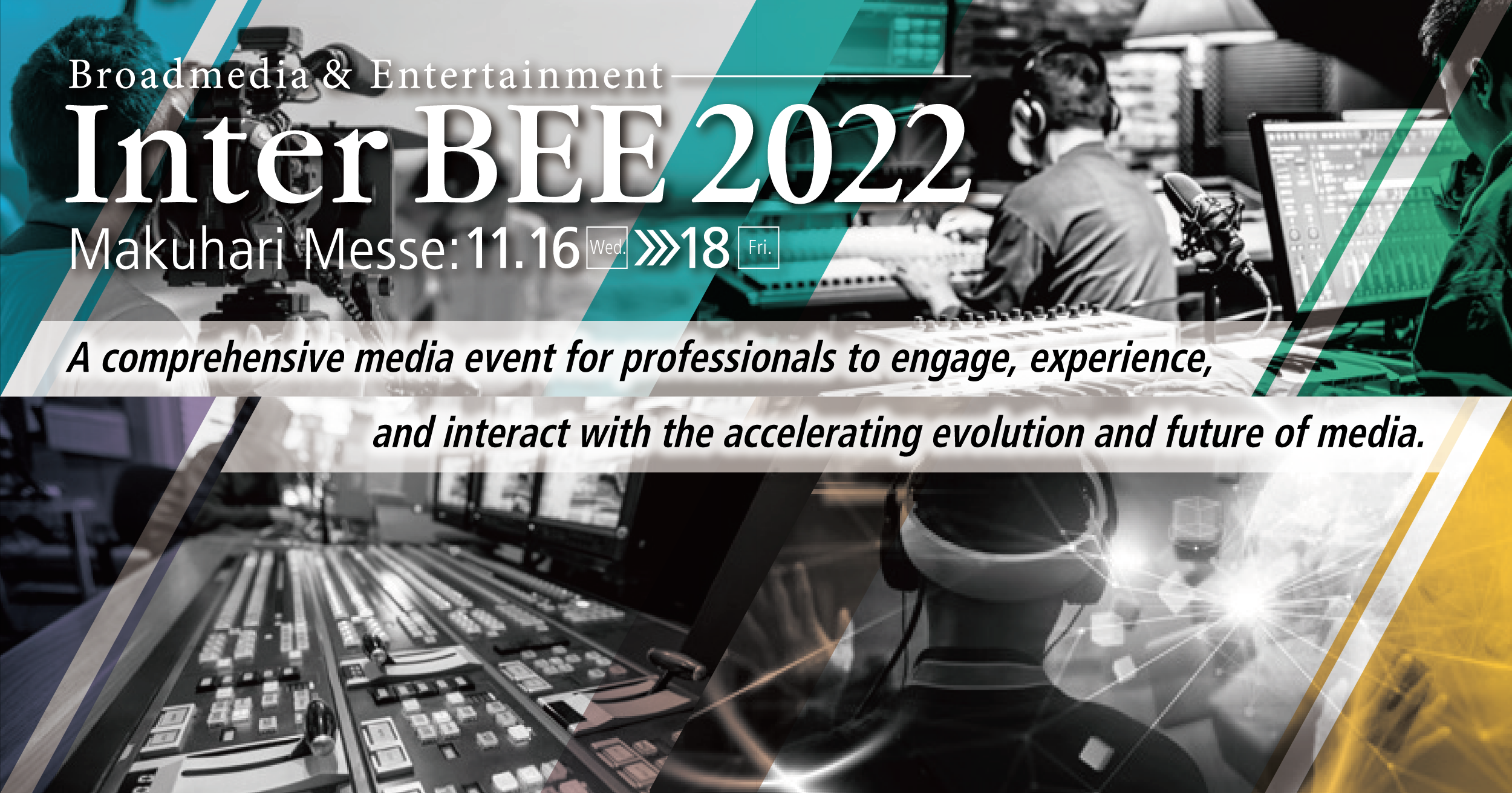 The Japan Electronics and Information Technology Industries Association (JEITA; President and Chairman: Satoshi Tsunakawa, President and CEO, Toshiba Corporation) announced today that it will host Inter BEE 2022, a comprehensive media event, from November 16 (Wed) to 18 (Fri), 2022. For the second year in a row, the event will be held at Makuhari Messe (Chiba City, Chiba Prefecture) and online. Applications for exhibiting at Inter BEE 2022 will be accepted from 10:00 a.m. on March 1 (Tue), with the first deadline for applications being May 31 (Tue) and the second deadline for applications being June 30 (Thu).
■The industry's largest community

Inter BEE is one of Japan's largest comprehensive media events, attracting media and entertainment professionals from a variety of fields, and is eagerly anticipated by the industry community that transcends the boundaries of audio, video, communications, and media. The event provides a real communication space where visitors can engage, experience, and interact with each other on a business stage that encompasses all fields of content making, delivery, and receiving. The exhibition area will consist of four categories: "Professional Audio," "Video Production/Broadcasting Equipment," "Video Expression/Professional Lighting," and "ICT/Cross Media Section."
■Media Transformation and Expansion

Inter BEE 2022, which will be held for the 58th time, will present to a diverse variety of business users, then ever before, with the possibilities of media and entertainment. As well as new trends in the content production, including the expansion of video production needs in a wide range of industrial fields along with media innovation, advanced content technology, metaverse, and AI. We will share the new trends in the field of content production and the possibilities of media and entertainment to a wider variety of business users.
Details of the events and conferences at Inter BEE 2022 will be announced as they become available.
______________________________________
Name : Inter BEE 2022

Period : <Makuhari Messe> November 16 ~ November 18, 2022

<Online> November 1, ~ December 23, 2022

Venue : Makuhari Messe and Online (https://www.inter-bee.com/)

Admissions : Free(Registration Required)

Organizer : Japan Electronics and Information Technology Association (JEITA)
______________________________________
【Inquiries for Press and Media personnel】

Japan Electronics and Information Technology Association (JEITA)

Public Relations Office

TEL:03-5218-1053  E-mail:press@jeita.or.jp