Inter BEE 2019: Advance Registration for Inter BEE 2019 and Sessions from Today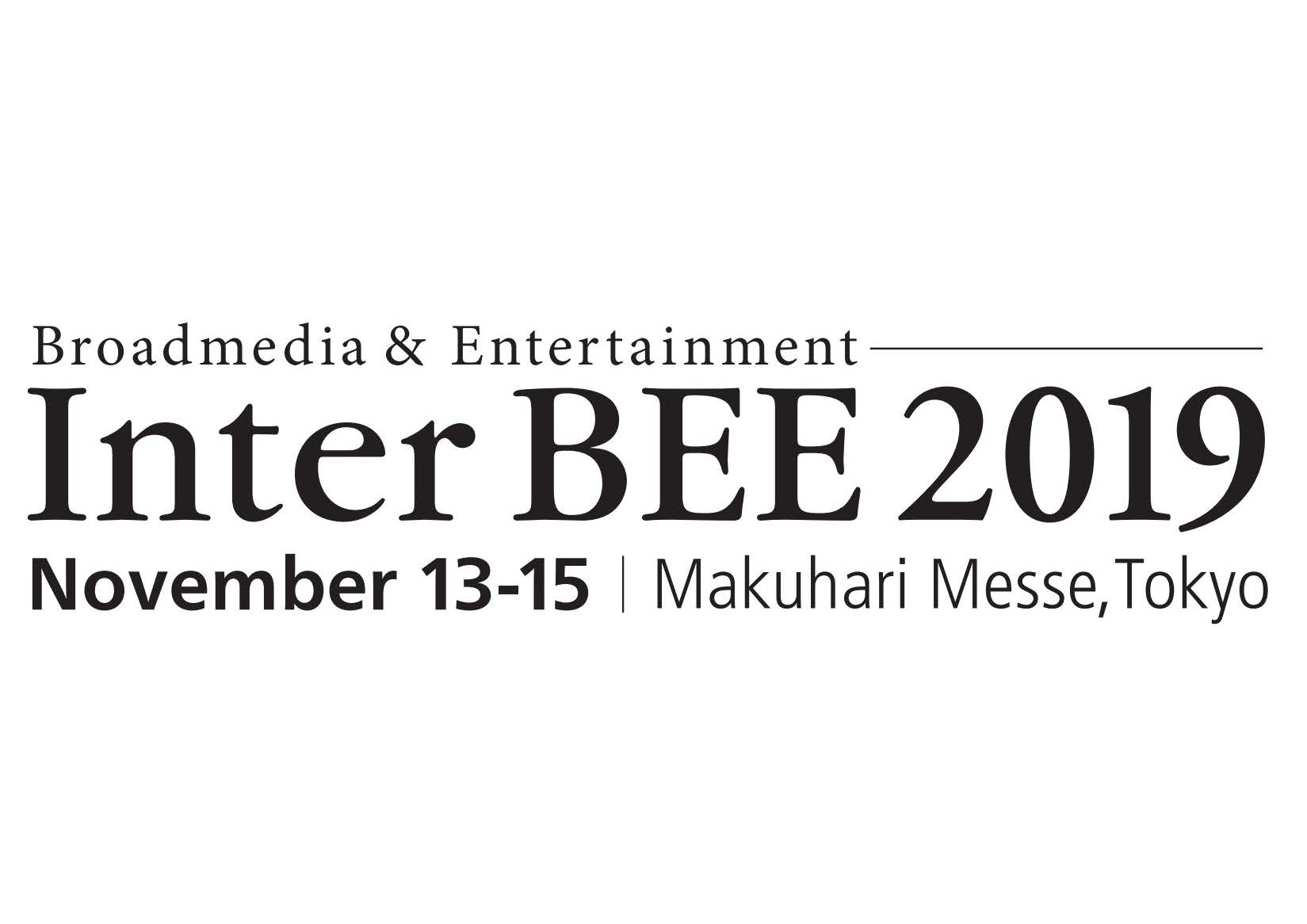 Advance registration to attend Inter BEE 2019 to be held in Makuhari Messe over three days from November 13 (Wed) to 15 (Fri) and acceptance of reservations to attend sessions started on the official Inter BEE 2019 website on September 27 (Fri). It is free to attend Inter BEE.

Inter BEE 2019 Expected to Be the Largest on Record
Inter BEE boasts a 55-year history and track record this year as an event that brings together under one roof the latest innovations in video, broadcasting, communications, audio, lighting and the media business. It has grown as a comprehensive event for new media communications and entertainment covering the fields of "creating (production)," "sending (transmission)" and "receiving (experiences)" with content at the core of this.

We are receiving applications to exhibit at Inter BEE 2019 at a pace that exceeds the 1,152 exhibitors we had last time – the highest number we have ever had – as of September 26. Therefore, we expect the event this year to be the largest on record in the end.
Showcasing the Evolving and Changing Frontline of Sports Content
How will increasingly diverse media (e.g., broadcasting, communications and live performances) convey and express sports utilizing the latest technologies ahead of the Olympics and Paralympics next year? We will hold a keynote speech session and special exhibition under the theme of sports content that is evolving and changing on a daily basis through broadcasting, communications and live performances as a new initiative this year.

The keynote speech will showcase the frontline of sports content from various angles with sports serving as the special theme on the first day of the event. Furthermore, we will hold INTER BEE SPORT in the exhibition hall. This will be a special exhibition which will introduce the latest technologies, software, tools and services that are transforming the production, relay broadcasting and distribution of sports content.

DC EXPO to Again Be Held at the Same Time as Inter BEE
Digital Content EXPO (DC EXPO; organizer: Digital Content Association of Japan (DCAJ)) is an international event on the theme of advanced content technologies and digital content. This event has a track record over many years of contributing to innovation in the content industry and of introducing the progress of technologies used in the production, distribution and consumption of content with the potential to change society in the future. It was held at the same time as Inter BEE last year and the same will happen again this year.

It is possible to touch and actually experience the latest contents and technologies while listening to explanations about them from their developers in the Content & Technology Showcase (CTS) – the main program of the DC EXPO – on the theme of advanced content technologies and digital content.

In addition, advanced technologies and diverse contents will be displayed and demonstrated in Innovative Technologies 2019. This is a program to experience technologies that are expected to greatly contribute to the development of the content industry through innovation.

Appearance Together of Four Mobile Communications Companies in the 5G Session
Those responsible for 5G in four mobile communications companies – NTT Docomo, KDDI, Softbank and Rakuten Mobile – will give speeches respectively in the 5G Session to be held in the afternoon on the second day. Rakuten Mobile, which has now entered this business, will also participate this year in the 5G session that will again be held following on from last year. This will be a valuable opportunity to learn about the overall picture of 5G in Japan.
Latest IP Trends, Fusion of Broadcasting and Communications, and Expanding Media and Content Creative
We will implement four special events to propose and disseminate future possibilities by capturing the latest trends in media and entertainment from various perspectives.

We will hold a special exhibition to operate the technologies and products of IP live transmission that have already started to be introduced into Japan in the INTER BEE IP PAVILION. Furthermore, we will showcase the present and future of media and entertainment from various perspectives with INTER BEE CONNECTED, an event to propose the next step in broadcasting from the accelerating fusion of broadcasting and communications, INTER BEE IGNITION, an event to propose the possibilities of expressions and contents extended to new media, and INTER BEE CREATIVE, an event to showcase the latest trends and the creativity of those from the frontline of video production.
More Than 100 Sessions to Be Held over Three Days
The keywords for this year's INTER BEE FORUM include sports, AI, 5G, IP conversion, 4K/8K content production and radio management. A total of over 100 sessions with various themes will be held during the three days of Inter BEE 2019.

We are now accepting advance reservations to attend the various sessions of INTER BEE FORUM and the special exhibition/stage sessions to be held in the exhibition halls on the official Inter BEE 2019 website. (This excludes some mini stages.)
Largest Ever! Global Scale High-quality Speaker Experience
INTER BEE EXPERIENCE has now become an established event of Inter BEE. We will again this year hold an experience demo of speakers used in live events. This demo will bring together under one roof 18 products from 15 brands – the largest ever number on record – in the large arena of Makuhari Messe Event Hall. This will make it possible to experience that quality with a loud sound. In addition, we will set up an area to experience microphones and headphones for professional users in the exhibition halls. This will be a valuable opportunity to see high-quality products lined up for which there are few chances to listen and compare.
Early Registration to Attend Inter BEE and Reservations to Attend Sessions!
Make sure to register to attend Inter BEE and make reservations to attend sessions early!

It is possible to experience the world of the near future in media communication and entertainment at Inter BEE through exhibitions/presentations of the latest products by exhibitors from Japan/overseas and conference sessions and experience events on various themes. The event is packed with the latest information valuable for a wide range of stakeholders involved in video and content. This includes broadcasting/communication operators and video/audio production stakeholders in addition to those in charge of advertising and marketing in regular companies or local governments, design/web production stakeholders, and facility/event-related operators.

Highly popular sessions fill up early. Therefore, we recommend you register to attend Inter BEE and make reservations to attend sessions early.

Furthermore, we have updated the system to register to attend Inter BEE in advance. You will not be able to log in with the ID (email address) and password you used to register at INTER BEE 2018 and before. This means you will need to register again.
Overview of Inter BEE 2019
Name: Inter BEE 2019 / (55th) International Broadcasting Equipment Exhibition 2019
Dates: 10 a.m. to 5:30 p.m. on November 13 (Wed) and 14 (Thu) and 10 a.m. to 5 p.m. on November 15 (Fri), 2019
Venue: Makuhari Messe (Exhibition Halls 1 to 8, Event Hall and International Conference Hall) 2-1 Nakase, Mihama-ku, Chiba-shi, Chiba
Admission: Free (Registration system)
Organizer: Japan Electronics and Information Technology Industries Association (JEITA)
Supporters: Ministry of Internal Affairs and Communications (MIC) and Ministry of Economy,
Trade and Industry (METI) [Listed in ministry order] NHK,
The Japan Commercial Broadcasters Association (JBA),
Association of Radio Industries and Businesses (ARIB),
Digital Content Association of Japan (DCAJ) and The Association for Promotion of Advanced Broadcasting Services (A-PAB) [Listed in no particular order]