Joy of gathering at Makuhari once again! Now Accepting Exhibitor Applications!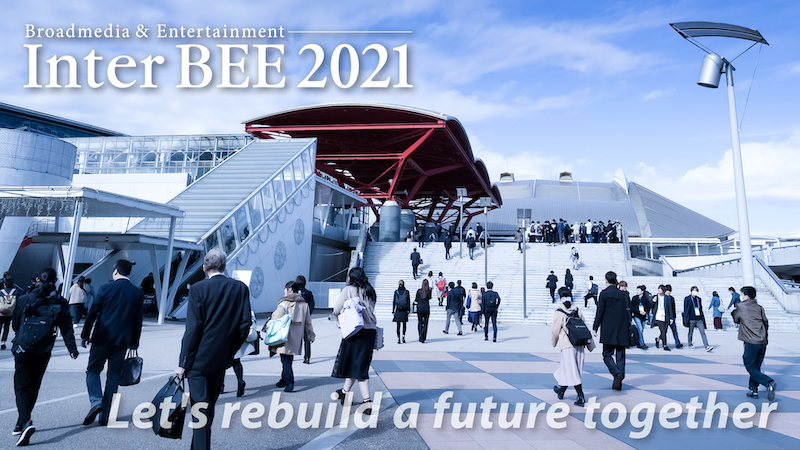 Inter BEE has started accepting applications for this year's exhibition, Inter BEE 2021. On Inter BEE 2020 ONLINE visitors got to experience the exhibition from the comfort of their couch. This year Inter BEE will hold the exhibition at Makuhari Messe for visitors to have a hands-on experience, as well as face-to-face discussions amongst the participants of the exhibition. Inter BEE will also incorporate the online portion of last year's event to make the exhibition more inclusive to all visitors. 2021 will be an epoch-making year and an opportunity for all exhibitors.
The largest exhibition of technologies and equipment related to video and audio.

The largest exhibition of technologies and equipment related to video and audio.
This year marks the 57th year of Inter BEE, which showcases various technologies and equipment related to broadcasting, communications, video and audio. Inter BEE is supported by the Ministry of Internal Affairs and Communications (MIC) and the Ministry of Economy, Trade and Industry (METI), Japan Broadcasting Corporation (NHK), the National Association of Commercial Broadcasters in Japan (NAB), the Radio Industries Association of Japan (RIAJ), the Association for Promotion of Broadcasting Service Advancement, and the Digital Content Association of Japan. It is the official comprehensive exhibition for the Japanese media and entertainment industry.

As a space that supports the expansion of entertainment to all areas and new generations.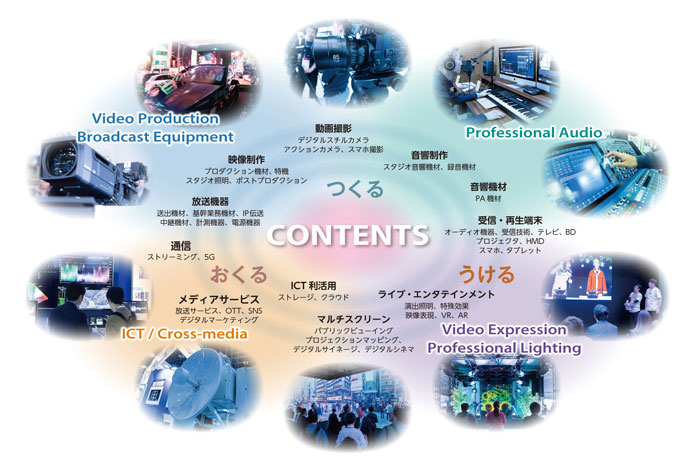 Inter BEE, which has developed based on broadcasting technology, is no longer limited to broadcasting or technology. It has been recognized as a comprehensive media event that encompasses content production, transmission, and experience, and has expanded its field to include the 2020s trends of 5G, ICT, cloud services, and other network-related areas, as well as large-scale video, audio, lighting, and other live entertainment-related areas. Last year, it has started to cover the area of remote video and live experiences. Cutting-edge technology and equipment for casual content production on platforms such as YouTube were also part of the exhibition. This year's DC Expo will also be held concurrently, allowing visitors to interact with young creators. Whether you are a content professional, semi-professional, or amateur, this will be an essential exhibition for all those involved in media and entertainment.
Taking all possible measures to create the best possible atmosphere.
When Inter BEE was held in Makuhari the year before last, it attracted over 40,000 visitors. This year's event will be held in Makuhari in compliance with the various guidelines and with the best infection prevention measures in place. It will be an interesting opportunity to experience a "new style" of the exhibition. If you are interested in exhibiting, please contact us using the contact information below.
Exhibition Overview:
Name: Inter BEE 2021
Period: November 17(Wed.) - 19(Fri.) 2021
Venue: Makuhari Messe and Online(https://www.inter-bee.com/en/)
Admission: Free(Some session may be charged)
Organizer: Japan Electronics and Information Technology Industries Association (JEITA)
Management: Japan Electronics Show Association (JESA)

■Inquiries from companies and organizations regarding this matter

Japan Electronics Show Association (JESA)
E-mail:contact2021@inter-bee.com