Support & Service
Promotion
Inter BEE has expanded its promotion activities to serve exhibiting companies and organizations in a variety of ways. Not just before or during the exhibition, we can introduce your activities and products by a diversity of means such as the media, web, and videos.
Owned Media ~Earned Madia
In addition to prior registration of visitors and registration for entry to sessions, the latest news and exhibitor news is provided via the official website all year round. Information is widely distributed according to its respective characteristics via mail magazines, official SNS entries and other methods, raising the expectations of Inter BEE visitors. In addition, exhibition booth and product information is widely distributed and introduced beyond the immediate venue.
Inter BEE Official Website
Page views (From January to November 2019):537,818 Sessions
Number of articles posted on Online Magazine:294

Inter BEE Official Mail Magazine
Delivered to the Visitors accumulated overtime.
Approx:78,000 magazines
x27 times sent
※Previo us Record
※Publishing text banner Ads (See P24)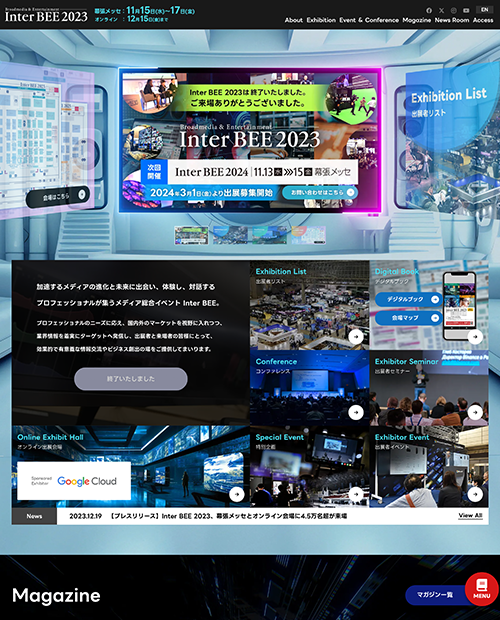 Official Twitter
Numbers of Twitter Followers:2,619 (an increase of 172% from the previous year)
Twitter:347 Tweets
Annual Impression:2,426,097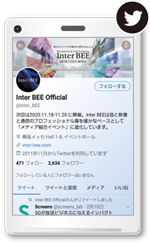 Official Facebook
Numbers of Facebook Followers:5,276 (an increase of 110% from the previous year)
Number of Posts:306 (including Stories)
Number of page transfers from the Facebook page to the Official Website:2,134,277
Total video played throughout the year:57,362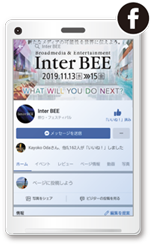 Official Instagram
Numbers of Instagram Follower:828 (an increase of 179% from the previous year)
Number of Posts:193 (including Stories)
♯interbee2019
Hashtag posted:948 times (by other users within Instagram)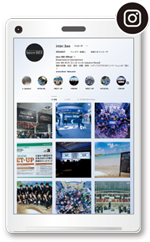 Invitation / Poster
We distribute a specified number of these free of charge to each exhibitor. These are also distributed through our supporters and partners from the Management Office of the organizer.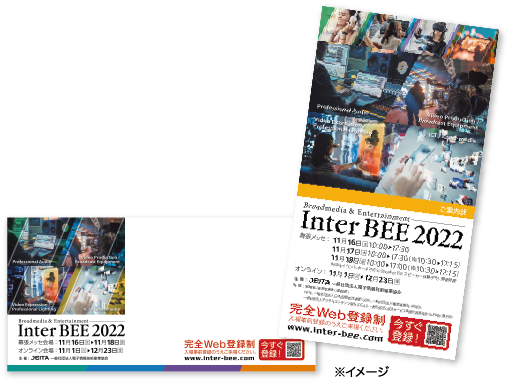 Publicity activities
Information distribution has been enhanced through publicity activities, invitations to cover exhibition booths and products, article-based promotions, and media such as TV coverage.
Publicity activities (Actual distribution of press releases)
*Notification of start of pre-admission registration (9/26)
*Announcement of the outline of INTER BEE EXPERIENCE (10/3)
*Announcement of the outline of INTER BEE CONNECTED (10/29)
*Announcement of the outline of INTER BEE IGNITION (10/31)
*Announcement of the outline of INTER BEE CREATIVE (11/6)
*Announcement of the outline of INTER BEE IP PAVILION (11/8)
*Announcement of Opening (11/12)
*Set up press room (11/13-15)
*Reported completion(11/15)
News Media Representative
342 People
WEB NEWS
@Press
News Shooter
Advanced Media
NIKONIKO NEWS
ASCII.jp
PANORA VIRTUAL REALITY JAPAN
AVWatch
PCWatch
AXIS Web Magazine
PHILE WEB
CAPA Camera Web
PRONEWS
CGWORLD.jp
PRTimes
Digital Camera Watch
ROCK ON PRO
Developers.IO
SankeiBiz
Event Marketing
Screens
Eventr.jp
Sports Video Group
eWarrent
Stereo Sound ONLINE
feedclass News
The Asahi Shimbun Digital
GASKET
The SANKEI NEWS
Internet Watch
TV Technology
Itmedia News
VIDEO SALON
Livedoor News
VRonWEBMIDEIA
MICE&Event Marketing
YAHOO! News
Shuttle Bus
Operation of a Free Shuttle Bus with NHK and Key Commercial Broadcasters. We operate a free shuttle bus that connects Makuhari Messe to the entrance of each broadcaster during the period of the exhibition in order to encourage our core user television station stakeholders to visit Inter BEE. This service is used by many people every year.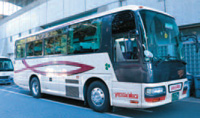 Paid Media
Advertising has been expanded in Japan through relevant industry journals and new user segments, and overseas through global partner events such as NAB and IBC and via influential video-related media. Making use of SNS advertising and technology, we can promote the exhibition in more depth to a wider audience of prospective visitors.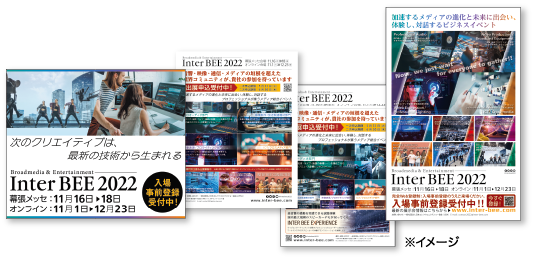 Media Partners
Related industry journals and magazines helped support Inter BEE as media partners, graciously publishing many articles on the exhibitors.

YouTube Channel
At your request, we will report on exhibitor companies' booths free of charge! As well as leading to continued PR, you are free to use this archive as a video-based tool to introduce your own company's activities after the exhibition.
Number of video clips posted during the show (Inter BEE TV)
123 Videos
Inter BEE TV