Support & Service
Initiatives to attract Visitors
To maximize the effects of exhibiting at Inter BEE and to attract as many visitors as possible, we will conduct promotional activities in a variety of ways.
We will strengthen information transmission through the media and websites.
Owned Media - Earned Media
Information on exhibitors' products and the industry will be disseminated through the official website, Social Media and e-mail magazines. This will help raise expectations of visitors to the Makuhari Messe venue and the online venue for Inter BEE.
Inter BEE Official Website
Site visited:over 580,000session
Online Magazine Article published:40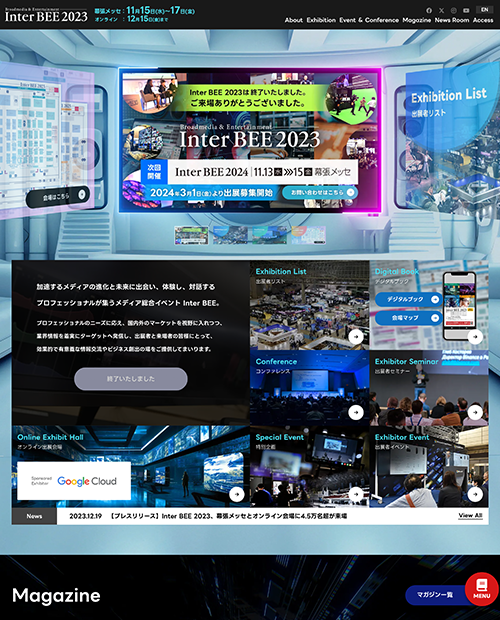 Inter BEE Official Mail Magazine
To attract visitors, e-mail newsletters will be sent to the Inter BEE visitor database on a regular basis.

About96,756accounts per article
March-December31articles sent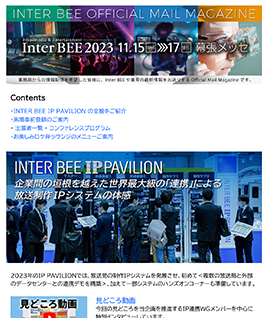 Official Twitter
Followers:3,791
Tweet posted:311
Impressions (March-December):956,447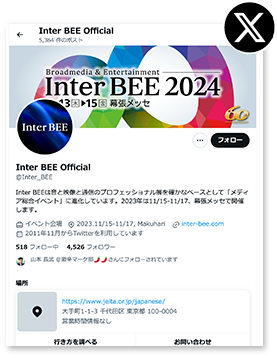 Official Facebook
Followers:5,711
Posted:153
Annual Reach:647,382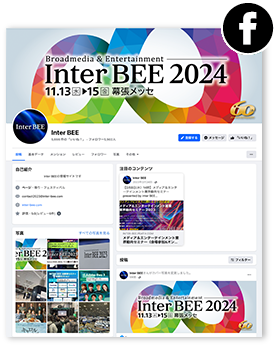 Invitation
Invitation
We will provide the number of invitations used free of charge to all exhibitors.
The organizer and secretariat will also distribute invitations through supporting and cooperating organizations to attract visitors.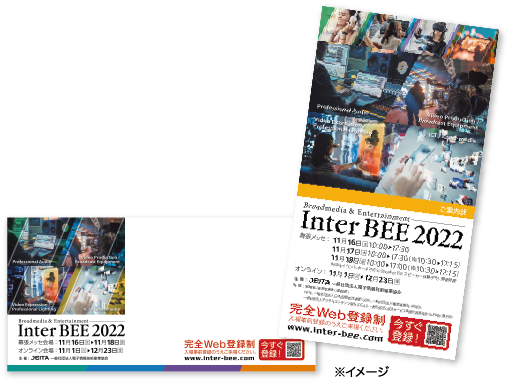 Customized Digital Invitation Leaflet
By using original images including the company name and booth number, the cover of the digital invitation leaflet can be customized for your company and more effectively lead visitors to your booth.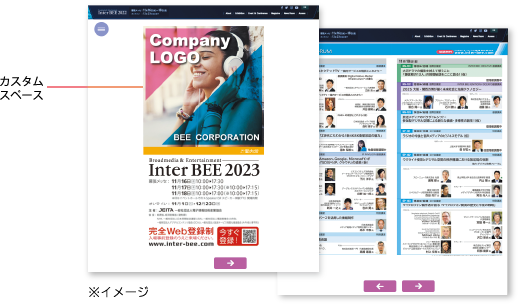 Publicity
Public Relations Activities
We are strengthening our information dissemination through the media, including public relations activities, inviting media coverage of our exhibition booths and products, promoting articles, and arranging TV coverage.
Press release distribution results
・Inter BEE 2022 Exhibition Announced Japan's Largest Comprehensive Media Events to be held at Makuhari Messe for Second Consecutive Year(3/1)
・Announcing『INTER BEE IGNITION×DCEXPO』(4/1)
・Accepting pre-registration for Inter BEE 2022(10/4)
・Inter BEE 2022 Online Venue to Open on November 1(10/31)
・Inter BEE 2022 to open at Makuhari Messe on November 16(11/15)
・Inter BEE 2022 Attracts 26,901 Visitors to Makuhari Messe(11/21)
・Inter BEE 2022 Ends with about 40,000 visitors.
Registered Press and Media
186Registered Press (Makuhari Messe)
205Registered Press (Online Period)
Major WEB NEWS publications (in no particular order)
VIDEO SALON
PRTimes
DCWatch
PRONEWS
AVWatch
ascii.jp
PHILEWEB
Screens
DEMPA SHIMBUN
iZOTOPE
ValuePress
MarTech
Nippon TV NEWS
classmethod
IIJ Engineers Blog
ITmediaNEWS
Fuji Television
Mynavi NEWS
CAMERAWEB
XTECH
Shuttle Bus
Provide free shuttle bus service to and from NHK and key commercial broadcasters.
Free shuttle bus service between NHK, commercial broadcasting station and Makuhari Messe.
Free shuttle bus service is available between the entrance of each station and Makuhari Messe during the exhibition period to promote the visit of TV station personnel, who are the core users of the exhibition.
This service is used by many people every year.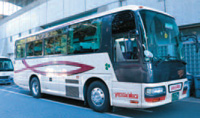 Paid Media
Advertisements
Advertise through the relevant industry publications and global partner events.
Utilizing social media advertising and ad technology to promote to a wide range of potential visitors.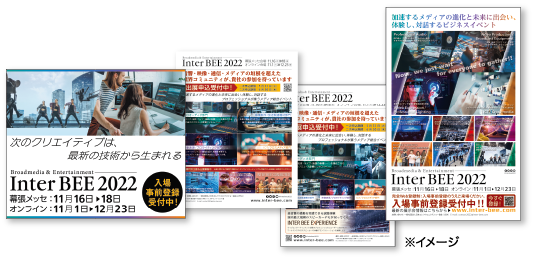 YouTube Ads
To attract a wider range of visitors, promotional videos will be advertised on YouTube.