Press Release
2022.10.31 UP
【Press Release】Inter BEE 2022 Online Venue to Open on November 1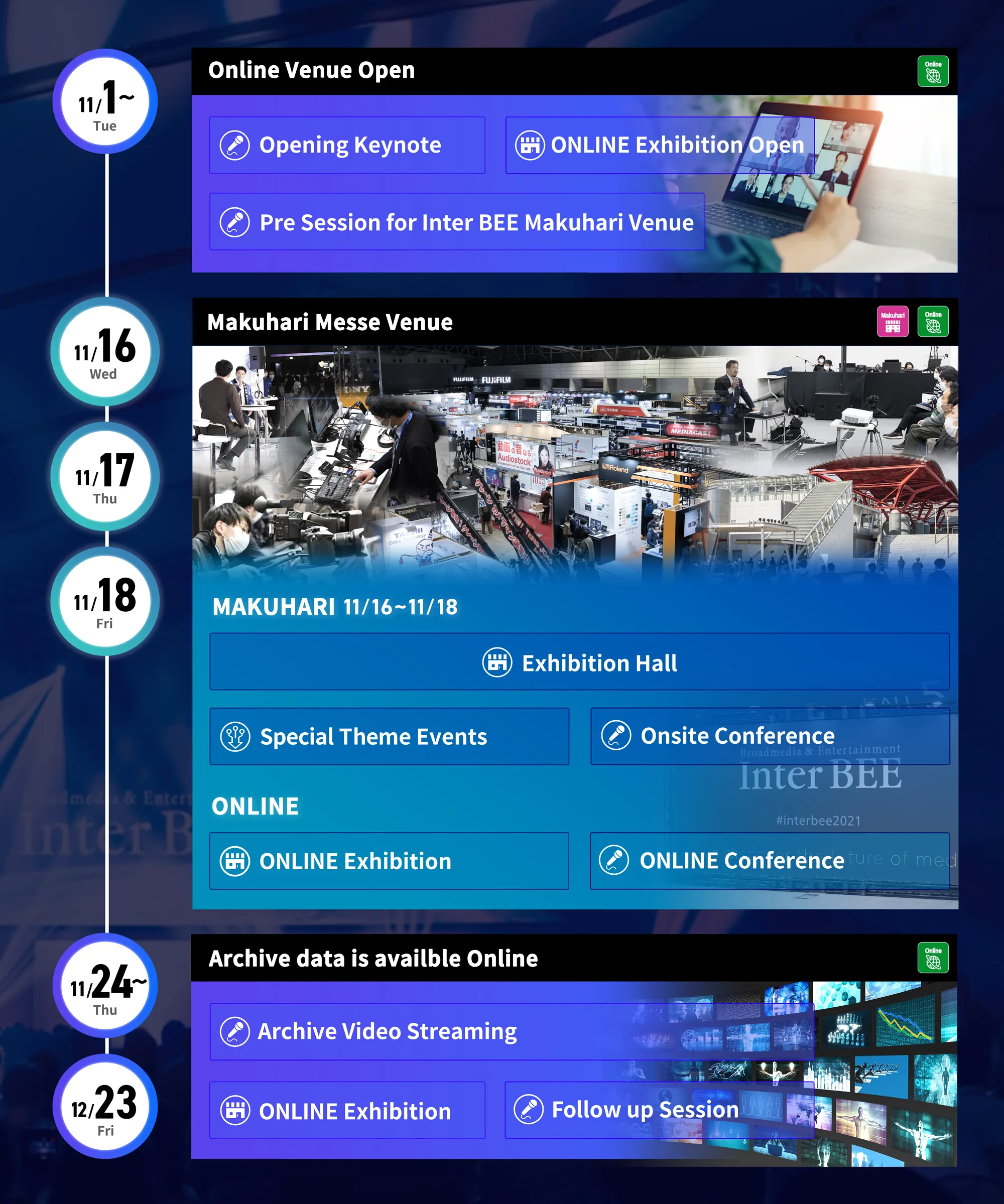 Makuhari Messe exhibition, one of the largest comprehensive media events in Japan, opens on November 16
The Japan Electronics and Information Technology Industries Association (JEITA; Representative Director/Chairman Takahito Tokita, President & CEO, Fujitsu Limited) announced today that the online venue will open on Tuesday, November 1, prior to the comprehensive media event, "Inter BEE 2022" (venue: Makuhari Messe, Chiba, Japan), which will be held from November 16 (Wed.) to 18 (Fri.), 2022. At the online venue, exhibitors will introduce their exhibited products/services, and video streaming, opening and keynote speeches, and various pre-sessions will be available for viewing (pre-registration is required to view some contents and sessions). The online venue will be open until Friday, December 23.
Inter BEE is widely recognized by industry professionals as one of the largest comprehensive media events in Japan, bringing together under one roof engineers, creators, and stakeholders in the video and media industry, as well as professionals in the audio, video, broadcasting, communications, professional lighting, and distribution industries. Inter BEE, which has developed in tandem with the growth of the broadcasting media, will be held for the 58th time, providing a business space for media and entertainment with "content" at its core, covering all aspects of content making (creation), sending (transmission), and receiving (experience).
■ Exhibitors' pages are now available to help you gather information in advance

Prior to the exhibition at Makuhari Messe, each exhibitor will publish its own exhibitor page at the online venue. The contents include booth highlights, product introductions, demo/presentation videos, document downloads, and exhibitor seminars to help you gather information before visiting the Makuhari Messe event. For a list of exhibitors, please click on the URL below.
List of exhibitors: https://www.inter-bee.com/ja/forvisitors/exhibitor_info/
■Over 10 sessions delivered, including opening and keynote speeches

Mr. Ryoji Yamazaki, Assistant Vice Minister, Minister's Secretariat, Ministry of Internal Affairs and Communications, and Mr. Keiji Kodama, Senior Director and Chief of Engineering, Japan Broadcasting Corporation (NHK) will appear on the stage at the "Inter BEE 2022 Opening and Keynote Speeches" to be broadcast at 1:00 p.m. on November 1. Other sessions on topics such as sustainable programming for carbon neutrality and the Metaverse will be delivered daily. For a list of pre-sessions, please click on the URL below.
Pre-sessions: https://www.inter-bee.com/ja/forvisitors/conference/sessionlist/
■Information related to special events will be made available

Several special events spanning different conferences and related exhibits will be held at Makuhari Messe this year as well. The lineup includes many specialists in each field, and, as well as being able to view the conference session listings and exhibitor listings online, you will also be able to check up on event/participant information for each special inter-disciplinary event.
Special event: https://www.inter-bee.com/ja/forvisitors/event_conference/
Inter BEE 2022 Official website: https://www.inter-bee.com/
Name : Inter BEE 2022

Period : November 16 (Wed.) to 18 (Fri.), 2022

From noon (scheduled) November 1 (Tues.) to December 23 (Fri.),

2022

Venue : Makuhari Messe and online (https://www.inter-bee.com/)

Entrance fee : Free (All visitors must register for admission)

Hosted by: Japan Electronics and Information Technology Industries Association (JEITA)
For inquiries from the press regarding this matter, please contact:

Public Relations Office, Corporate Planning Division, Japan Electronics and Information Technology Industries Association (JEITA)

TEL: 03-5218-1053 E-mail: press@jeita.or.jp
Japan Electronics and Information Technology Industries Association