Press Release
2022.10.04 UP
【Press Release】Accepting pre-registration for Inter BEE 2022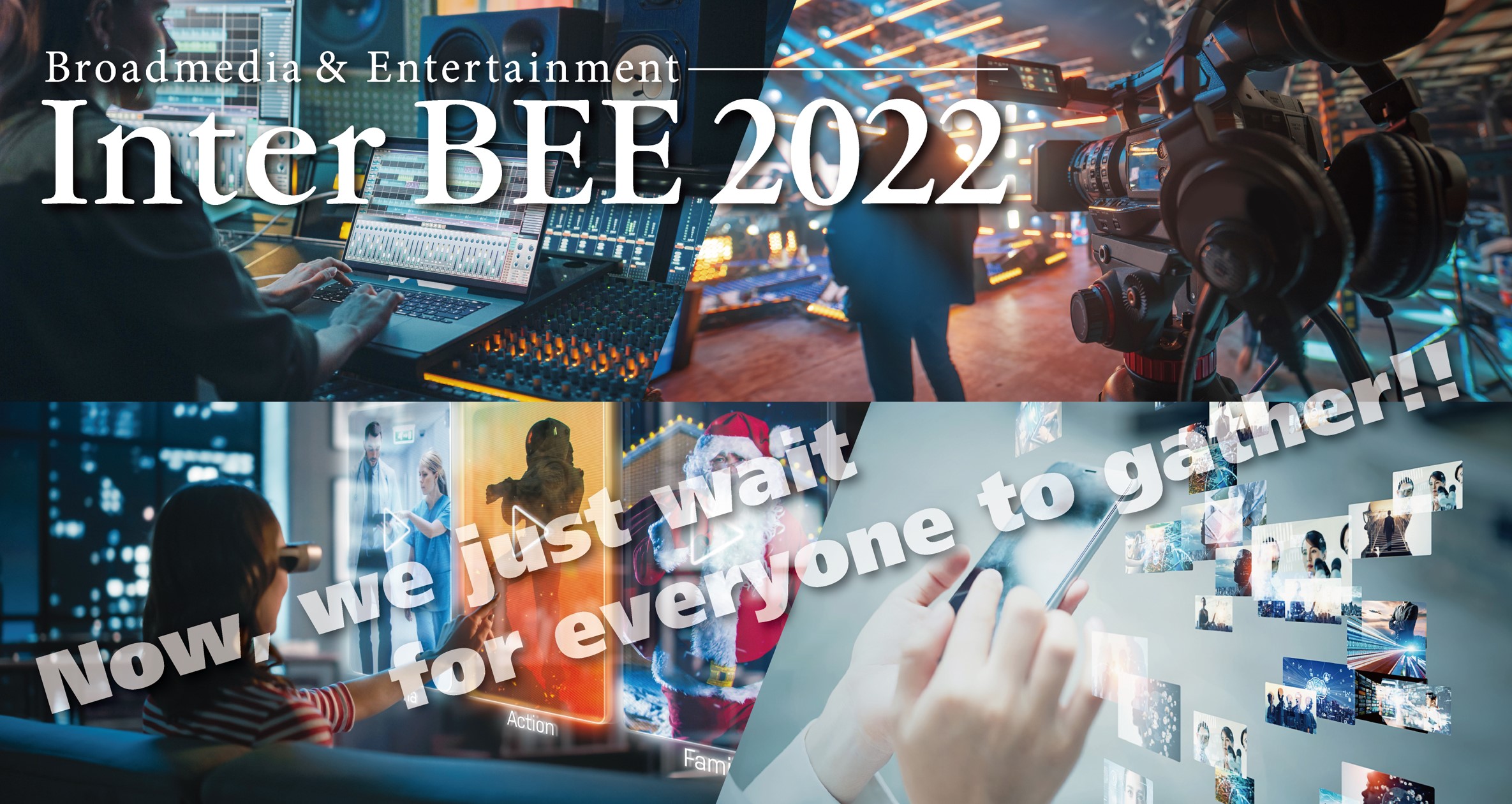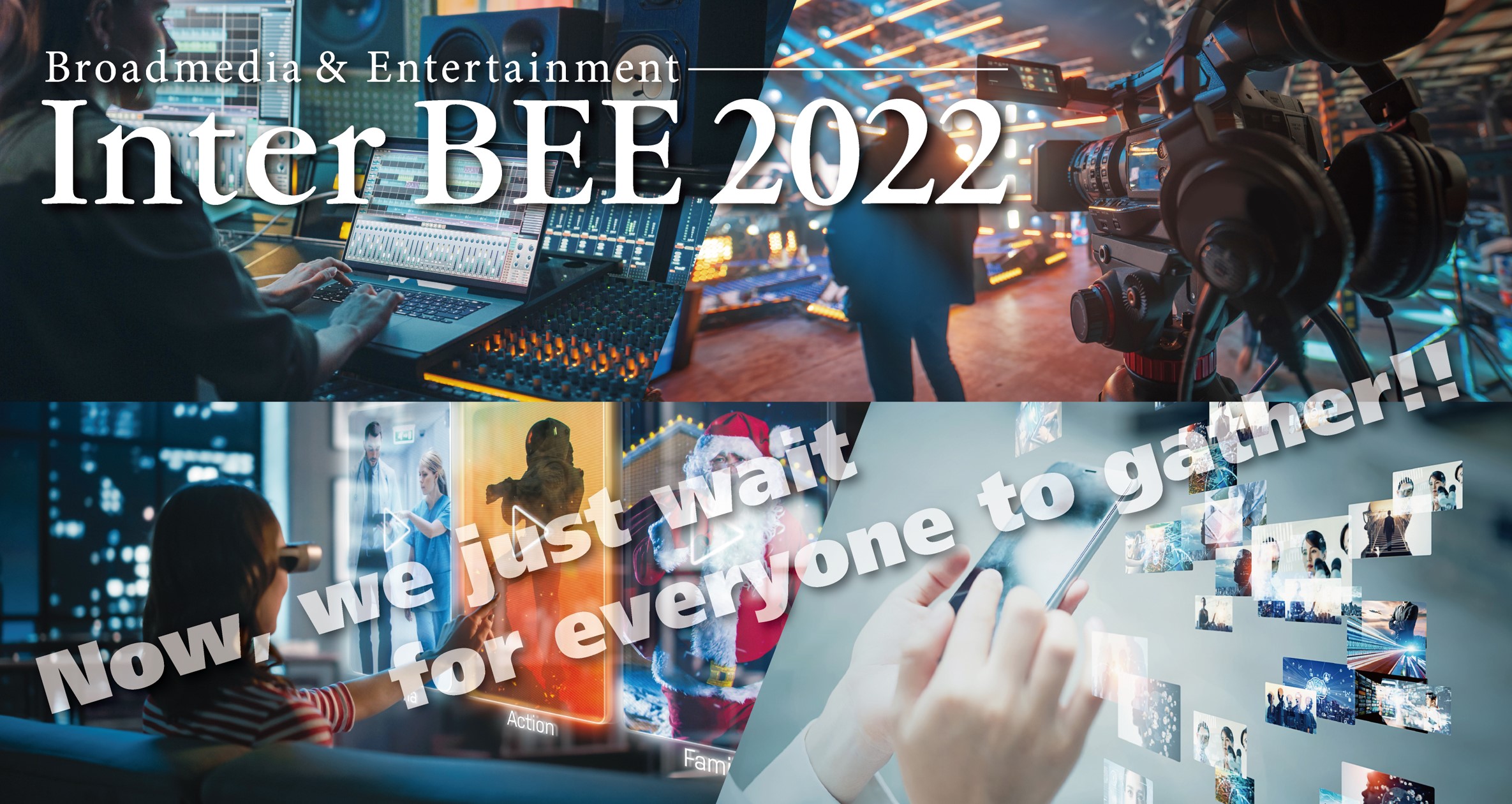 The Japan Electronics and Information Technology Industries Association (JEITA:Representative Director/Chairman, Takahito Tokita, President and Representative Director, Fujitsu Limited) announced today that pre-registration for Inter BEE 2022,a comprehensive media event to be held from November 16 (Wed) to 18 (Fri), 2022  (Venue:Makuhari Messe / Mihama-ku, Chiba City), has begun on the official Inter BEE website(https://www.inter-bee.com).
Inter BEE is an international exhibition that brings the latest innovations relating to thecontent business from Japan and overseas together under one roof as the greatest professional exhibition for audio, video, and communications in Japan. Inter BEE, now in its 58th year, has continued to move in step with the development of broadcasting media, and with "content" at its core, providing a media and entertainment business space that encompasses the technical elements of "creation (producing)," "delivery (transmitting)" and "receiving (experiencing)" content with content at the core.
---
■ Numerous exhibitors will be assembled under one roof for a full-fledged revival of this exhibition
After being held completely online in 2020, last year, encouraged by the opinions of many visitors, we held a real event in conjunction with the online one, and 18,308 people visited the Makuhari Messe venue. Based on last years' experience, we have received applications from numerous companies and organizations who wish to exhibit at this year's event under the slogan of "a comprehensive media event for professionals." Inter BEE 2022 is a business event to "encounter, experience, and interact with the accelerating evolution and future of media," and consists of four categories: "Pro Audio," "Video Production/Broadcasting Equipment," "Video Expression/Pro Lighting," and "ICT/Cross Media." It covers topics in media and entertainment that have been changing and evolving particularly rapidly in recent years, such as virtual production, IP transmission, remote production, and the Metaverse.
■ "Online Venue Pre-Event" to be held from Tuesday, November 1
At Inter BEE 2022, the "Inter BEE 2022 Online Venue" (https://www.inter-bee.com) will open on Wednesday, November 1, prior to the opening of the exhibition at Makuhari Messe on Wednesday, November 16. The online venue will feature content designed to enrich and enhance the experience of visitors at the real venue by introducing exhibitors' products/services, streaming videos and pre-sessions of the "INTER BEE FORUM" starting with the "Inter BEE 2022 Opening & Keynote Speeches" as well as various special projects and event information. The online venue will be open for approximately two months, until Friday, December 23.
■ SR Speaker Experience Demo at the Event Hall is back after a three-year absence
Inter BEE, which has been holding special programs for the media and entertainment sectors, will offer even more special programs than last year, and the "INTER BEE EXPERIENCE X-Speaker (SR Speaker Experience Demo)" will be held in the Event Hall for the first time in three years.
INTER BEE EXPERIENCE X-Speaker :This two-day event will be held on November 17 (Thu.) and 18 (Fri.) and will provide a rare opportunity to experience and listen to all 10 participating line array and point source speakers.
INTER BEE CONNECTED :Sessions and exhibits will be held as a place to 'connect' with various broadcasting initiatives and businesses.
INTER BEE CREATIVE :Sessions and information areas will be unveiled focusing on virtual production.
INTER BEE IGNITION×DCEXPO :INTER BEE IGNITION and DIGITAL CONTENT EXPO will be combined as a venue for providing information about cutting-edge video technology and cutting-edge content production technology, and will be a bigger and better information hub than ever before.
INTER BEE IP PAVILION :Continuing from last year, we will reproduce one of the largest IP connection environments with inter-company collaboration in Japan, and present a comprehensive outlook of IP in broadcasting systems.
INTER BEE FORUM :A total of 17 sessions of keynote speeches and special lectures will be held at the International Conference Hall of Makuhari Messe, and the 59th Technical Report Conference of Commercial Broadcasting (organized and planned by the Japan Commercial Broadcasters Association (JBA)) will be held simultaneously.
---
【Inter BEE 2022 Official Website: https://www.inter-bee.com/ 】
Exhibition Name : Inter BEE 2022
Exhibition Period : <Makuhari Messe> November 16(Wed) ~ November 198Fri), 2022
<Online> November 1(Tue) ~ December 23(Fri), 2022
Exhibition Venue : Makuhari Messe and Online(https://www.inter-bee.com/)
Admission : Free(Registration required)
Organizer : Japan Electronics and Information Technology Association(JEITA)
At Inter BEE, you can experience the world of media communication and entertainment of the near future through exhibits and presentations of the latest products by exhibitors from Japan and overseas, as well as conference sessions and hands-on events on a variety of themes. We look forward to welcoming not only broadcasters, communications companies, and video and audio production companies, but also advertising and marketing professionals from general companies and local governments, design and web production professionals, and facility and event-related businesses.
【For general inquiries on the exhibition】
Japan Electronics Show Association
Inquiry form on the official website(https://www.inter-bee.com/ja/contact/)
E-mail:contact2022@inter-bee.com TEL:03-6212-5231
【For press related inquiries on the exhibition】
Japan Electronics and Information Technology Association(JEITA)
Public Relations Office
TEL:03-5218-1053 E-mail:press@jeita.or.jp