Press Release
2021.10.05 UP
【Press Release】Accepting pre-registration for Inter BEE 2021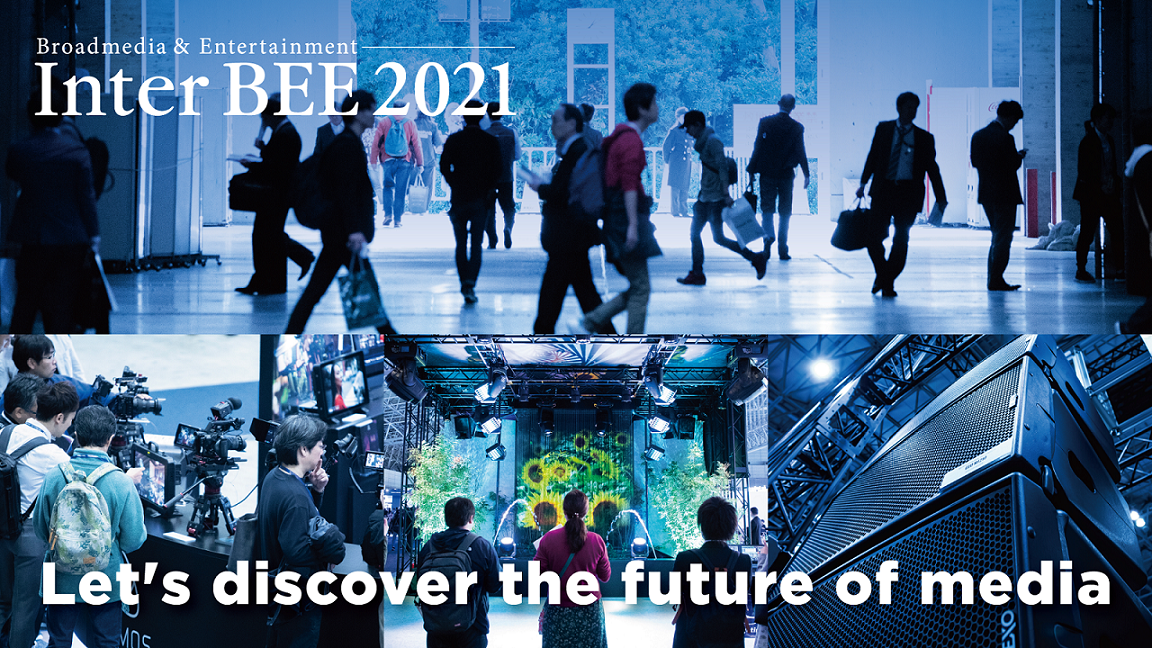 The Japan Electronics and Information Technology Industries Association (JEITA: Representative Director/Chairman, Satoru Tsunakawa, Chairman of the Board, President and CEO, Toshiba Corporation) announced today that pre-registration for Inter BEE 2021, a comprehensive media event to be held from November 17 (Wed) to 19 (Fri), 2021 (Venue: Makuhari Messe / Mihama-ku, Chiba City), has begun on the official Inter BEE website (https://www.inter-bee.com).
Inter BEE is an international exhibition that brings the latest innovations relating to the content business from Japan and overseas together under one roof as the greatest professional exhibition for audio, video, and communications in Japan. Inter BEE, now in its 57th year, has continued to move in step with the development of broadcasting media, and with "content" at its core, providing a media and entertainment business space that encompasses the technical elements of "creation (producing)," "delivery (transmitting)" and "receiving (experiencing)" content with content at the core.
■ Value of exhibition held on-site (in-person)

Last year's event was held completely online and was attended by 21,056 people. This year, the event will be held in conjunction with the online event at a Makuhari Messe, as there was a great demand for in-person interaction with users to experience the equipment and services. The exhibition will be developed as a valuable opportunity for industry professionals to interact with each other while taking measures to prevent the spread of the covid-19 infection, such as complying with various guidelines.
■ Place for promoting cutting-edge technologies by a wide variety of exhibitors

The exhibition will consist of four categories: " Professional Audio," "Video Production/Broadcasting Equipment," "Video Expression/Pro Lighting," and "ICT/Cross Media. Expect to see a wide variety of exhibitors introducing their new products and solutions. This year's event will be held not only at Makuhari Messe, but also on the official website.
■ Experiencing the Special exhibitions in person

There are several special exhibitions that will be held at Makuhari Messe this year. INTER BEE EXPERIENCE will be holding a demonstration of small SR speakers for professional audio users with tutorial seminars. At the INTER BEE IP PAVILION, seminars on the latest of remote production will be held mainly using the IP equipment they will display within the pavilion with hands-on experience.

  INTER BEE CREATIVE will demonstrate for the first time in Japan, the next generation film making method, by depicting live-action and real-time 3DCG images on an LED vision, with the "In-Camera VFX." Experience the assembling, filing and hands-on demonstrations at the exhibition.
■ The latest trends in the industry from multiple perspectives.

 We have prepared a full program for the conference. The key words for this year's "INTER BEE FORUM" include simulcasting, broadcasting and Internet collaboration, sports, IP, 4K8K, and AI. In addition, there will be exhibitor seminars to present the latest solutions and conference programs for each project.
【Exhibition Overview】
Exhibition Name : Inter BEE 2021

Exhibition Period : <Makuhari Messe> November 17(Wed) ~ November 19(Fri), 2021

<Online> November 17(Wed) ~ December 19(Fri), 2021

Exhibition Venue : Makuhari Messe and Online(https://www.inter-bee.com/)

Admission : Free(Registration required)

Organizer : Japan Electronics and Information Technology Association(JEITA)
At Inter BEE, you can experience the world of media communication and entertainment of the near future through exhibits and presentations of the latest products by exhibitors from Japan and overseas, as well as conference sessions and hands-on events on a variety of themes. We look forward to welcoming not only broadcasters, communications companies, and video and audio production companies, but also advertising and marketing professionals from general companies and local governments, design and web production professionals, and facility and event-related businesses.
【For press related inquiries on the exhibition】
Japan Electronics and Information Technology Association(JEITA)

Public Relations Office

TEL:03-5218-1053  E-mail:press@jeita.or.jp