Stay Ahead of the Times! Updated Inter BEE 2023 Now Seeking Exhibitors!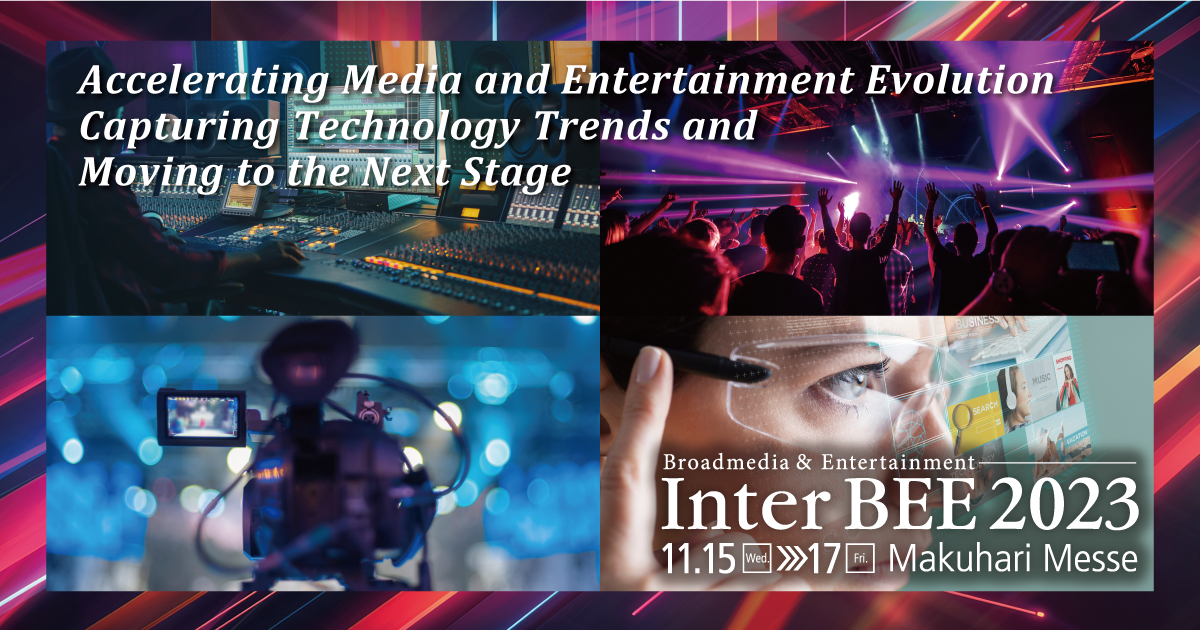 We have operated Inter BEE under various restrictions over the past three years. We have made various updates to the event this year in 2023 to expand to our previous scale. Under this aim, we are now seeking exhibitors. We have prepared various improvements for the new era ahead of 2024 when we will be celebrating our 60th anniversary. Meanwhile, the media and entertainment industry has undergone dramatic changes over the past few years. It has been hard to keep up. Inter BEE 2023 will be an event which will attract attention from the industry as a stage to catch up on those changes. This will be a great opportunity for those considering exhibiting at Inter BEE for the first time in addition to those who have exhibited with us in the past.
Change in the Name and Evolution of Two Categories in Line with the Times
The biggest update we have made in 2023 is the evolution of two of our categories. The "Video Expression/Professional Lighting category" will become the "Entertainment/Lighting" category. The "ICT/Cross Media" category will become the "Media Solutions" category. The boundary line between video expression and production expression is disappearing together with the diversification of fields such as stage and live event production, large-scale video production, AR and VR, and digital art. Our aim is to grab the interest of a wider range of visitors by showing the big picture with entertainment. It has also become clear that the adoption of IP technologies has progressed and will be the mainstream in the future in the broadcasting industry. Cross-media is now the norm. Accordingly, there is demand for solutions which transcend the media field. Against this background, we have signaled our intent to respond to the times by renaming these two categories to strongly appeal to visitors.
Reorganization of Special Events to Attract New Visitors
We will also greatly reorganize our special events as a highlight of our updated exhibition this year. INTER BEE CONNECTED will become INTER BEE BORDERLESS. Its theme will be the evolution and business beyond the convergence of broadcasting and communications. We will also set up a video marketing lounge in INTER BEE CREATIVE. This will be a stage to welcome visitors from the advertising industry such as agencies and advertisers. We will continue to operate INTER BEE IGNITION × DCEXPO jointly with DCEXPO as before. However, we will now promote it as point of contact between entertainment and business by setting up a startup area at the same time. We will continue to hold INTER BEE IP PAVILION again this year. We will aim to provide hands-on experiences of sharing systems beyond the boundaries of broadcasting stations. Our special events have always incorporated new topics into Inter BEE. However, it has become necessary to evolve these events together with the times. We hope to give momentum to our 60th anniversary next year with the restructuring we are undergoing this year.
Various Benefits Including an Even More Convenient Online Exhibition
Inter BEE 2023 will be a lively in-person event. Nevertheless, we will also further refine the online event based on the experience we have gained over the past three years. We will extend functions which make it easier to use the event interactively in addition to showcasing information. We plan to build a mechanism to lead exhibitors into business discussions with visitors by adding a visitor appointment system and a favorite function. The effect of this should be further enhanced by exhibiting in-person. We have been able to fully learn how to take advantage of holding a hybrid event because of the experience we had during the COVID-19 pandemic. In that sense, businesses which have not exhibited at Inter BEE over the past three years will feel new benefits by exhibiting with us this year. We hope to attract many exhibitors to Makuhari Messe which is expected to be bustling with the addition of new visitors to those attending for the first time in three years. Inter BEE is a comprehensive media event which has again evolved with various updates. We are looking forward to your participation at the event.