Everyone will come back to Makuhari. 〜Inter BEE 2022 is now open for pre-registration~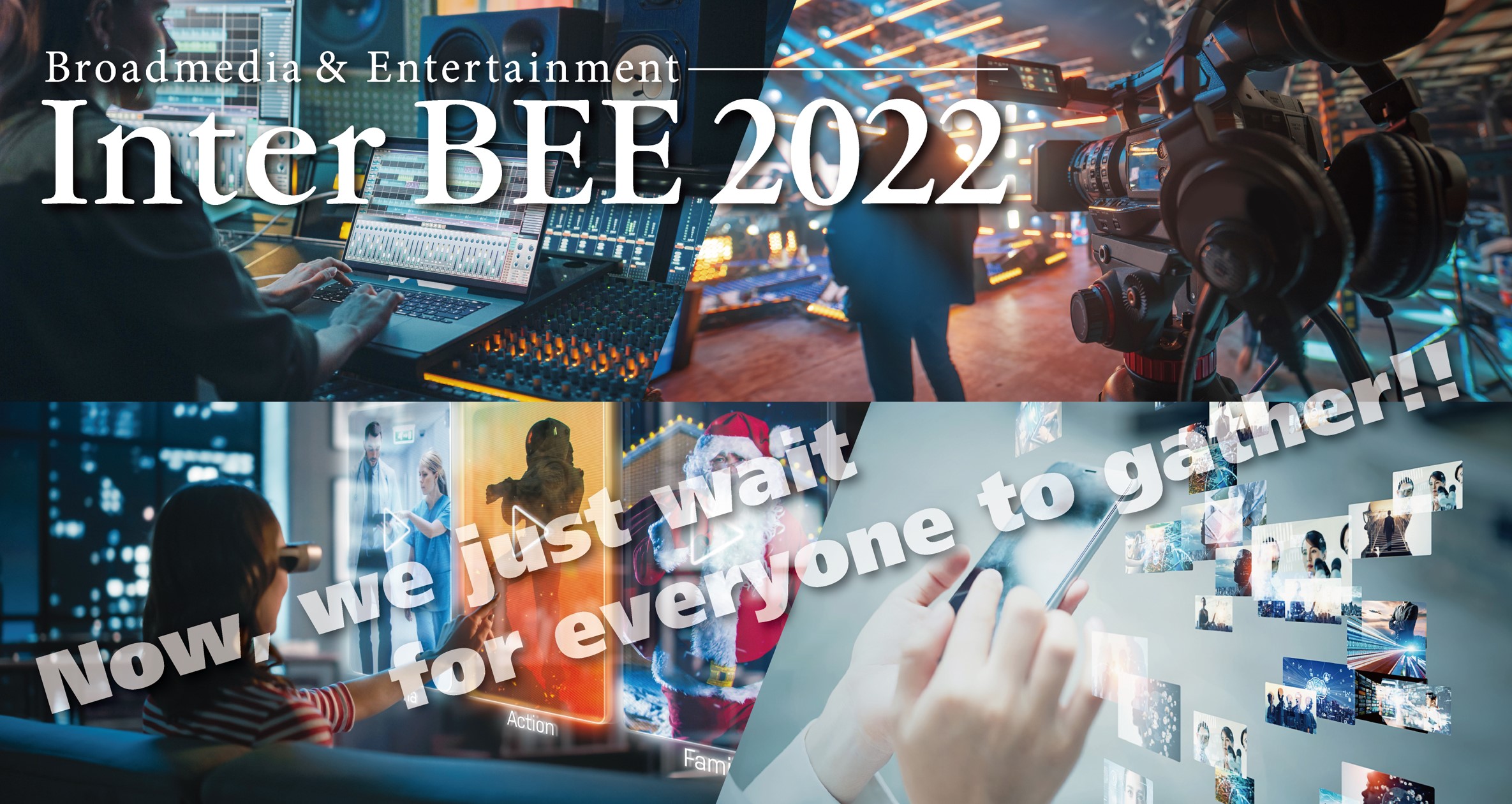 The seventh wave of the Corona disaster has finally subsided and the city is already coming back to life. People have become accustomed to life in With Corona, and business activity seems to have begun to pick up. It seems as if everyone is now unleashing what they have endured up to this point, all at once.
Inter BEE has also begun accepting admission registrations for the November show, and while 2020 was held entirely online and 2021 was a hybrid of real and online, this year, 2022, will be a large-scale real show in Makuhari while retaining the convenience of the online show. The show will almost regain its pre-Corona liveliness, and will bring together technologies and equipment that have evolved over the past two years. We hope that everyone will come to Makuhari to experience firsthand and fully enjoy the exhibition.
And I am sure that all of your friends who used to gather at Makuhari in previous years will be back. It has been a long time since we have had the pleasure of meeting face to face and exchanging words.


The number of exhibitors is nearly double that of last year, and many companies are returning!
This year, many exhibitors, nearly twice as many as last year, will return to Makuhari. The exhibition will be held in Hall 5 this year, compared to Hall 3.5 last year. The best part of Inter BEE is that you can directly touch the technologies and equipment of a wide variety of companies that you can only find in Makuhari. You can enjoy the advanced technology that you can feel with your body.
While most of last year's conference was streamed online, this year's conference will be held at Makuhari. While streaming is convenient, the real thrill of attending a conference is much more enjoyable in a real setting. We hope you will join us in Makuhari this year for a wide variety of sessions.
In two years, technology has advanced and the video population has grown significantly!
The Corona Disaster has greatly evolved and changed people's relationship with media and entertainment. The amount of time spent watching video streaming via the Internet has increased dramatically, allowing people to watch what they want to watch when they want to watch it. In addition, many people are becoming familiar with video using new technologies that they had never seen before.
This year's Inter BEE will be filled with sessions and exhibits on metaverse, virtual production, and more. Visitors will be able to experience new technologies and equipment for increasingly diverse content; how far has the state-of-the-art in VR content advanced; what are the most effective ways to utilize LD walls; and what are the most effective ways to use LD walls. You will be able to confirm such production technologies that will become commonplace in the near future.
In addition, a new way of enjoying videos has taken root, where people shoot and edit their own videos and share them with their friends. The scope of video production has expanded greatly. Professionals are absorbing these trends, while amateurs are unafraid to express themselves. They are beginning to work together to develop new video production, stretching each other's creativity. This year's Inter BEE will also focus on the technologies and equipment that support such free expression.
Online venue opens November 1.
Many exhibitors are returning to the real Inter BEE in Makuhari this year, while the online venue will start on November 1, prior to the real show. By viewing the online venue in advance, you will be able to get in the mood for the show. Several conferences will also be available online as pre-sessions. This is a great way to absorb new knowledge and "prep" for your visit to Makuhari. The online venue will continue until December 23, even after the real event is over, allowing for "review" as well. You will be able to enjoy Inter BEE for nearly two months from November to December, so be sure to register for this year's show and get ready to enjoy it.