Gather at Makuhari to Restart Your Business. Call for Exhibitors for Inter BEE 2022!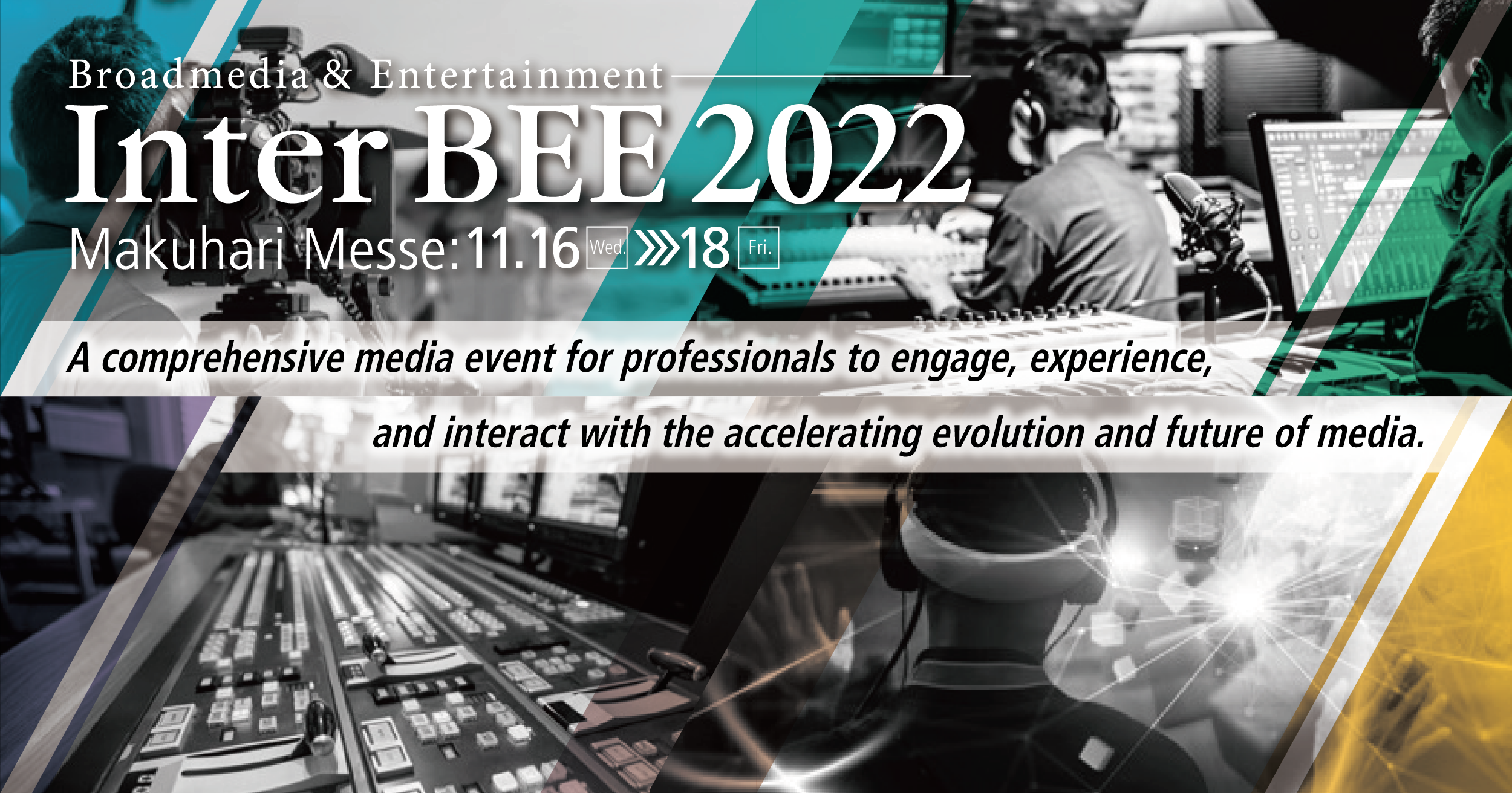 The call for exhibitors for Inter BEE has started again for 2022. Last year, for the first time in two years, the real event was held in Makuhari and was held simultaneously with the online event, allowing exhibitors to enjoy the benefits of both. This year, while the online event will continue, the real event at Makuhari is likely to be more dynamic. Over the past two years, the content area has expanded, and the audience is expected to grow to include an unprecedented number of people. As a place to meet unknown users, the value of exhibiting at Inter BEE 2022 is sure to be even greater. We hope you will attend Inter BEE 2022 and make new encounters in Makuhari that will lead to new business opportunities.
Variety of equipment and technologies for content production, transmission, and experience.
Inter BEE is the largest exhibition of equipment and technologies for broadcasting, communications, video and audio. Now in its 58th year, Inter BEE has earned the trust of various industries. It is supported by the Ministry of Internal Affairs and Communications (MIC), the Ministry of Economy, Trade and Industry (METI), NHK (Japan Broadcasting Corporation), the National Association of Commercial Broadcasters in Japan (NABJ), the Radio Industries Association of Japan (RIAJ), the Association for Promotion of Advanced Broadcasting Services, and the Digital Content Association of Japan (DCAJ), as well as various industry organizations as supporting organizations. It is the official exhibition of Japan's media and entertainment industry.
New media, expanding areas, and an exhibition evolving in step with the 2020.
The evolution of the media landscape has accelerated over the past two years. Broadcast content is now readily available online, while YouTube and TikTok have become widely popular, with young people at the core, and video has become more casual. Professional equipment is now being used by amateur producers, and 5G and cloud technologies are becoming increasingly easy to use. On the other hand, the evolution of high-end equipment and technology for professionals has been dizzying, and it is likely that the range of users who will gather at Makuhari in 2022 will be broader and deeper. Expectations for Inter BEE as a place where visitors can directly experience the evolution of both high-end and low-end products are growing even higher.
Makuhari will become a community for content business.
One participant who exhibited in person at last year's Inter BEE for the first time in a while said, "It was great to see everyone again. After a year of only holding the show online, it seems that Inter BEE has been reaffirmed as one big community and a place to share thoughts and ideas with colleagues. Furthermore, new exhibitors expressed their joy at being part of the industry. Young, amateur-like visitors, who have become more prominent over the past few years, also expressed their elation at being part of the "industry. Perhaps Inter BEE is a place where people who want to enjoy encounters with the unknown gather. The real value of Inter BEE for exhibitors lies in the gathering of existing users and the addition of new users. To restart your business this year, please join the Makuhari community.