Download Exhibition Guide (PDF)
The broadcasting and communication we once knew has gone.
We will provide you with the opportunity to meet new businesses that will expand.
From CONNECTED to BORDERLESS
The special program, INTER BEE CONNECTED, evolved into INTER BEE BORDERLESS this year. The convergence of broadcasting and telecommunications is already a reality, and the broadcasting business has begun to move beyond it. The keyword for this idea was "BORDERLESS. It is no longer time to consider how to overcome the boundaries. Instead, we should now assume that the boundaries have already disappeared. As content freely flits between people, the potential for it to give rise to many different kinds of business opportunities is growing. How can we create those opportunities and what kind of future can we envision? It also requires ideas outside the mainstream of the existing industry. INTER BEE BORDERLESS is a place for such players to meet and discuss new business.
Participation Requirements
Digital content production companies、App production companies、Digital marketing tool development companies、Digital ad technology development-related companies、Content production and app development support、technology - related companies、Digital content distribution operators、Online platform - related operators、Online advertising companies、Cloud - related operators、Communication - related operators、Other companies and organizations involved in video and ICT
Exhibit Fee / Exhibit Standards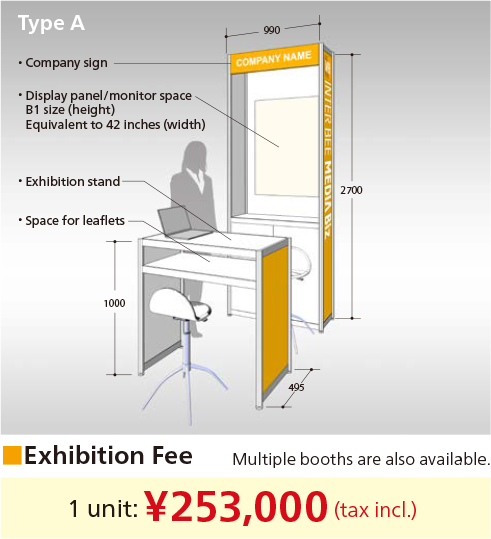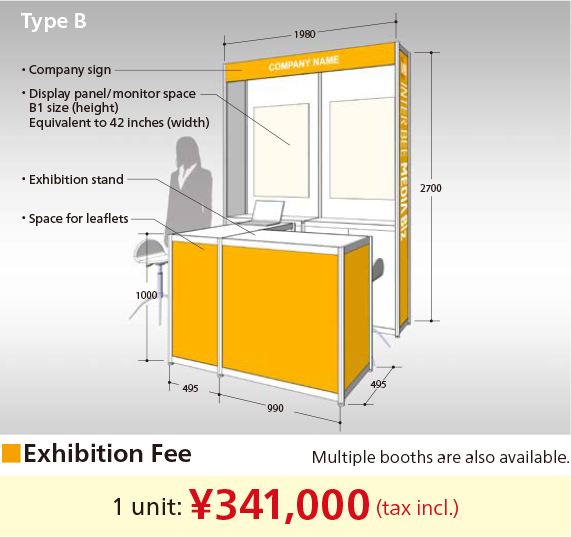 Exhibition Specifications
◇Exhibition unit counter: Basic exhibition stand, exhibition back wall, company sign, electrical work
(capacity: 1kw / 2 outlets) and Internet access
*Exhibition Unit Type B is including 1kW electric-supply only.
*If you need more than 1kW electric-supply, we charge 9,900 yen per 1kW for additional electric work.
*The Internet access is a shared line. There will be a separate fee if you wish to use an exclusive line.
Free layout to suit your exhibition style!
Booth layouts can be tailored to suit your company's exhibit by placing the display stands in different ways.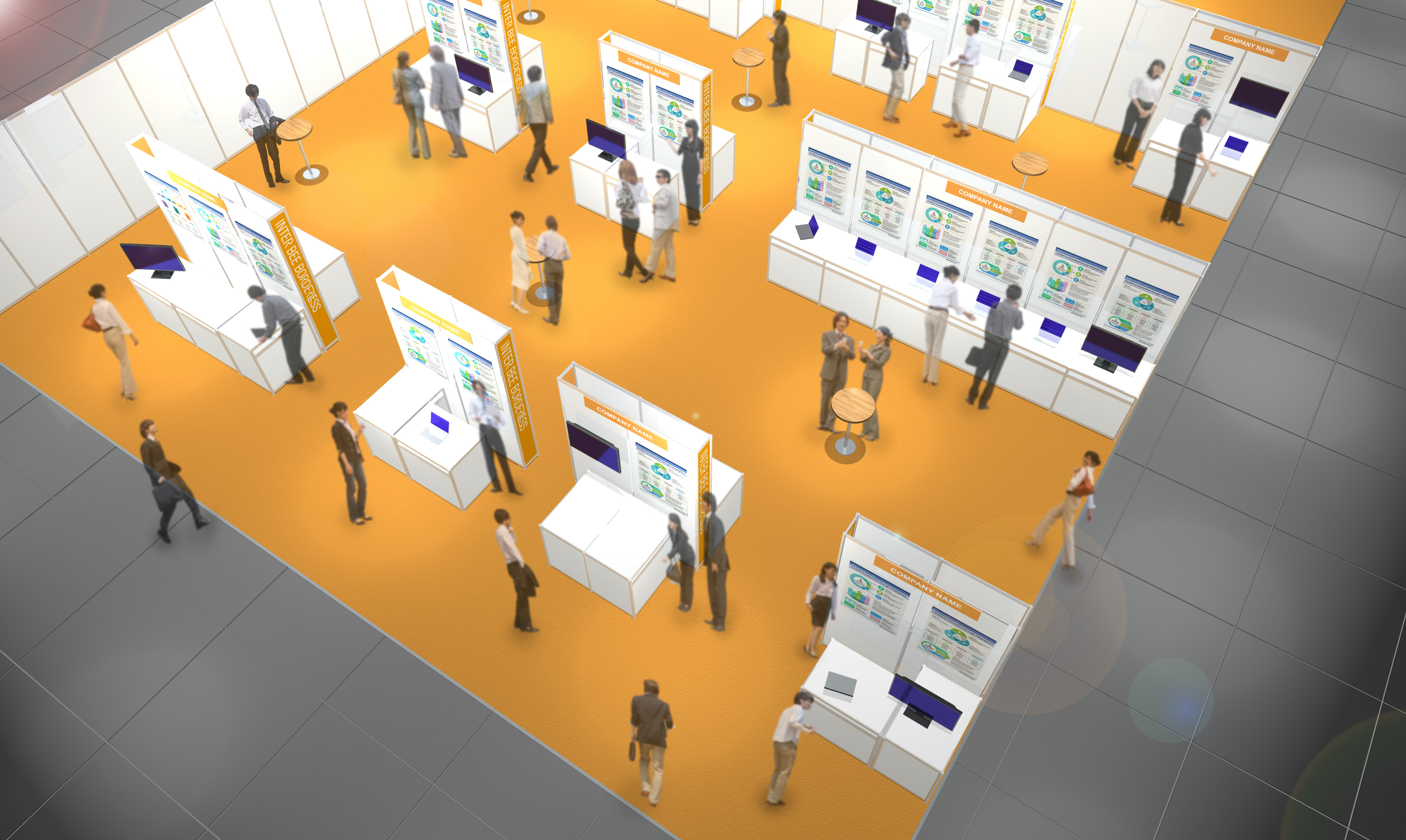 Items included in the exhibition fee
Online Exhibitor Page
Exhibited product information, downloadable materials, and product videos can be posted. Includes a business meeting appointment function. Exhibition information can be sent out to a wide range of people!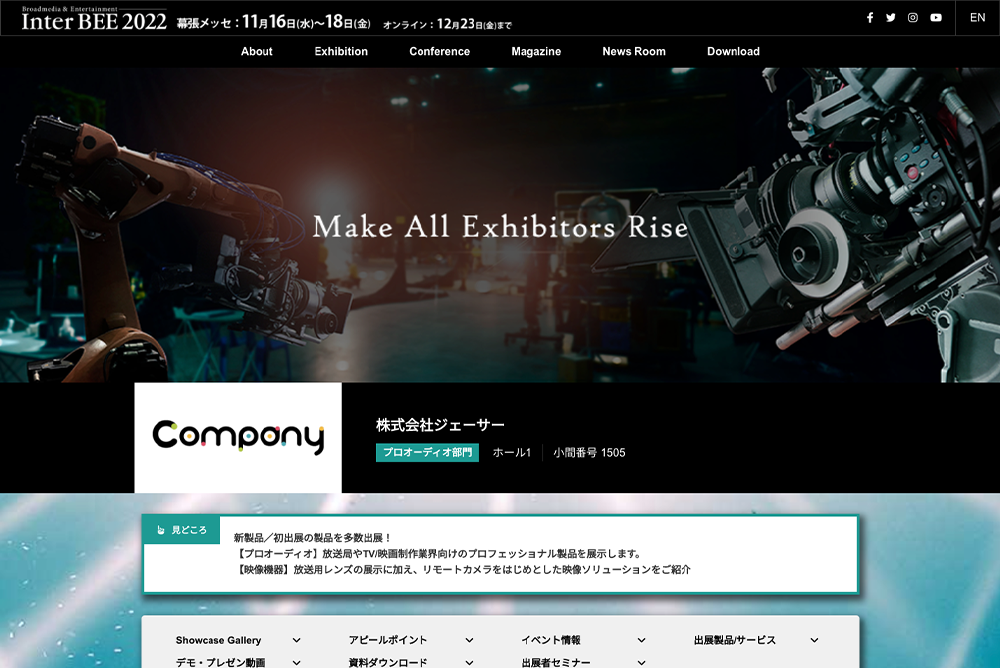 PR and advertising before the event to attract visitors to the exhibit!
A teaser video (approx. 3 minutes) can be viewed on our website, introducing the Makuhari Messe booths and explaining the contents to be exhibited.
※Details will be provided at a later date.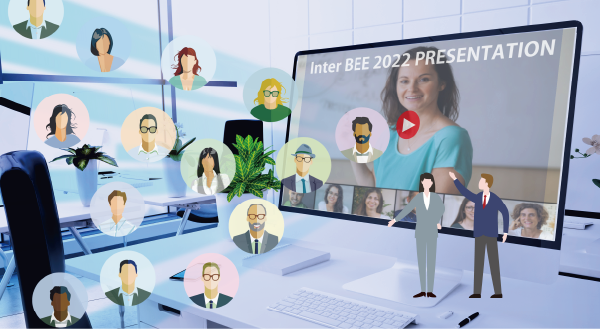 Exhibition Application
Application Deadline
Friday, June 30, 2023 Monday, July 31, 2023
・Please pay the exhibition fee by Thursday, August 31.

・If the exhibitor cancels or reduces the number of units applied for after application, a cancellation fee will be charged. Consumption tax will be added to the cancellation fee.
・Consumption tax will be added to the cancellation fee.
| | |
| --- | --- |
| July 1st to July 31st | 60% of exhibition booth fee |
| August 1st to August 31st | 80% of exhibition booth fee |
| After September 1st | 100% of exhibition booth fee |
Operation schedule
Late August
Exhibitor Orientation
August 31(Thu)
Deadline for Payment of Booth fee
Early October
Distribution of Invitation Letters for Inter BEE 2023
Distribution of Exhibitor Badges and Vehicle Tickets
November 14(Tue)
Load-in and Preparation
For Inquiries
Japan Electronics Show Association (JESA)
〒100-0004 Ote Center Building, 1-1-3 Otemachi, Chiyoda-ku, Tokyo
TEL:03-6212-5231
If you have any questions regarding the exhibition, please contact us using this inquiry form.