We will continue to evolve into a business stage
that encompasses all areas of content making, delivery, and receiving.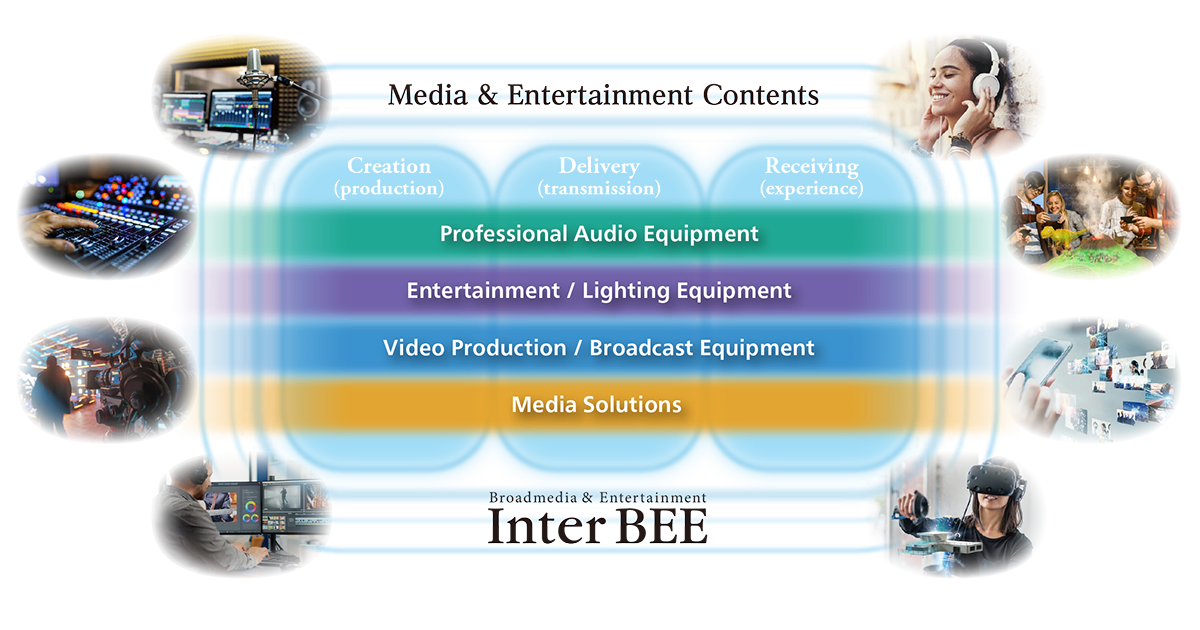 Those actively seeking new technologies and products:
80.2%
Most of the visitors are professionals in their related industries.
Gathering of key figures from Japan and abroad
Many key figures and influencers in the media and entertainment industries from Japan and abroad will be attending the event.
Satisfaction rating:
92.6%
Meet people from new fields and industries that you may not meet in your normal sales activities.
(Referencing 2021 Exhibitor Survey)
Main Visitors
(Results for Makuhari Messe venue in 2021)
Broadcasters:

15.1%

(Commercial TV Broadcaster, Public Broadcast Station, Related CATV, Radio Station)

Video Content Production:

22%

(Film and video production company, videographers, post-production, production, related content creation, video software production company)

Sound, event, stage and facility related personnel:

13%

(Related PA Equipment, Ad agency, Related Staging, Art and Lighting, Facilities and Retail Stores, Record Manufacture,)

Internet, communication, and system-related personnel:

13.9%

(System Integrators, Related Internet Business, Telecommunication Carrier, Content Delivery Network)
Our goal is to provide a new level of business opportunities to understand the next generation of evolution in the industries.
A wider variety of business users are paying attention to Inter BEE than ever before. As media evolves and expands, with the latest content technology, such as the metaverse, AI, audio creation and distribution, etc., the need for video production is increasing in a wide range of industrial fields such as education, medicine, and construction.
Capturing the transformation and evolution of broadcasting

We present the forefront of the trend toward total solutions in broadcasting technology, the advancements of broadcasting services, simulcasting, and other changes in broadcasting.

The expansion of video creators, capturing the evolving trends in video production

The population of content creators is increasing daily, and so is their range. From casual yet highly functional production tools to the evolution of DX, such as, remote production and virtual production, we present the newest trends in content creation.

Capturing the trends of advanced content creation technologies

We present the forefront of innovation and technology in advanced content creation, including the evolution of content and communication through the Metaverse.

The latest power of audio content

As sound and audio experiences become more important in everything from live performances to streaming, we will introduce the power of audio content, its potential, experiential nature, and the latest trends.
Maximize the use of online venues to attract a wide range of users.
In response to the achievements and expectations of the hybrid of "Makuhari Messe venue" and the "online venue," make the most of the opportunity to communicate and approach a wider audience.
The online venue is launching on
November 1.

We will be sending out information on pre-sessions and exhibitions to attract as many interested parties as possible to the Makuhari Messe venue.

On-site exhibitors will be provided with a free "Online exhibitor page" to increase the benefits of exhibiting.

By sending out information on the online exhibitor page in advance, you can increase opportunities for business negotiations at your booth. After the Makuhari Messe exhibition, the online exhibitor page can be archived and can be used for post-event sales promotion activities.
Thorough measures to prevent the spread of the COVID-19 infection.
At Inter BEE 2022, based on last year's results and experience with the prevention of infectious diseases, we will take all possible measures to create a realistic business event. All persons, including visitors and exhibitors, will be required to wear masks, their body temperatures will be taken at the entrance, hand sanitizers will be placed at the entrance and disinfection will be thoroughly carried out. The venue will be thoroughly ventilated and cleaned, and disinfection will be carried out as necessary. At the same time, we will set up a first-aid room. In the exhibition and conference halls, we will follow the guidelines of Chiba Prefecture and take appropriate measures to prevent the spread of infection.
※Exhibitors and workers are requested to cooperate with us in the registration procedures for the management of the exhibition venue, as well as in the measures to prevent the spread of infection during move-in and move-out and booth operation during the exhibition period.
※The guidelines and details of measures to prevent the spread of infectious diseases at Inter BEE 2022 will be provided in a separate exhibitor manual.
Click here to download the Inter BEE 2022 Exhibition Guide