Bringing together advances imaging technologies
to explore the possibilities of new media
Virtual reality (VR), augmented reality (AR), Mixed Reality (MR), interactive systems, 360-degree images, 3D images, hologram images, panoramic images, immersive images, ultra-realistic images, projection mapping, drones, the Internet of Things (IoT), robotics, artificial intelligence (AI), motion sensor systems, media art and other image expression technologies
Large LED displays, outdoor displays, 4K/8K projectors, public viewing, digital signage displays, live viewing systems, live relay systems, live delivery systems, real-time live production, live production image systems, live production lighting systems, specialized equipment for live productions, space production and other live entertainment

Outline
Name
INTER BEE IGNITION
Period
November 14 (Wed.) to 16 (Fri.), 2018
Time
10:00 to 17:30 on Nov. 14 and 15
10:00 to 17:00 on Nov. 16
Venue
Exhibition Hall, Makuhari Messe
Exhibiting Style
Free (Registration required)
Exhibit Fee / Exhibit Standards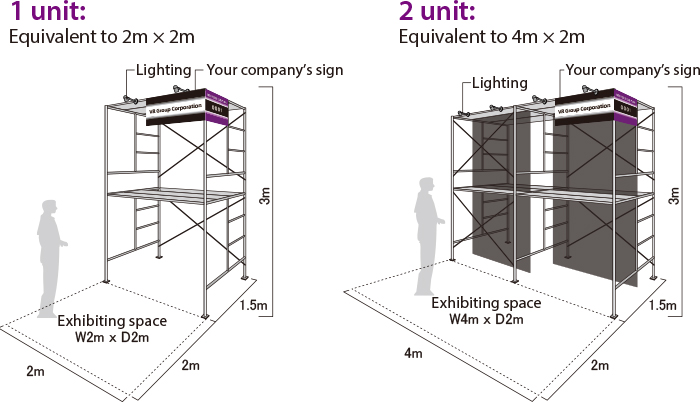 1unit:\172,800(Including consumption tax)
Inclusions in the Exhibition Participation Fees
・Scaffold tower booth: Company signboard, 2 Spotlights and electrical work (1kW per Unit)
・Listing of exhibitor name and exhibition information on our official website.
・We will provide you with a fixed number of invitations (150 per unit)
・In addition, you will be treated in conformance with regular exhibitors. Please refer Inter BEE 2018 regulation.
Exhibit Information
To apply, please download "Exhibition Guide, Application Forms"
Exhibition Guide, Application Forms(2.1MB)
Application Deadline
Friday, June 29, 2018
・Please transfer a payment to our designated bank account by Friday, August 31.
・If an exhibitor cancels or reduces the number of booth spaces applied or, regardless of the reason, some or all of the following cancellation fees will apply. Consumption tax will be added to all fees.
July 1st to July 31st, 2018

60% of exhibition booth fee
August 1st to August 31st, 2018

80% of exhibition booth fee
On or after September 1st, 2018

100% of exhibition booth fee
Operation schedule
Late August
Exhibitor Orientation
Fri., August 31
Deadline for the payment of the exhibition fees
Late September
Distribution of Inter BEE 2018 invitation tickets
Distribution of exhibitor badges and loading/unloading vehicle stickers
Tue., November 13
Setting Up
Apply to
Japan Electronics Show Association
5F Ote Center Bldg., 1-1-3 Otemachi,Chiyoda-ku, Tokyo, 100-0004
TEL: +81-3-6212-5231?E-mail: contact2018@inter-bee.com
Inquiry
If you have any questions, please contact with us via Inquiry Form.