Access & Lodging
Venue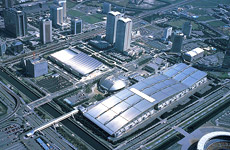 Exhibition Halls 2 to 8 2-1, Nakase, Mihama-ku, Chiba City, Chiba Prefecture 261-8550, Japan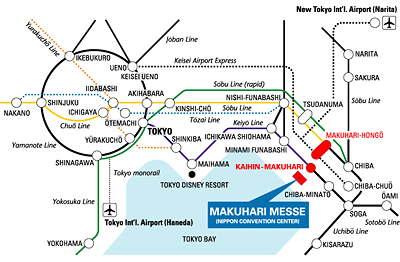 How to get there
From Tokyo
Both local and rapid trains operate on the JR Keiyo Line between Tokyo and Kaihin-Makuhari Stations. The one way trip costs \550 and takes about 30 minutes by rapid train and about 45 minutes by local train. There are frequent departures with trains leaving every 5-15 minutes.
Alternatively, JR Sazanami and Wakashio limited express trains run also along the JR Keiyo Line between Tokyo and Kaihin-Makuhari Stations. These trains cost \1,040 one way for a non-reserved seat, but are slightly faster and tend to be less crowded. Limited express trains depart hourly.
Note that the platform of the JR Keiyo Line at Tokyo Station is located a ten minute walk from the station's other platforms. Also, all of the trains that are mentioned above are fully covered by the Japan Rail Pass.
From Narita Airport
Keisei Bus operates a direct bus between Narita Airport and Makuhari Messe. The one way trip takes about 40 minutes and costs \1,100. Buses depart approximately every hour.
Alternatively, take a train on the Keisei Line from Narita Airport to Keisei-Tsudanuma Station (40 minutes) and transfer to the Keisei Chiba Line to Makuhari-Hongo Station (2 minutes). The one way fare is \740 and there are frequent connections. From Makuhari-Hongo Station, it is a 15-20 minute ride by Keisei Bus to Makuhari Messe (\220, multiple departures every hour). Keisei trains are not covered by the Japan Rail Pass.
From Haneda Airport
From Haneda Airport, Keisei Bus runs an express bus to Makuhari Messe. The trip takes about an hour each way and the fare is \1,150. Buses depart once every 30 minutes.
To get there by train, take the Tokyo Monorail from the international terminal of Haneda Airport to Tennozu Isle Station (11 minutes), transfer to the Tokyo Waterfront Area Rapid Transit Rinkai Line and take it to Shin-Kiba Station (10 minutes), then transfer again to the JR Keiyo Line and ride 23 minutes to Kaihin-Makuhari Station. Total train fare is \1,030.
For more details, please refer the website of Makuhari Messse.
Accommodation
You can choose from a wide range of accommodation facilities in the Makuhari Messe area. Alternatively, you can choose a hotel in the heart of Tokyo, convenient to sightseeing and shopping, so you can enjoy your stay in Japan to the fullest. (Central Tokyo is about 40 minutes from Makuhari Messe by train.)
There is an accommodation plan available at a special price for those coming to Inter BEE 2018.
Please contact Kinki Nippon Tourist (KNT) for inquiries and bookings. Hotel reservation site will be available on end of July.
Furthermore, the following are some examples of hotel booking sites.
Sightseeings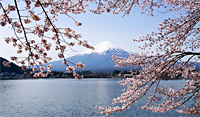 Mount Fuji (富士山, Fujisan) is with 3776 meters Japan's highest mountain. It is not surprising that the nearly perfectly shaped volcano has been worshiped as a sacred mountain and experienced big popularity among artists and common people throughout the centuries.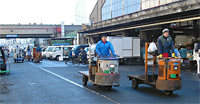 Tsukiji Market (築地市場, Tsukiji Shij?) is a large wholesale market for fish, fruits and vegetables in central Tokyo. It is the most famous of over ten wholesale markets that handle the distribution of fish, meat, produce and flowers in metropolitan Tokyo.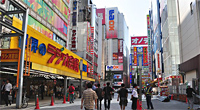 Akihabara (秋葉原), also called Akiba after a former local shrine, is a district in central Tokyo, that is famous for its many electronics shops.