Gathering of leading-edge production tools and
creators active on the front-line
INTER BEE CREATIVE is seeking the participation of production, post-production and production/editing tool related companies as a program to publicize your skills, expertise and production tool application cases relating to video content production.
Methods and techniques of expression to stir up your creativity will be showcased. Your ideas will become even more beautiful and realistic as you feel them. Content and creative will create new excitement.

Outline
Name
INTER BEE CREATIVE
Period
November 14 (Wed.) to 16 (Fri.), 2018
Time
10:00 to 17:30 on Nov. 14 and 15
10:00 to 17:00 on Nov. 16
Venue
Exhibition Hall, Makuhari Messe
Exhibiting Style
Free (Registration required)
CREATOR'S PRESENTATION
An open stage where creators can make 45-minute presentations.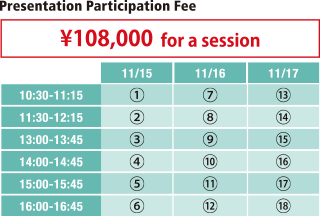 We will accept applications for your desired presentation timeslot on a first-come-first-served basis
We will announce the program on Inter BEE website and invitations. We will accept audience reservations on
the website.We will deliver the audience data to you at a later date.
There is an upper limit of two presentation timeslots per day per company.
EXHIBITION UNIT
You can participate by reserving a package display booth.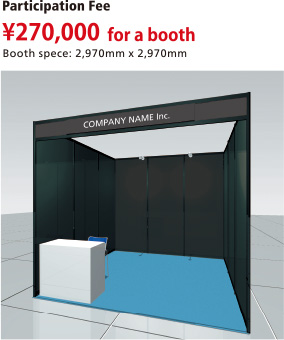 Inclusions in the Exhibition Participation Fees
・Company signboard, Reception counter, chair, carpet, 2 Spotlights and electrical work (1kW per Unit)
・Listing of exhibitor name and exhibition information on our official website.
・We will provide you with a fixed number of invitations (150 per unit)
・In addition, you will be treated in conformance with regular exhibitors. Please refer
Inter BEE 2018 regulation.
Booth 1ocation will be determined by Management office with consideration in the order of application.
Exhibit Information
To apply, please download "Exhibition Guide, Application Forms"
Exhibition Guide, Application Forms(1.8MB)
Application Deadline
Friday, June 29, 2018
・Please transfer a payment to our designated bank account by Friday, August 31.
・If an exhibitor cancels or reduces the number of booth spaces applied or, regardless of the reason, some or all of the following cancellation fees will apply. Consumption tax will be added to all fees.
July 1st to July 31st, 2018

60% of exhibition booth fee
August 1st to August 31st, 2018

80% of exhibition booth fee
On or after September 1st, 2018

100% of exhibition booth fee
Operation schedule
Late August
Exhibitor Orientation
Fri., August 31
Deadline for the payment of the exhibition fees
Late September
Distribution of Inter BEE 2018 invitation tickets
Distribution of exhibitor badges and loading/unloading vehicle stickers
Tue., November 13
Setting Up
Apply to
Japan Electronics Show Association
5F Ote Center Bldg., 1-1-3 Otemachi,Chiyoda-ku, Tokyo, 100-0004
TEL: +81-3-6212-5231?E-mail: contact2018@inter-bee.com

Inquiry
If you have any questions, please contact with us via Inquiry Form.