Proposing a Fusion of Broadcasting and
Communications with Exhibits and Presentations
ICT and the media environment is spreading and changing on a daily basis. Against this backdrop, media communication, starting with television broadcasting, is approaching an era of unprecedented transformation. How will broadcasting change? What kind of possibilities will unfold with media communication in ICT? We will explore and showcase new business models from the frontline of broadcasting and communications.

Outline
Name
INTER BEE CONNECTED
Period
November 14 (Wed.) to 16 (Fri.), 2018
Time
10:00 to 17:30 on Nov. 14 and 15
10:00 to 17:00 on Nov. 16
Venue
Exhibition Hall, Makuhari Messe
Exhibiting Style
Free (Registration required)
Intended Exhibitors
Digital content production companies
App production companies
Content production and app development support technology - related companies
Digital content distribution operators
Online platform - related operators
Video distribution technology - related companies
Online advertising companies
Cloud - related operators
Communication - related operators
Other companies and organizations involved in video and ICT

Exhibit Fee / Exhibit Standards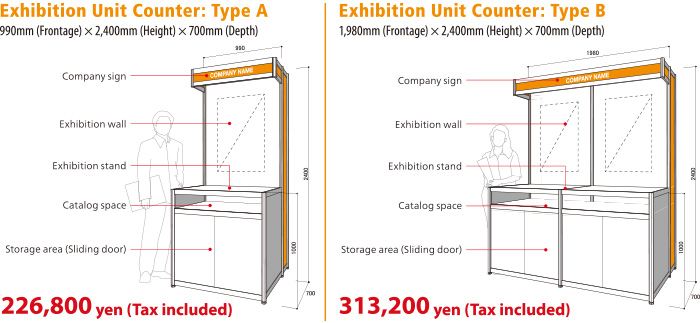 Inclusions in the Exhibition Participation Fees
・Exhibition unit counter:
Basic exhibition stand, exhibition back wall, company sign, company sign, electrical work (capacity: 1kw / 2 outlets) and Internet access
*Exhibition Unit Type B is including 1kW electric-supply only.
*If you need more than 1kW electric-supply, we charge 9,720yen per 1kW for additional electric work.
*The Internet access is a shared line. There will be a separate fee if you wish to use an exclusive line.
・Presentation slot: 15 minutes per a day.
・Listing of exhibitor name and exhibition information on our official website.
・We will provide invitation leaflets
・In addition, you will be treated in conformance with regular exhibitors.
Exhibit Information
To apply, please download "Exhibition Guide, Application Forms"
Exhibition Guide, Application Forms(1.4MB)
Application Deadline
Friday, June 29, 2018
・Please transfer a payment to our designated bank account by Thursday, August 31.
・If an exhibitor cancels or reduces the number of booth spaces applied or, regardless of the reason, some or all of the following cancellation fees will apply. Consumption tax will be added to all fees.
July 1st to July 31st, 2018

60% of exhibition booth fee
August 1st to August 31st, 2018

80% of exhibition booth fee
On or after September 1st, 2018

100% of exhibition booth fee
Operation schedule
Late August
Exhibitor Orientation
Thus., August 31
Deadline for the payment of the exhibition fees
Late September
Distribution of Inter BEE 2018 invitation tickets
Distribution of exhibitor badges and loading/unloading vehicle stickers
Tue., November 13
Setting Up
Apply to
Japan Electronics Show Association
5F Ote Center Bldg., 1-1-3 Otemachi,Chiyoda-ku, Tokyo, 100-0004
TEL: +81-3-6212-5231?E-mail: contact2018@inter-bee.com
Inquiry
If you have any questions, please contact with us via Inquiry Form.