Support & Service
Promotion
Utilization of Paid Media
We place advertisements in the main trade journals both inside and outside Japan. We carry out PR and branding activities in Japan and overseas by placing advertisements in the daily news that is distributed at the venues of events like the NAB, IBC and BIRTV.
List of publication (Domestic)
Broadcast Engineering
CG WORLD + digital video
Dempa Shimbun
Dempa Times
Dempa Times
Eizo Shimbun
FDI (Full Digital Innovation)
HOSO JOURNAL
HOT SHOT
LOCATION JAPAN
MOTION PICTURE AND TELEVISION ENGINEERING
NEW MEDIA
PRN Magazine
PROSOUND
Sound & Recording Magazine
SOUND DESIGNER
Stage & Sound Jounal
The Japan Commercial Broadcasters
VIDEO JOURNAL
Video SALON
List of publication (Overseas)
APB-Asia Pacific Broadcasting (Asia)
NAB DAILY NEWS (USA)
IBC DAILY NEWS (UK)
etnews (Korea IT NEWS)
Media partners
Related industry journals and magazines helped support Inter BEE as media partners, graciously publishing many articles on the exhibitors.

Utilization of Owned Media
We publish the latest news throughout the year by utilizing our website as the "INTER BEE ONLINE" portal site. We periodically send out an e-mail magazine to our visitor database and aim to attract people to our website to foster a sense of anticipation for Inter BEE and visitors.
Inter BEE Official Mail Magazine
Approx.103,000
*The number of data instances that can be distributed
Inter BEE Official Website
Page views:
240,013views
(From November 1st to November 30th)
Number of articles posted
before the show:27Number of video clips posted
during the show (Inter BEE TV):162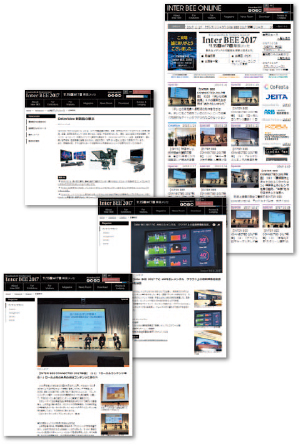 Utilization of Earned Media
We are aiming to attract visitors and spread our PR with our fan base that is expanding over time and with the word-of-mouth effect among our users by operating an official Twitter account and official Facebook page.
We are also spreading word on free seminars by utilizing the Facebook event facility.
Official Facebook
Number of Likes received post conference :
4,859 Likes(an increase of 108% from the previous year)
Number of page transfers from
the Facebook page to the Official Website : 8,682
Official Twitter
Number of Twitter Followers (at max):
1,519 followers(an increase of 133% from the previous year)
Official Instagram
Number of Twitter Followers (at max):
462 followers(an increase of 375% from the previous year)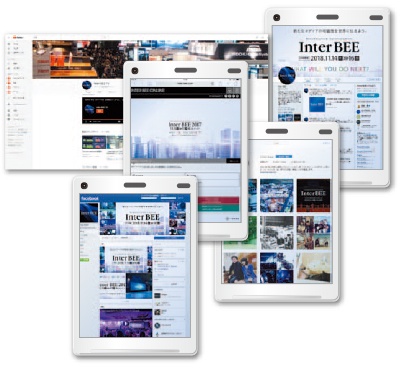 Operation of a Free Shuttle Bus with NHK and Key Commercial Broadcasters
We operate a free shuttle bus that connects Makuhari Messe to the entrance of each broadcaster during the period of the exhibition in order to encourage our core user television station stakeholders to visit Inter BEE. This service is used by many people every year.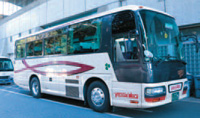 Publicity Activities
We are strengthening our information distribution through various activities. These include public relation activities as Inter BEE,interview invitation requests and television interview arrangements.
News Media Representative
353people(16 from overseas)
On-air media
Area
Broadcast station
Program
Japan
Nippon Television Network News24
The Socials
NHK
NHK News
NEWS CHECK 11
MX TV
TOKYO MX NEWS
Fuji Television Network
News Weekly Fuji Remarks
Nippon Television Network
SENSORS
International
RCN-TV
* RCN TV is one of major key network stations cover South America and Columbia.
Wake Up FM (report1)
News of the Day (report1)
Wake Up FM (report2)
News of the Day (report2)
PR Invitation Activities by Posters and Written Invitations
We distribute a specified number of these free of charge to each exhibitor. These are also distributed through our supporters and partners from the Management Office of the organizer.