Inter BEE 2010: Hibino Group exhibits VISTA9 (Studer Japan Broadcast) a new broadcast audio console, in a shared booth.
2010.11.18 UP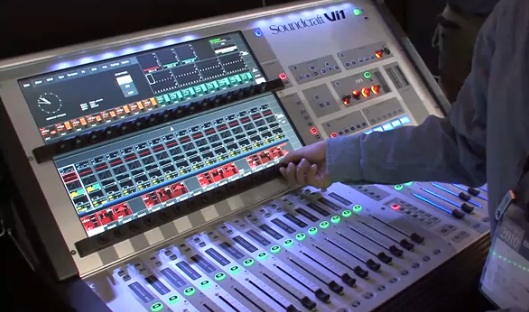 Three companies from the Hibino Group - Hibino, Hibino Intersound, and Studer Japan Broadcast -- exhibited in a shared booth (booth #4410) at Inter BEE 2010.

Hibino displayed the Vi1 Digital Mixing Console from Soundcraft, which went on sale on August 20th. This digital mixing console brings the quality of the Vi series, Soundcraft's flagship models, to a compact-bodied mixer. With a 22-inch wide-screen display, the Vi1 boasts excellent visibility and usability, making it suitable for hotels and halls, as well as for tours and events.

Hibino Intersound exhibited the Apollo digital mixing console from Calrec Audio Ltd. Featuring state-of-the-art multi-color organic LEDs and a TFT touch screen, the Apollo can be expanded to accommodate up to a maximum of 320 faders. A flexible monitoring system and other functions make this console suitable for multiple operators and large scale scenes, and it possesses excellent usability.

Studer displayed their new VISTA9 broadcast audio console. The TFT screen and metering and LED fader displays offer visually-improved functionality. The VISTA9 meter history function is perfect for real-time operations, while the display colors are user-customizable.

With a proven track record in the professional audio field, Hibino are now turning their hands to video equipment. At this show, they also displayed products from Grass Valley LLC., whose products they have also begun reselling.