Inter BEE 2010: Sony exhibits its newest equipment and systems that achieve total filebase workflows from shooting to editing, transmission, distribution, and archiving.
2010.11.18 UP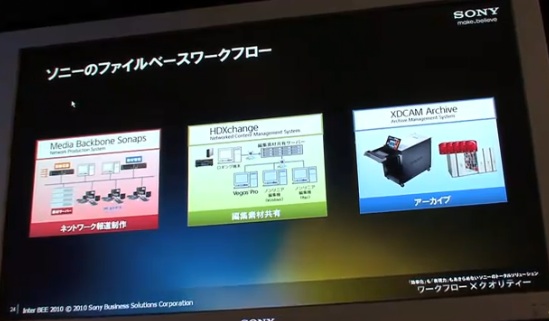 Sony (booth #6311) for the first time exhibited jointly with its new Sony Business Solutions Company, which it launched in April 2010 to sell professional equipment and provide solutions.

This time, Sony offers improved efficiency and production quality based on the theme of "work flow x quality". Sony is exhibiting its newest equipment and systems that achieve total filebase workflows from shooting to editing, transmission, distribution, and archiving. At Meeting Room 201 in the International Conference Halls, Sony held seminars on 3D and high-end solutions.

Sony's exhibits in its booth centering on four items: 3D production solutions, Further development of filebases, Strengthened XDCAM lineup, and the appeal of HDCAM SR MPEG-4 SStP (Simple Studio Profile).

For 3D, Sony announced the MPE-200 multi-image processor, the MPES-2D3D1 2D/3D converter, which is a new product, and 24-inch and 42-inch LCD monitors. Sony is concretely exhibiting the kind of total solutions only possible from Sony. It is also pitching the Media Backbone filebase media integrated management system and the Sonaps network information editing system.

Sony is exhibiting a greatly strengthened XDCAM lineup. The PMW-500 XDCAM memory camcorder, exhibited for the first time in Japan, records in MXF file format on SxS memory cards using an MPEG2 codec that supports 50-Mbps, full HD, 4:2:2 sampling. The PMW-500 also supports recording in the MP4 file format used with XDCAM EX. The SxS memory card comes in large capacities of 32 or 64 gigabytes. It provides the higher speed transfer at 1.2 Gbps.

As reference exhibits, Sony is introducing the XDCAM Professional Disc drive and the XDCAM Station, which mounts an SxS memory card slot and achieves smoothly linked operation. 

The XDCAM Station achieves multitask operation, simultaneously performing multiple operations, such as recording and playback or recording and file transfer. XDCAM Station strengthens network functions and makes possible high-speed file transfer, direct editing from non-linear editing systems, and sharing of raw material files stored in internal storage.

Also, in order to further expand the affordability range, Sony unveiled the PMW-F3 compact, light-weight digital cinema camcorder for the production of low-budget commercials and promotional videos. Thanks to its newly developed X-More Super 35 CMOS sensor, it achieves high sensitivity at F11 and the low noise of a signal-to-noise ratio of 63 dB with shallow depth subject fields, such as films. It also comes with three PL mount lenses.

Sony also beefed up its approach for high-end production from its HDCAM SR Series. Sony is exhibiting the SRW-9000PL camcorder, which is equipped with a single CCD equivalent to super 35 mm and PL mounting.