Inter BEE 2010: IDX releases the TDM-150W 3D/2D monitor using organic EL display with viewing angle of nearly 180-degree and high contrast ratio.
2010.11.18 UP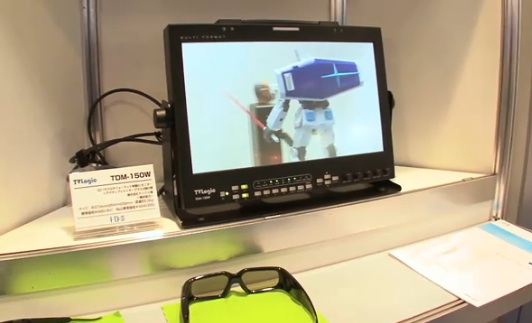 IDX (booth #6310) exhibited the 2D monitor LEM-150 and the 3D/2D monitor TDM-150W, which uses an organic EL display to offer a viewing angle of nearly 180 degrees and high contrast ratio. Sales are scheduled to launch in November 2010.

The contrast ratio is a high 100,000:1, allowing these monitors to show shadows and color tones that could not be expressed until now. The viewing angle is nearly 180 degrees, so even from an angle, images can be viewed just as fine and clear as from the front. The screen display responds quickly to change in voltage by immediately switching color intensity and emission on/off. The 3D type comes with two active shutter eye-glasses.

The MK-L3V is a new type of hand light employing a high-output white LED that achieves low power consumption and long service life. Standard equipped with one-piece camera shoe and focus functions of spot and flat, this hand light can reproduce colors faithfully with an average green rendering index of Ra90 or higher. A V-mount battery-driven adapter set goes on sale in December 2010.

The PlayMagic MFP-100 is a 1U size transmission server that replaces hard disk drives sold in the broadcast and professional markets. It transfers and plays back video and audio materials through the SSD built into the main unit. By unifying the high-performance long-life access patterns with MLC, the SSD achieves the same high-speed I/O performance and lifecycle as an SCL-SSD. High levels of data safety are secured through the automatic caching policy control.