What I Saw at Inter BEE 2014, Part 2: TV Camera Edition
2014.12.5 UP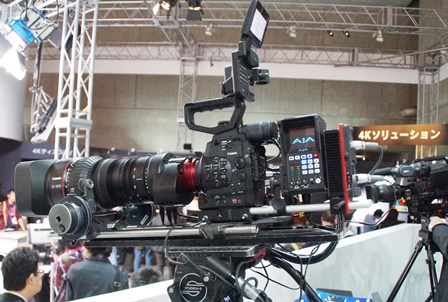 In Part 1 of this column, I outlined my observances of the overall convention and its events. I would like to use Part 2 to discuss some trends in television cameras, which are advancing right alongside the rapid developments in broadcast media.

  In the realm of 4K cameras, Canon exhibited their high-end EOS C500, with increased sensitivity and a BT.2020 compatible color gamut, as well as their EOS1D C compact single-lens reflex camera. But the Canon machines that really impressed me were actually their HD models. One of those models was the EOS C 100 Mark Ⅱ, with its unprecedented performance and functionality. It boasts a large 8.3 megapixel CMOS sensor that uses that same debayering algorithm as the C 500, moire and granulated noise abatement, and a built-in DIGIC DV 4 processing platform; it improves high frequency characteristics while controlling noise, and even comes standard with built-in Dual Pixel CMOS AF* for elevated autofocus performance. The camera also offers improved operability with a tiltable electronic viewfinder and variable angle OLED monitor. Another impressive model was the 7D Mark Ⅱ video-supported digital single-lens reflex camera, excellent for high-resolution still images or Full HD/60p video, and even suitable for use in a range of film and commercial productions, with its approximately 20 megapixel, high-sensitivity CMOS, and built-in Dual Pixel AF. Canon also unveiled their second 4K compatible CINE-SERVO lens, the CN20×50 IAS H. It possesses the world's longest focal length (50~1000 mm) and strongest magnification, capable of 4K resolution in its entire zoom range. The lens can be equipped with either an EF or PL mount, and is capable of extending focal length up to 1500 mm with a 1.5X extender. In addition to being compact and light, its compatibility with a wide variety of telecommunications standards makes it very convenient, while maintaining the operability of existing broadcast lenses. Its detachable drive unit also allows you to easily switch from broadcast style to cinema style operation.

Panasonic's most impressive camera was the VariCam 35 4K camera recorder. With its built-in super 35 mm single panel MOS, high sensitivity, low-noise, and broad color gamut and dynamic range, it displays an unerring picture from the darkest darks to the lightest lights. With 4K/HD compatibility, and a frame rate of up to 120 fps, this camera targets video, commercial, and television drama production. The modular VariCam HS HD model uses an express P2 card, is AVC-Ultra and AVC-Intra 4K/2K compatible, and its in-camera grading function allows color adjustment on the go. Panasonic also impressed in the 4K camera category with the HC-X1000 and the Lumix GH4U. The HC-X1000 is a compact, box-style multi-purpose camera that employs a newly developed 2/3" 4K sensor and a B4 mount, is capable of 4K/2K simultaneous output and 4K/60p recording to an SD card with selectable bitrates. The Lumix GH4U is an ultra-compact wearable 4K digital single lens reflex mirrorless camera capable of extracting an 8 megapixel still image from a 4K/30p video recording. Panasonic's 4K camera lineup is stunning, sure to take 4K content production another step forward.

  Sony showcased a wide range of cameras, the standout being the high-end F65 RS super 35 mm 4K camera with a newly developed built-in 8K CMOS (approx. 20 megapixels), 14 stops of latitude, and a 120 fps top frame rate. They also exhibited their F55 camera, which has recently become the mainstream in 4K production, in combination with a build-up kit that has shown the same level of mobility as a standard shoulder cam. Sony also showcased the PXW-FS 7, a compact, high-mobility memory camcorder with a built-in single panel CMOS with 8.8 million effective pixels, 4K/60p compatibility or 180fps in HD, XAVC Intra/Long compatibility, and easy lens changing; the low-price NEX-FS700RH with 4K/2K RAW output capability, 240 fps recording, and S-Log2 and Gamma capabilities; and a variety of super compact HD action cameras.
 The standout among the cameras exhibited by Ikegami Tsushinki was the HDK-97ARRI, developed in collaboration with ARRI, a proven player in digital cinema. This camera is endowed with a super 35 mm CMOS sensor, high sensitivity and broad dynamic range, excellent high S/N tone reproduction and high-resolution cinema taste image display. For this occasion, it was equipped with a combination of super-resolution technologies—a 3G compatible fiber adapter and 4K converter board in the base station—enabling simple 4K production without losing any of the operability of existing setups. Ikegami also demonstrated the 8K, Dual Green-style, PL-mounted SHV-8100 camera, developed jointly with NHK-ES, boasting a 2.5" 33 megapixel single panel CMOS sensor. It is an 8K camera with exceptional operability and functionality—the camera body and CCU can be connected to a video processor and configured real HD camera with the same optical composite camera cable, and it is equipped with a 9" viewfinder.
 
The convention also saw Hitachi Kokusai Electric showcase its very first 4K camera. The SK-UHD4000 uses a newly developed 2/3" MOS sensor for high resolution and sensitivity, and a proprietary optical system to execute flawless color reproducibility. With a B4 mount, existing HD lenses can be used without losing any of the operability of conventional HD production, facilitating 4K sports broadcasting and studio production. The CCU is compact, capable of simultaneous 4K and HD output and HD image extraction, and can be used in combination with other HD cameras. Hitachi also collaborated with NHK to develop a handheld 8K camera which is already being used for 8K content production.
  JVC Kenwood showcased a number of 4K and HD compatible cameras. The GY-HM200 is JVC's next generation 4K camera, a handheld camera recorder equipped with the company's own F1.2 lens, capable of recording to SDHC/SDXC media in H.264 format, and it can be smoothly linked to existing nonlinear editing systems. They also exhibited the GY-LS300 handheld camera recorder, a compact, detachable helicopter minicam for aerial and gimbal recording with a super 35 mm sensor and Micro Four Thirds mount. In the field of HD cameras, JVC Kenwood showcased the GY- HM650 handheld memory card camcorder, and the newer GY-HM850 model, equipped with three 1/3" 22 megapixel progressive CMOS sensors for high sensitivity, and a 20X zoom lens. These cameras were both demonstrated using a highly stable IP transmission, and mounted with Zixi, a QoS solution for video streaming.

 I was also impressed by a number of cameras exhibited by other companies. FOR-A's new FT-ONE full 4K high-speed camera puts all of the performance of existing models into a drastically downsized model. Also, their latest model of ultra high-sensitivity camera uses a 3-panel sensor for exceptional color reproduction and resolution; it has a minimum illumination of 0.003 Lx for color motion shooting, and its broad spectrum sensitivity enables special effects with the near infrared spectrum. Astrodesign exhibited their AH 4800, an 8K 60p camera with a 2.5" 33 megapixel single panel CMOS sensor. It is very small, with a width and height of 12.5 cm and depth of 15 cm, and light, weighing in at 2 kg. It also uses a PL mount and its good mobility compared to most SHV cameras makes it a great tool for relay broadcasting or underwater shooting.
 Grass Valley put forward their LDX UHD camera, equipped with 3 CMOS sensors and a B4 mount, and capable of 4K recording while maintaining the operating style of existing HD broadcast cameras. Their newest generation camera, the LDX Xtreme Speed comes equipped with a 2/3" CMOS sensor, global shutter system, B4 mount, and can record in HD at speeds up to 6X. Blackmagic Design showed off the URSA, a 4K camera that has QFHD/HD 24/30/60p multi-formatting capability, and is equipped with a super 35 mm sensor, global shutter system, and 12 stop dynamic range. It has EF, PL, and B4 mounts, 5" touch screens on either side of the camera body to adjust settings, and a fold out 10" monitor for viewfinding, making this a useful tool for a wide variety of film, TV, or commercial production, whether you are a crew or a one-man operation. Other models that caught my attention were the two low-priced "Studio Camera" models, light-weight, compact 4K and HD compatible models with small sensors and Micro Four Thirds mounts. AJA Video Systems made their Japan debut, exhibiting the CION 4K production camera. This compact, light-weight 4K/U HD and 2K/HD production camera has MFT mounts that are ergonomically designed to emphasize comfort and convenience, and is capable of up to 4K/60p ProRes on-board editing and 4K/120p RAW data output.

*Note: One pixel is comprised of two photodiodes; two signals are detected from one pixel, they are auto-focused with phase detection, and matched to a focus point at high speed.


Video Technology Journalist, Takehisa Ishida, Ph.D.