Inter BEE 2010: Technology Joint showcases the Cinedeck Extreme, an all-in-one portable disk recorder made by US firm Cinedeck.
2010.11.18 UP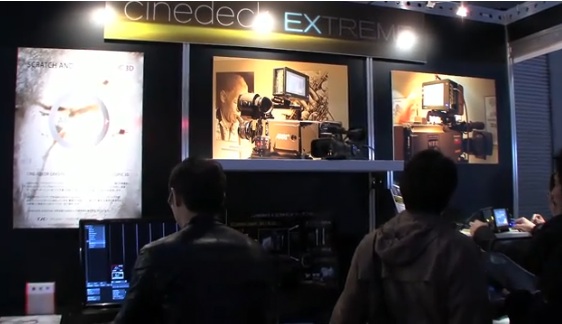 The Technology Joint booth (booth #8504) featured the Cinedeck Extreme, an all-in-one portable disk recorder 7-inch monitor manufactured by American company Cinedeck that was announced at the 2010 NAB Show.

Cinedeck Extreme can work with multiple codec formats, such as Avid DNxHD, Apple ProRes as well as all CineForm editing codecs. The codec can be selected during recording, and recording and playback of 10 bit 4:4:4/4:2:2 non-compressed HD is also possible. The recording media is standard 2.5-inch form factor SSD. Cameras can be connected to Cinedeck Extreme using HD/SD-SDI, HDMI or LAN. As an option, stereophonic 3D input is supported, and during recording the codec can be specified for both the left and right files.

The monitor, installed on the side of the case, is not only useful for checking playback and to monitor waveforms, it is also a touchscreen that can be used as a control panel. The touchscreen can be used in conjunction with the physical control buttons on the unit. Furthermore, the Cinedeck Extreme comes equipped with a recorded data recovery feature, which allows the user to restore files up to the last second before an unexpected interruption, such as a power outage.