Canon: HD portable zoom lens HJ14e x 4.3B/InterBEE2008
2008.11.22 UP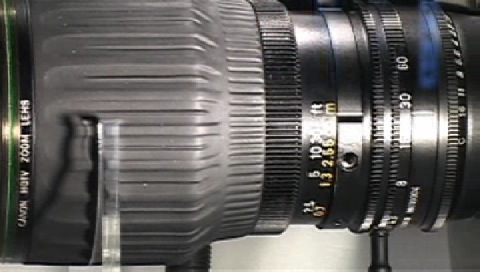 Canon is introducing their new product, an HD portable wide zoom lens.
It will be released next May. It features a wide angle end focal length of 4.3mm and a magnification of 14x, compared to the predecessor's 4.7mm and 11x.
The focal length of 4.3mm means a wider angle and the magnification of 14x can reliably cover objects.
It features the top-of-the-class wide angle performance and delivers an increased peripheral resolution when shooting wide images.
In addition, this type features a renewed drive unit.
Employing free-form curves based on the shapes of human hands, this small-size lens offers a very good hold to shooters, so we would like you to test it.
While this lens can be ideal for use in production, it has a shooting distance of 30cm, so short that you can approach an object quite close, helping you report effectively.