From will.i.am to U-HD, IBC2012 Heralds an Exciting Future
2012.10.15 UP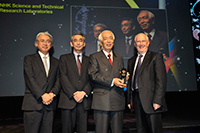 ■Record Numbers Attended IBC2012
The final figures of attendance for IBC2012 is 50,937 which is a small increase of the previous highest attendance set in 2011. This year, updates to the registration system provided a more accurate picture of attendance than ever before. This figure is a testament to the strength and relevance of IBC as a forum of business and debate for the electronic media and entertainment industry.

■U-HD & the Second Screen Were Talk of the Show
The emergence of 4K Ultra-HD or U-HD was a controversial talking point of the show with demonstrations of its viability in capture, post, delivery and display on several stands throughout the exhibition. Second screen activity was also rife, while hundreds of new products from cloud based edit platforms to audio convertors were debuted.

While browsing the advanced technology of 1,400+ exhibitors and our new Hall 14 containing the IBC Connected World, we hope you also enjoyed IBC's array of feature areas including:

• Workflow Solutions Village, which tackled the real world practicalities of file based production head-on in a series of informative case studies led by a behind the scenes window into the live and tape-free compilation of the IBC TV News

• IBC Connected World and Demonstration Area which addressed the rapidly evolving market for smart TVs and multi-screen delivery in the new Hall 14 by bringing new businesses into the IBC fold and allowing attendees a chance to place developments in OTT and mobile delivery in to the context of broadcasting

• Future Zone, featuring Super Hi-Vision highlights of the London 2012 Olympic Games Opening Ceremony and Usain Bolt's 100m win wowed visitors as R&D broke out of the lab

• IBC Production Village, where you could enjoy a golden opportunity to train the lenses of the latest camera kit on professional set mocked up as a traditional Dutch bar

• IBC Big Screen, which played host to a complimentary screening of Martin Scorsese's "Hugo 3D". In a world exclusive courtesy of Paramount Pictures International, Christie and XPAND 3D, a packed house witnessed the first screening of a feature length 3D movie using laser projection, specially prepared for a 14ft lambert presentation (2D brightness levels with 3D glasses)

• IBC Awards Ceremony where we celebrated collaboration. NHK were honoured, NASCAR picked up the Innovation Award for Content Management and the project team behind FIMS were awarded the Judges' Prize.

■The Power of Connectivity at the IBC Conference
The IBC2012 Conference programme reflected the enduring consumer interest in broadcast television and the exciting yet unsettling impact of connected devices on its future. Featuring influential figures, some of the highlights from the 2012 conference include:

• Miles Young, CEO, Ogilvy & Mather Worldwide and BSkyB, COO, Mike Darcey vouched for a strong future in broadcast while calling for broadcasters to embrace online distribution in their keynote sessions

• will.i.am rocked IBC with his singular vision of creative technology in a memorable keynote

• Samsung Electronics, Executive Vice President Global Media & CEO Advisor, David Eun told a packed audience, "We don't want to produce content … but never say never."

• BBC, Director of Sport, Barbara Slater presented behind-the-scenes replays of the awe-inspiring London 2012 Olympic Games

• James Cameron treated delegates to a first look at the bottom of the Mariana Trench

■View Keynote Sessions for Free
You can view all the fascinating keynote sessions, as well as Sports Day and Content Creation & Innovation stream sessions for free with our on-demand session playback service.

■Arm Yourself With The Knowledge
Make sure you don't miss out on any crucial content by passing up this opportunity to revisit IBC2012 Conference sessions. You can purchase all the show's Technical Papers and Presentations in full audio-visual glory for yourself or colleagues to catch-up or revise anything you may have missed. Gold, Silver or Bronze Pass holders will receive the Technical Papers as part of their package, while those with a Gold Pass can access everything as part of their membership.

■IBC2013 Dates
Make a date in your diary for IBC2013
Conference 12 - 17 September
Exhibition 13 - 17 September
RAI, Amsterdam

■IBC Executive Summary
The IBC Executive Summary contains a comprehensive round up and interviews with the leading figures that attended IBC2012.

■IBC Mobile App - Your Year Round Industry Guide
Keep the exhibition catalogue on mobile and access the full exhibitor list, all for free when you download the IBC Mobile App today.