【Inter BEE 2011】Exhibit of Roland's 6-channel, simultaneous recording-capable 'R-26' portable recorder, and the 'V-Mixer M-480' digital console
2011.11.18 UP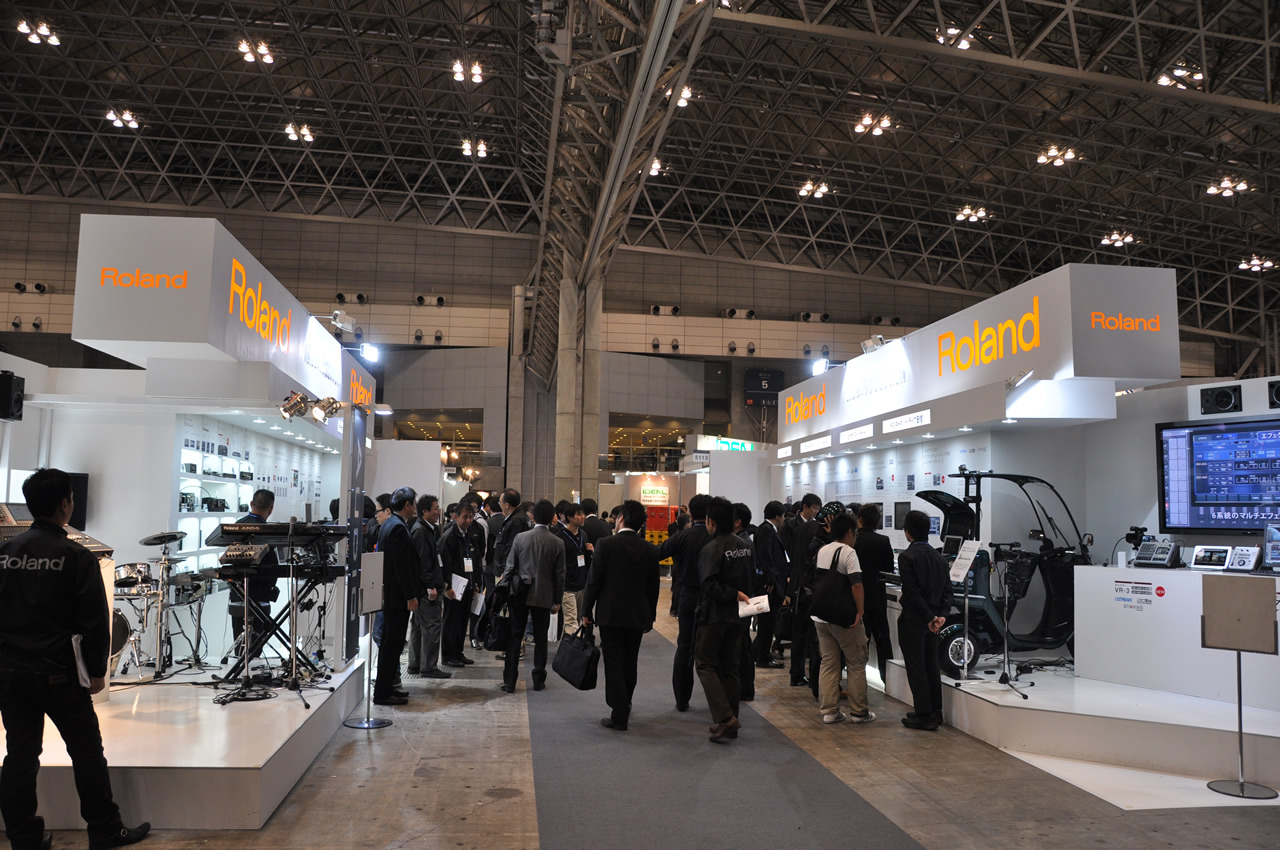 This booth displayed and introduced Roland's 6-channel, simultaneous recording-capable portable 'R-26' recorder (announced in September) and the 'M-480', the flagship model of the next era of V-Mixer digital live mixing consoles (announced in April).

■ Features two types of independent directional cardioid mics with varied alignment, as well as dual built-in external mics, supporting simultaneous 6-channel recording

The 'R-26' is a professional-level portable recorder equipped with both directional and omnidirectional independent mics. With the addition of two lines for connecting external mics, it can support up to 6-channel simultaneous recording. Capable of up to 24 bit/96kHz linear PCM recording, it uses newly-developed analog recording technology - 'IARC' - which utilizes individual inputs to reduce interference. For further ease of use, it also includes a touch panel display and the AUTO-SENS feature to help prevent misses in the recording process. It can also be connected to a computer via USB.

Tomoyuki Kamizono, the section manager of the RSG Sales Department's Marketing Group, had this to say about the new 'R-26': 'It includes not only an omnidirectional mic on each side and a directional 90 degree (XY) cardioid mic in the center, but also two XLR (Canon) connectors for external mics on the underside. This recorder could be used, for example, by connecting the dual built-in PA OUTs to the Canon XLRs, while also using the two types of included mics to record the sounds of the audience and the surroundings, thereby preserving both presence and sound quality.'

■ Exhibit of the 48-channel input/6 stereo return, 24 fader 'M-480' - flagship model of the next era of V-Mixer consoles

The 'M-480' live mixing console is a digital console that includes 48 mixing channels/6 stereo returns, a main LCR output, 16 AUX buses, and 8 matrices. Each input channel is equipped with 4-band fully parametric EQs and gates/compressors, 6 built-in multi-effects, 12 built-in graphic EQs (equalizers), and all input/output channels are equipped with audio delay features. This mixer also features REAC (Roland Ethernet Audio Communication) - an Ethernet-based digital audio transfer technology - which allows the connection of multiple components via CAT5e cable. This enables the transfer of up to 40 bi-directional channels of uncompressed audio data, as well as individual channel level settings and control data.

While it only has 24 faders as opposed to 48 channels, 1-24 can be switched over to act as 25-48. It is also possible to bring commonly used channels to the front for easy access. 'Because it includes so-called 'User Layers', you can assign your most commonly used IN/OUTs to the 24 faders,' Kamizono explained. Additionally, because one fader can be set to have multiple inputs, 'you can control the levels of multiple inputs with a single switch on the fader.' If you are using two M-480s in cascade, up to 96 channels of input can be used.

■ Exhibit of 'R-1000' - a high-quality recording capable track recorder/player

The 'R-1000', part of a new line of professional level audio equipment introduced in September, is a high-quality 48-track recorder/player, using Roland's own 'REAC' technology. 'R-1000' is a 48-track stand-alone recorder that, without the aid of a computer, will record in Broadcast WAV format (BWF) on a removable hard drive (up to 20 hours with 500 GB) for smooth integration with a DAW. It includes 4 built-in 'REAC' ports, and when connected to the V-Mixer, '40 channel voices can be recorded directly.' Not just a mere recording system, the R-1000 can also be used for concert sound checks.