Inter BEE 2010: Toshiba debuts the VIDEOS neo file-based flash memory server, featuring 64-Gbit flash memory.
2010.11.18 UP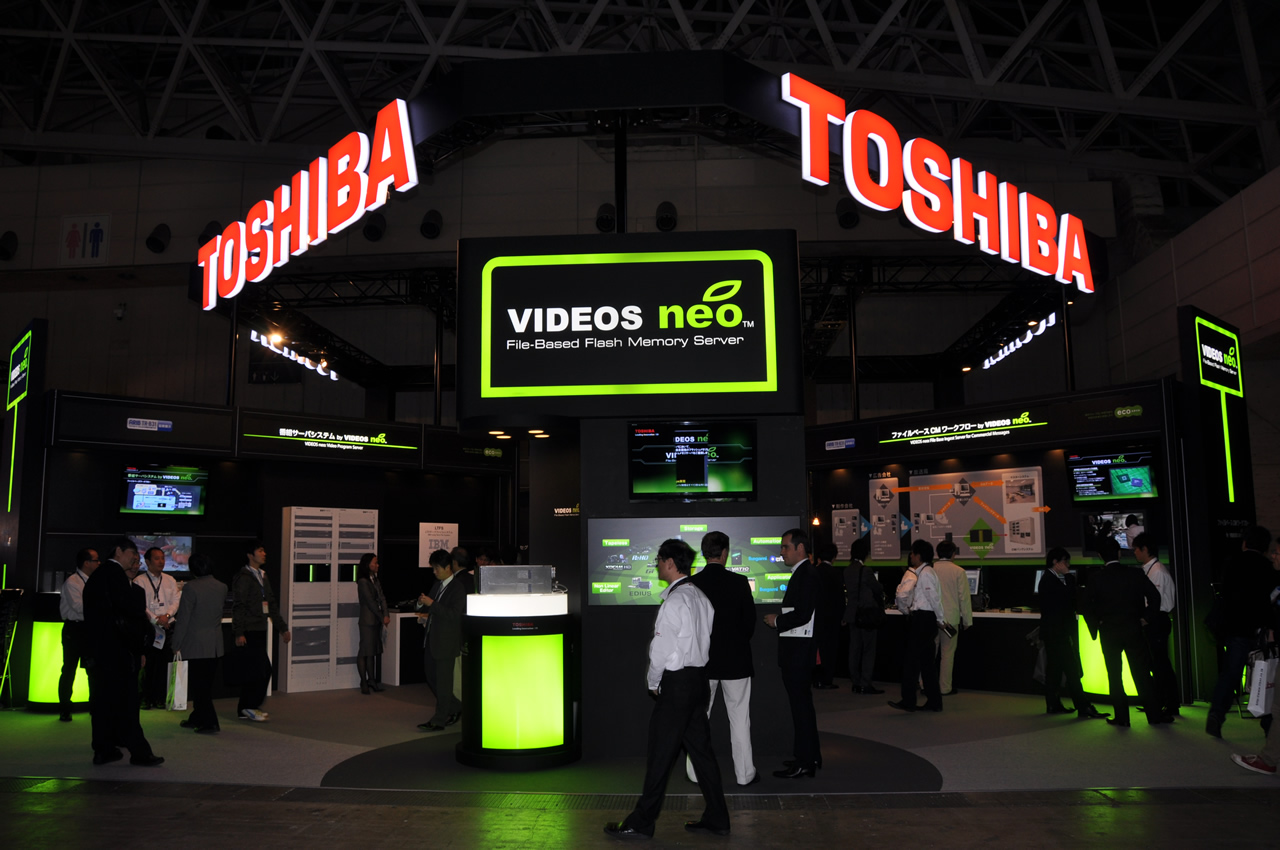 Toshiba is exhibiting the VIDEOS neo file-based flash memory server, which uses their own 64-Gbit flash memory. This is the first time that this product has been displayed.


■ The debut of the VIDEOS neo file-based flashed memory server
Toshiba is displaying the VIDEOS neo file-based flash memory server announced on November 12, 2009 for the first time at this year's InterBEE. VIDEOS neo leverages Toshiba's own NAND-type 64-Gbit flash memory chip and unique memory control technology to achieve high reliability, and reduce both power consumption and the amount of space required for the server system. Additionally, by using NPEngine, a TP/IP offload engine developed in-house, Toshiba says that they have been able to achieve high file transfer speeds of 678 Mbps for a 1G Ethernet port.

In addition to HD/SD-SDI video input and output, and a baseband interface for SDI embedded audio and discrete AES/EBU sound input and output formats, VIDEOS neo is also compatible with input from MXF (MXF OP1a) files. The baseband input can accept between one and forty channels, and output on two to forty channels, using a 10-port 1G Ethernet file interface. VIDEOS neo offers MPEG-2 and P2 AVC-Intra multi-codec functions for GF and XDCAM, etc.

Furthermore, anticipating that VIDEOS neo will be used in conjunction with applications such as CM bank systems, program server systems, and news transmission systems, Toshiba has used industry standard control interfaces such as Ethernet/API, RS-422 (protocol: VDCP, etc.), and SEC NET-LAN.

■ A proposal for a program server system solution using VIDEOS neo
Toshiba is proposing a program server solution built around VIDEOS neo.
As a tangible use case, this is an example of this product being used as a master delivery system and linked program delivery server, areas in which Toshiba specializes. Program materials are registered to VIDEOS neo as a baseband or as a file, and delivered via baseband to programs registered via directives from a master.

Toshiba staff state that although capacity factors make it difficult to use VIDEOS neo as a program archive system, it is ideal for use as a program server system thanks to the ability to construct a system using only two equipment racks rather than the three or four previously required, a significant saving in space.

■ Proposals for an MXF-compatible CM workflow
Toshiba offers a proposal for a CM workflow, as another solution with VIDEOS neo at its core.

VIDEOS neo is compatible with the MXF formats used as a standard for the exchange of CM files, and is capable of reading MXF files from GF, XDCAM, and P2. It can be used as a CM server, reading in CM footage as files and then outputting them on a baseband to an existing CM bank system

Moreover, Showa Nakamura, investigator for the Infrastructure Solutions Division at Toshiba Solutions Corporation, explains that broadcasters will be able to use VIDEOS neo as a file-based CM bank system if they wish to move to such a system in the future. Nakamura says that Fuji Television is using VIDEOS neo as a CM delivery server.

Also featured in the CM workflow corner was a CM exchange meta data application for importing MXF and XML meta data contained in GF, XDCAM, and P2 media received.