[InterBEE 2017] Major developments in the course of shifting broadcast systems to IP; Sony exhibits live production system using IP; NHK debuts 8K outdoor broadcasting van
2017.11.29 UP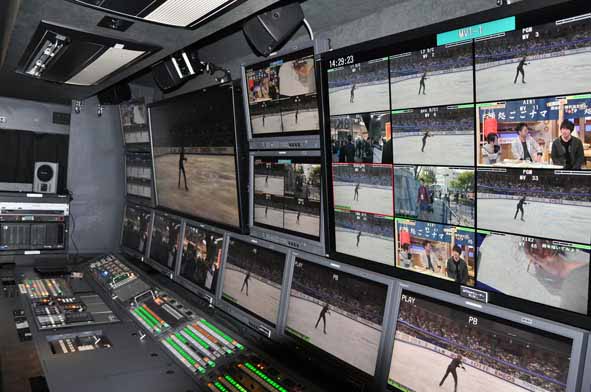 The most significant trend seen in the exhibitions of each company at InterBEE 2017 was that the course of the shifting of broadcast systems to IP has progressed considerably. Due to the ever-advancing shift to high-resolution/high-definition video, the move to IP, which for broadcasters is centered around transmissions, will be inevitable. The shift to IP has also attracted attention for its optimization of production and a variety of other merits. At an exhibit related to Sony's proposed IP transmission standard, NMI (Network Media Interface), IP Live Alliance Members, centered on Sony, connected an IP network between booths and conducted reciprocal IP transmissions. Additionally, Alliance members NEC and Toshiba touted IP Live and Media Over IP and exhibited IP-based broadcast systems. For 8K live systems, ASTRODESIGN debuted 8k Video Over IP transmission apparatus and NHK debuted an 8K outside broadcast van.

■ Sony exhibits IP Live Production System; Demonstrates Remote Production of 4K Video
Sony exhibited its IP Live Production System, a next-generation video solution with its video IP transmission standard as its core technology. At their booth, in cooperation with Internet Initiative (IIJ) and Nexion, they used a dedicated 10G network to link a remote studio, set up at IIJ's main office in Iidabashi, Tokyo, with Makuhari Messe, and demonstrated the remote production of 4K video. The video recorded by the 4K camera was transmitted once compressed with an LLCV (Low Latency Video Codec).
Sony, expecting this IP Live Production System to spread, has newly developed its NS-BUS control protocol for routing switchers. They exhibited the MKS-R3210 and MKS-R1620 remote control panels, which are compatible with NS-BUS and scheduled to go on sale in January of the coming year, and demonstrated switching over from video to video using video transmitted from the NEC booth, video from the 8K camera within the Sony booth, and 4K live video sent from the remote studio. The booth supervisor explained that SDI devices can also be connected using an SDI-IP converter, and "because it's possible to switch cleanly to existing SDI in the same way, video transmitted long-distance and video shot within the studio can be used with the same look and feel." Additionally, because it is possible to connect to NMI-compatible products by other manufacturers, they were able to use NEC's MF4000 series IP-SDI converter and FOR-A's USF-10IP series IP Gateway as SDI-IP converters in the booth. Regarding the IP Live System Manager, which controls all IP as the core of the IP Live Production System, they expect to have compatibility with NS-BUS with the addition of the PWSL-NM20 system controller license.


■ NEC Exhibits IP Routers and IP Gateways
The company that has attracted attention for its IP transmission broadcast system is NEC. NEC exhibited IP solutions for broadcast such as IP routers and IP gateways at the Media Over IP corner under the theme of Studio Total IP Solutions. NEC, a member of the IP Live Alliance, conducted a demonstration in which they input two uncompressed 2K videos, transmitted over IP from the Sony booth, into an MF4400 IP Gateway (4K/IP Media Processing Converter) that converts SDI-IP, and displayed the SDI-converted video on a monitor. Additionally, the NEC booth transmitted 4K video from their server to Sony over IP.
The MF4400 IP Gateway, which performs SDI-IP conversion, is compatible with SMPTE 2022 and can handle up to 56 channels. It is also compatible with the 12G/3G/HD-SDI interface and the 12G/3G/HD-SDI optical interface and is equipped with the IPGW4000 IP gateway unit, which compresses 12Gbps video to 3Gbps video for transmission of 4K video on the 10Gbps IP interface.
The IPGW4000 IP gateway unit uses the TICO compression method for compressing 4K video and compresses 12G-SDI video to 1/4th of 3Gbps. Additionally, the booth supervisor explained that Sony's LLVC method "is compatible with NMI, AIMS, and other major transmission formats because it has an on-board LSI that is LLVC-compatible."
 In addition, they also exhibited an integrated playout server with its mastering functions implemented as software.


■ Proposals for Transmission of Materials with Media Over IP
Toshiba Infrastructure Systems gave a reference exhibit of its Media Over IP-compatible products. It presented its video server NextVIDEOS, which will serve as the successor to the flash memory server VIDEOS. VIDEOS has a substantial track record as a bank for commercials and server for programs. They also exhibited the IP Gateway, which converts from SDI to IP.
 At the booth, they conducted a demo of Media Over IP by converting an uncompressed 2K video signal from SDI to IP through their IP Gateway and recording it on a NextVIDEOS video server, proposing the transmission of materials using IP.
 The video server NextVIDEOS is expected to be compatible not just with SMPTE 2022 and NMI but also SMTPE2110 and the NMOS (Networked Media Open Specification) published by AMWA (Advanced Media Workflow Association). Additionally, they explained, "We are developing NextVIDEOS, aiming for it to be a component that, by integrating mastering functions and implementing them as software, is compatible with new services such as news transmissions, CATV transmissions, and net-based distribution."
IP Gateway is presently 2K-compatible with one input and one output, but it is expected to be compatible with 4K in the future as well.


■ ASTRODESIGN Presents 8K Video Over IP Transmission Apparatus for Reference
ASTRODESIGN, exhibiting in cooperation with Sharp, presented for reference the 8K IP transmission apparatus IT-5110/IR-5111, developed in cooperation with NHK. The IT-5110/IR-5111 can transmit DualGreen (8 x 3G-SDI signals) through four 10 gigabit ethernet ports and 8K/4:2:2 (16 3G-SDI signals) through eight 10 gigabit ethernet ports. Additionally, it performs packetization based on SMPTE 2022-6 standards and can transmit two 3G-SDI signals through one 10 gigabit ethernet port. It also uses IEEE 1588 PTP (Precision Time Protocol) time synchronization, enabling the synchronization of remotely located devices through the return port as well as the control of remotely located devices. The booth supervisor stated, "We conducted a transmission experiment over a 10 Gbps line between Tokyo and Osaka using eight 8K/4:2:2 video signals and succeeded in producing a stable transmission." "Because we can transmit uncompressed 8K video live from remotely located relay sites to venues for public viewing, it's possible to provide undegraded video with a feeling of realism between distant places," the supervisor explained.


■ Debut of the 8K Outdoor Broadcast Van; 8K Production is Already Possible
At InterBEE, NHK debuted its 8K outdoor broadcast van (SHC-1), built by Ikegami Tsushinki Co. and used at the NHK Trophy international figure skating competition which was held right before InterBEE. Within the 8K outdoor broadcast van, actual relay footage shot at the NHK Trophy international figure skating competition was displayed.
 The 8K outdoor broadcast van contains a production room and equipment room. The production room contains a 55" 8K monitor, a 2K picture monitor (made by Ikegami Tsushinki Co.), a 1M/E switcher with 16 inputs and 4 outputs (made by NEC), an SSD slow-motion replay device (made by ASTRODESIGN), an 8K telop apparatus (made by Nikko Telecommunications), and other equipment, and can connect with up to ten 8K cameras. In addition, the equipment room holds an 8K camera operation panel, a 4K mastering monitor, a 4K monitor, a 4K waveform monitor, and other equipment. The 8K signal (uncompressed 24 Gbps) produced by this 8K outdoor broadcast van can be transmitted over dark fiber, but at the NHK Trophy international figure skating competition, a supervisor explained, "we compressed it to 150 Mbps and transmitted it to Tokyo over optical fiber."
Apart from the 8K outdoor broadcast van displayed at this event by NHK, they also said that although Sony has the SHC-2, the 3rd generation of this device is in development and preparations are proceeding for the planned launch in December of 2018 of practical 4K/8K broadcasting.