Inter BEE 2017: Reporting on the features from all of the companies making the 8K/4K high-resolution 360-degree cameras that are expanding the possibilities of VR video! Tomorrow (Nov. 17th) is the last day of Inter BEE, and the last chance to experience it all!
2017.11.16 UP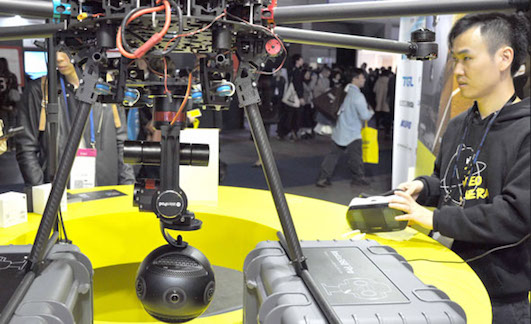 Tomorrow is the final day of Inter BEE 2017, a gathering of a diverse range of video content professionals, from the fields of broadcasting and film, to video distribution, to live video. Through every year of its existence, Inter BEE has offered the opportunity to experience the latest in video trends. This year, it is VR video that has rapidly solidified a presence as a new segment of the industry.
The decisive difference between this latest emergence and the various VR crazes of the past can perhaps be found in the shift to high definition video, which has taken these 360-degree visuals to a remarkable level of realism. The range of applicability and usability of ultra HD cameras filming in resolutions like 8K and 4K has also grown to such an extent that it is no longer unreasonable to believe that the VR field is benefiting more than any other from the capabilities of these cameras.
At this year's Inter BEE, as well, all of the exhibits featuring 360 cameras have attracted large crowds. Although high definition has been the universal keyword, there have been subtle differences in compression methods and the other built-in features and capabilities of these tools, all of which are oriented toward the various markets that each manufacturer is targeting, such as the distribution and recording markets.
For this article, we have compiled an overview of the 360 cameras from the major exhibitors. This is a valuable opportunity to see all of the the high definition cameras that are underpinning VR, as it opens up new markets. We hope that you will come to the final day of Inter BEE to experience them firsthand.
(The photo above shows the Insta360 Pro, Insta360's 8K-compatible 360-degree camera.)

(November 17th (10:00 AM – 5:00 PM) is the final day of Inter BEE 2017. Admission is free. Registration can be done via the web in advance, or in person at the venue.)



Panasonic: AW-360C10/AW-360B10 360-degree live camera
•Panasonic displays professional 360-degree live camera with uncompressed 4K output capability
Panasonic (hall 7, booth number: 7309) has exhibited the AW-360C10/AW-360B10 (camera head/base unit), a 360-degree live camera capable of outputting uncompressed 360-degree video in 4K/30p. The company first announced this camera in September.

The AW-360C10 camera head is equipped with a four-camera system, the video from which is stitched in real time by the AW-360B10 base unit, producing omnidirectional 360-degree video in a 2:1 equirectangular aspect ratio.

"The base unit performs the stitching in real time, which means that the can transmit live video on its own, without requiring you to stitch the video output afterward," explains a Panasonic representative.
At the Panasonic booth, the company set up a 360 camera unit to film the action at the venue. 4K video stitched by the base unit was output to a PC via HDMI. The company also put on a demo in which the video was streamed live on YouTube from a PC.

Related page (link below): https://panasonic.biz/cns/sav/products/aw-360/index.html


JVCKenwood: Reference display of the HAWK2, the result of a collaboration with US-based RTI
•Seamless 3K x 3K square video streamed live
JVCKenwood (hall 6, booth number: 6110) provided a reference display of its HAWK2 360-degree live camera, which it has developed in collaboration with the US-based RTI. The HAWK2 is a professional 360 filming and livestreaming solution, suited to applications such as auto racing and field sports.
The HAWK2 360-degree live camera was developed jointly with US-based RTI. "The lens and design were developed by RTI, while the camera and sensor were developed by JVCKenwood," says a JVCKenwood representative.

This new camera is distinguished by the JVCKenwood-developed camera lens and sensor. The single lens unit is combined with a GW-MD100 4K camera module to stream 3K x 3K square video live and seamlessly.
"The 360 cameras that are common currently have two or more shutter sensors, which means it is necessary to stitch the video from each one. However, this 360 camera has one camera (lens), so stitching is unnecessary. This means that the camera is able to stream seamless, high-resolution video," explains the representative. It is possible to compile this 360-degree video on an SD card and output it via quad-link 3G-SDI on a fiber optic connection.

At the JVCKenwood booth, company representatives output 3K x 3K square video from a 360 camera, streamed it over a fiber optic connection, converted it to SDI with a converter, and exported it to a PC. The imported 360-degree video was rendered seamlessly on the PC and displayed on a monitor via HDMI. With the use of this 360-degree live camera, it would, for example, be possible to stream video live on YouTube, say JVCKenwood representatives. However, when streaming on YouTube, it is necessary to resize the video. Additionally, the JVCKenwood booth also hosted displays of an application that enables 360-degree live video streaming to mobile devices, and a head-mounted VR monitor capable of displaying 360 content.


Insta360: The Insta360 Pro, a pro 360 camera capable of livestreaming 360 video in 8K
•Capable even of livestreaming, a 360 VR camera loaded with six lenses
Making its first appearance at Inter BEE this year, Insta360 (hall 6, booth number: 6301) showed the Insta360 Pro (pictured in the title photo above), an 8K-capable 360-degree camera; the new Insta360 ONE, which can be used in connection with a smartphone; and the Insta360 Air, a compact, lightweight 360-degree VR camera.

The Insta360 Pro is equipped with six 200-degree fisheye lenses. Capable of capturing 360-degree photos and video at resolutions up to 8K, this 360 3D VR camera is aimed at the professional market. It is also capable of 360-degree livestreaming.

Agatha, a marketing manager at Insta360, explains its features as follows.
"When filming in 4K, the Insta360 Pro allows real-time stitching, time-lapse mode, and high frame rate filming at 100fps." This 360 camera features Wi-Fi and Bluetooth connectivity, for remote control via a smartphone app. Agatha notes that it has already been used for purposes like sports broadcasting, variety shows, and films. The company has also developed a mount for loading the camera onto drones. "It's now possible to shoot high definition 360 video with the use of a drone," says Agatha.

Released in August, the new Insta360 ONE is a 360-degree 3D VR camera. It can connect to Android smartphones via Bluetooth for remote-control shooting of still photos at 24 megapixels. It is capable of taking stills at 7K (6912 x 3456), and videos at 4K (3840 x 1920). It can also connect to iPhones via its Lightning connector.
"One of the special things about this camera is that you can easily create 'bullet-time' videos, by doing things like using the Free Capture editing feature to change the angle any way you like with the 360 video you've shot," says Agatha.

The Insta360 Air is a compact, lightweight camera that can connect to other devices via Micro-USB and USB Type-C, allowing users to shoot 360-degree photos or video while checking the results on a monitor. It is also capable of 360 livestreaming. When connected to a computer, the camera's livestreaming capabilities also enable video chat.

Jouer: The Kandao Obsidian R, a 360 camera made by Kandao, capable of 360 filming and recording at 8K and 30fps
•Stereoscopic 360 video capability at 8K and 30fps, shown in Japan for the first time
Jouer (hall 6, booth number: 6105) displayed the Kandao Obsidian R, an 8K stereoscopic 360 camera made by Kandao, as well as the Z CAM S1, a 360 camera from Shenzhen ImagineVision Technology capable of 360-degree livestreaming at 4K, and 30fps 360-dgree filming at 6K.

The Kandao Obsidian R is a camera capable of shooting 360 video at 30fps in stereoscopic 8K. This is the first time it has been displayed in Japan. "Generally speaking, stereoscopic filming had only been possible at up to 6K. What sets this camera apart is that it's capable of filming at up to 8K," explains a representative from the Jouer booth.

The Z CAM S1 is a compact 360 VR camera system. The camera unit's dimensions are about 92mm x 92mm x 142mm. It is capable of shooting 360-degree video at 30fps in 6K, and livestreaming 360-degree video at 60fps in 4K. Output is available via LAN and HDMI. Recording to an SD card is also possible. When livestreaming 360 video at 4K, it is possible to stream to YouTube and Facebook Live 360 by connecting via LAN to a computer equipped with a graphics card that meets the recommended specifications and using the accompanying Z CAM WonderLive livestreaming software. "One of the features of this camera is that the space between the lenses is small, so there's less parallax," explains a Jouer representative.


Photron: The Jaunt ONE 24G, a professional 360 video production camera system capable of 8K broadcasting
•Equipped with 24 shutter sensors with 130-degree lenses, with a 10-stop dynamic range and 120fps maximum
Photron (hall 6, booth number: 6210) exhibited the Jaunt ONE 24G, a professional 360 camera from Jaunt.
The Jaunt ONE 24G is a camera system aimed at professionals, designed specifically for filming high-quality 360-degree VR video that can be used even for 8K broadcasting. It is equipped with 24 high-resolution shutter sensors with 130-degree lenses, and boasts a 10-stop dynamic range. It supports a frame rate of up to 120fps. "Even when used in dark places, it has low noise, which means you can film high-quality 360 video, with 8K capability," explains a Jouer representative.
The film production company Imagica is already making use of this 360 camera, and is planning to use it in the production of original content.