KDDI R&D Laboratories: Measuring video shooting and content editing skills using video assessment technology/InterBEE2008
2008.11.20 UP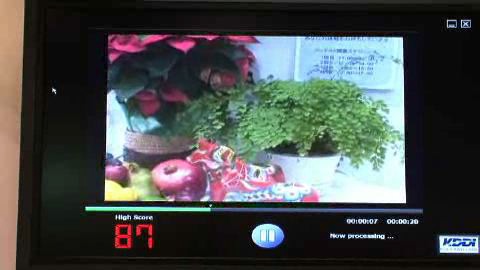 KDDI R&D Laboratories has developed this technology to assess video production skills.
They are introducing a technology to assess how the camera work can improve the quality of videos.
KDDI R&D Laboratories is planning to establish standards to evaluate the value of videos and this technology is part of our ongoing efforts for the future.
If video shooting skills are too high, then the video created may be regarded as one produced by professionals.
Those professional videos should not be uploaded to YouTube if they violate copyright.
So we are thinking of a solution based on the technology to check the legality of video content.
The user can use this technology, for example, to test the quality of their videos before uploading them.
KDDI also offer to use this as a testing your karaoke skills.