Inter BEE 2010: Yoozma exhibits DDB-Lite Series broadcast equipment for area 1Seg terrestrial digital broadcasting service for mobile devices utilizing white spaces.
2010.11.18 UP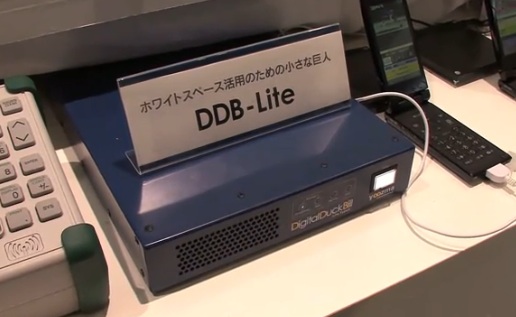 At Inter BEE 2010, Yoozma introduced the DDB-Lite series area 1Seg transmitter DDB-Lite and DDB-Signage that makes it possible to start autonomous digital broadcasts inexpensively inside a building and in white spaces.

Digital Duck Bill-Lite (DDB-Lite) has ASI input/output, IP over TS input, data broadcasting creation, MUX, and OFDM demodulation functions assuming applications utilizing A4 size bodies and compact size white spaces.

It can also take in video content sent over the Internet and video content sent from an encoder, convert information sent from a CMS into data broadcast format, multiplex video, and data broadcasts, and transmit them with ultra-weak signals.

The same small A4 size as DDB-Lite, DDB-Signage is a 12Seg transmission device designed for digital signage usage. It produces cumulative playback functions generating loops from USB memory of TS files made and stored beforehand. The video content for DDB-Signage requires encoding using the attached SDK, which is a dedicated codec.

About the features of DDB-Lite, Representative Director Takashi Noguchi said "DDB-Lite makes it possible to transmit OFDM wave complying with the Transmission Equipment Common Specifications for Digital Terrestrial Broadcasting (Orange Book) written by the Japanese Digital Transmission Equipment Study Council, which is the broadcast station minisatellite and relay station standard". Takashi Noguchi specifically explained "DDB-Lite carries out processing such as suppressing the extraneous radiation in the transmitter output to values lower than the specter mask level regulated by the Orange Book and can transmit signals stably".

Yoozma is also scheduled to start the Yoozma Broadcast Cloud Center service which produces the broadcast user in place of the user and sends it to DDB-Signage using IP if Internet information used for video data and data broadcasting is registered. Noguchi explained "using this service makes it possible to manage content remotely for digital signage terminals installed in stores". This service is provided for prices starting from 50,000 yen per month.