InterBEE 2012: My Impressions (Part 3) | Content creation and video monitors
2012.11.29 UP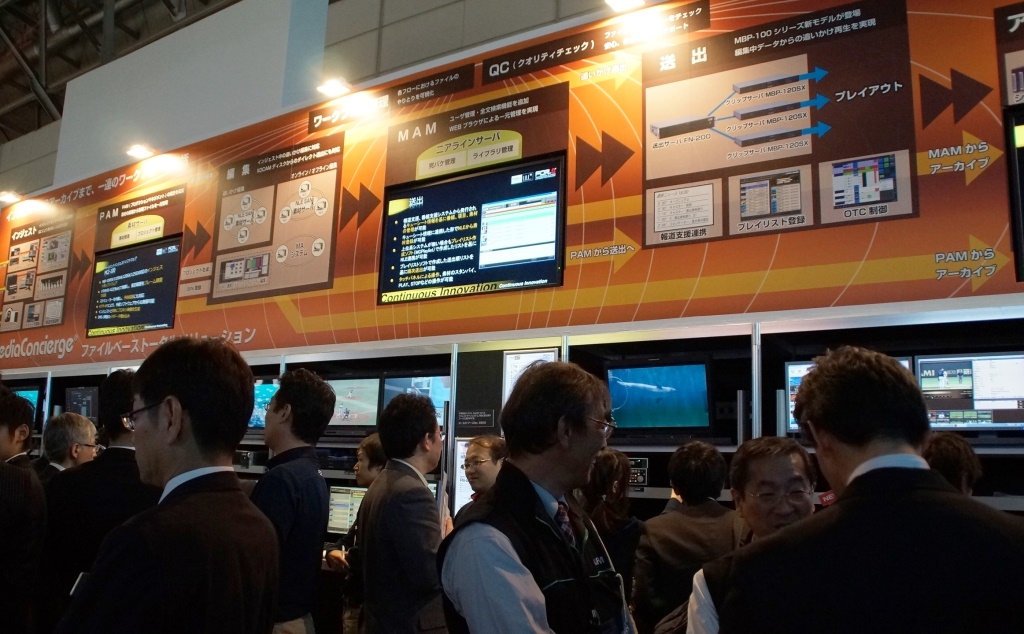 In Part 1, we explored the overall feel of the whole expo and each event; in Part 2, we covered the ever-diversifying world of cameras. In this volume, we will be looking at content creation solutions, in particular the file-based workflows being adopted by broadcast networks and content producers. In addition, we will cover trends in video monitors, where increasingly high-fidelity displays are being used to display content and manage production video quality.




 FOR-A exhibited a file-based total solution for today's digital era. Its product links video footage with meta data and uses an integrated file-based management system to administer all aspects of ingestion, editing, delivery, and archiving. Media Concierge, the core tool which manages this workflow, was updated with new features, and the usability and operability of its editing and delivery components had been further improved. The archiving tools now feature a new, high-capacity LTO server capable of high-speed transfers. A wide range of other state-of-the-art products was also on display: Smart Direct, an all-in-one production system with essential production features like caption adding and switching; the HANABI series, a new line of video switchers; and high-fidelity color correctors, framerate converters, and high-res multi-viewers for today's content creation environments, where complexity and high-fidelity are the name of the game.

 Sony demonstrated the SRMASTER, a file-based workflow system featuring its high-speed, high-capacity SRMemory, as well as supporting HD, 4K, 3D, and 60p specs. Also on view was a file-based system compatible with Sony's expanded XDCAM lineup. The system is built around the XDCAM Station, which handles filming, nonlinear editing, delivery, and archiving. In the recording media arena, Sony presented high-speed and high-capacity optical disc archives. Ikegami Tsushinki was also in step with the times, showing its iSTEP+, which has garnered praise as a file-based workflow solution. This total system utilizes an asset gateway server to manage program data and writes data to a dedicated editing and content server. The system works across a network to connect all elements of the production process, from recording, editing, delivery, on through to archiving.

 Toshiba exhibited its VIDEOS neo, a tool designed to be at the core of users' file-based workflows. It uses 64Gb flash media, a highly reliable and proven media, and features a choice of three memory boards. Memory can be expanded up to 60TB, and the unit is energy-friendly and space-saving. The system uses RAID storage for further peace of mind. According to Toshiba, this product has already been ordered by 20 key and local broadcast networks for use as a program and delivery server. Toshiba also exhibited an expandable library system for use with LTO media. That system is built around the company's 'merify' application. Photron Digix, fresh from a merger with Imagica Digix this year, showed a variety of products from partner companies. Those included live demonstrations of AVID's Interplay Sphere, which allows for on-the-scene news broadcasts; the Nucode FilmMaster, a color grading and finishing system, and the DaVinci Resolve, a color corrector, both from Blackmagic; and Vizrt's Libero Highlight, a 3D sports analysis system.
 
 Grass Valley, a top brand in the broadcast industry for over 50 years, met today's digital era with a diverse lineup of systems and software. These systems are geared at not only the broadcast industry, but a wide range of users and needs. They included the STRATUS, a next-generation asset management system for media production workflows; the K2 Summit 3G, a new product offering 1080p and 50/60 format support; Edius 6.5, the latest version of the company's nonlinear editing software; K2 Edge, a total delivery system with multi-channel support; and the Kayenne and Karrera series of production switchers. Each space at Grass Valley's booth had live demonstrations, attracting numerous guests. Meanwhile, Blackmagic Design, which has quickly ramped up its sales to global markets, was up-to-date with today's video climate. The company showed its HyperDeck Studio Pro, an SSD recorder for integration with 4K environments. Also on view was its SDI Multiplex, a mini converter for SDI to HDMI 4K. Finally, it showed the Teranex, its 2D/3D processor and converter. As for the classic DaVinci Resolve (Mac version), well-known domestic and overseas colorists held demonstrations of its color grading system, and actual users of the software also congregated for a meet-up.
Quantel gave live demonstrations of its Pablo Rio and QTube, two systems that fared well at NAB and IBC. Meanwhile, at its own booth, Autodesk showed off Smoke 2013, which has been gaining attention since its unveiling at NAB. Autodesk's systems and other products were shown at the booths of its agency partners like NGC. Avid did not rent booth space this year, choosing instead to display a wide range of products throughout its partners' booths.