[Inter BEE 2011]LEADER Electronics exhibits loudness measurement compatible multi-monitors LV 5800 and LV5770, ISDB-Tmm compatible signal generator
2011.11.18 UP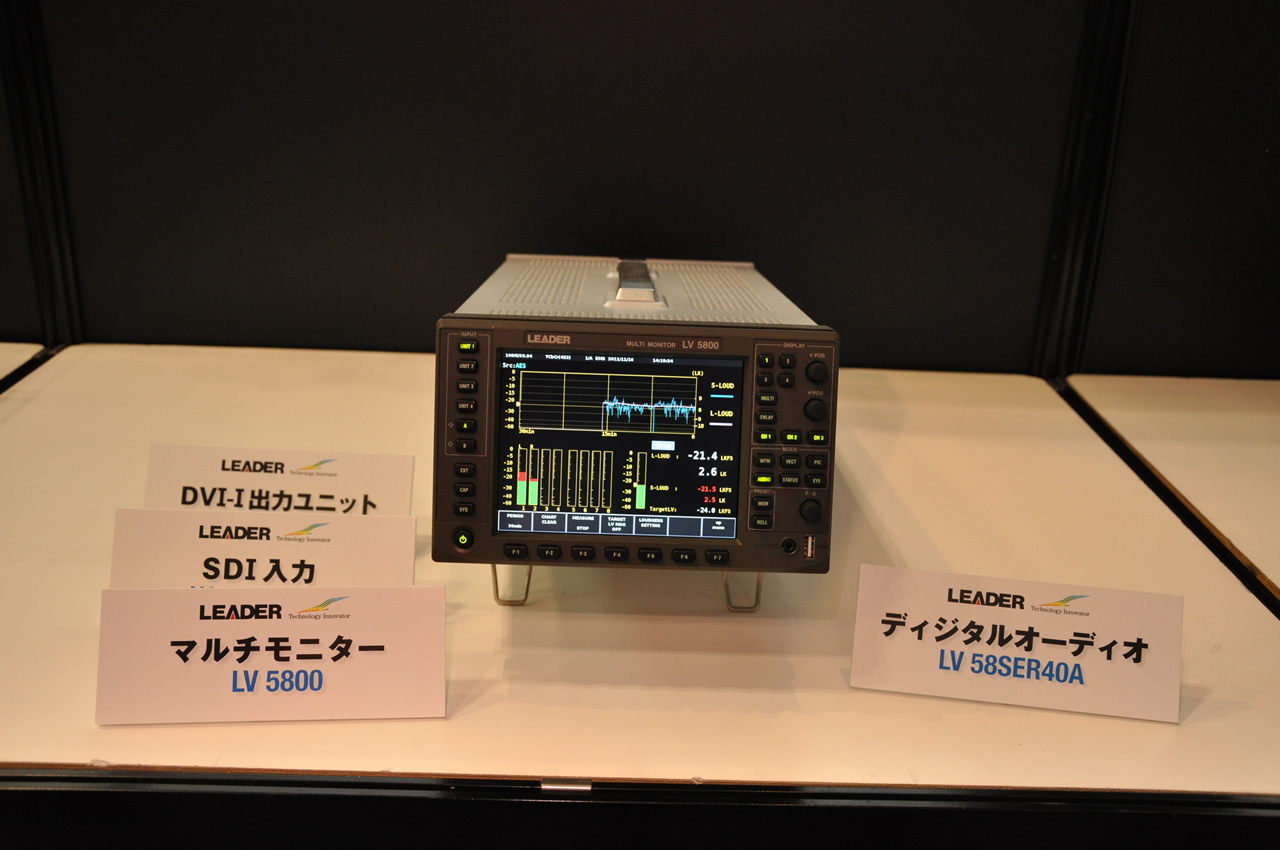 LEADER Electronics exhibited its hotly-watched LV5800 and LV5770 loudness measurement compatible multi-monitors equipped with its LV 58SER40A digital audio unit, as well as displayed a signal generator compatible with the ISDB-Tmm multimedia broadcast spec for mobile devices. It also exhibited reference units of its LV5837 audio monitor and ISDB-Tmm signal generator.

- LV 5837 reference unit on display: a loudness compatible audio monitor

 LEADER Electronics presented its LV 5800 and LV 5770 loudness measurement compatible multi-monitors equipped with the LV 58SER40A digital audio unit. It also showed a reference unit of its LV5837 dedicated audio monitor. The LV 5770 is the budget version of the LV 5800 and is capable of simultaneous monitoring of dual SDI signal inputs.

 The LV 58SER40A plugin unit is intended as a loudness measurement solution and is installed on the LV 5800 and LV5770 multi-monitors. Functions include a loudness display for long-term graph display, a 5.1ch surround display, and a lip-synch measurement function to measure the gap between video and audio signals.

 A booth guide explained that long-term loudness measurement 'has two modes: during live measurement, it reads the average value from startup to the present moment; when measuring is stopped, it computes an average value from the start to stop time.' Additionally, users can switch between short-term and momentary measurement modes. Measurement log data can be taken for logs up to two hours: 'Timecode-synchronized log data, in 100msec units, is saved as a CSV on USB memory.' Furthermore, the guide explained that 'it includes an automatic measurement function to begin measuring timecode signals from external devices.'

 In addition, LEADER displayed a reference unit of the LV5837, a loudness monitor developed specially for audio.

- On display: ISDB-Tmm (mobile multimedia broadcast spec) compatible signal generator

 LEADER displayed and introduced the LG 3810, an RF signal generator equipped with its LG 38SER06 add-in modulator, which is compatible with the ISDB-Tmm mobile broadcast spec. The device is slated to launch in April 2012. By using add-in software, the LG 38SER06 ISDB-Tmm modulator allows simple support of ISDB-Tmm modulation functions, which enables RF signal output in the VHF-H spectrum through segmented channel settings, 13 segment output, 1 segment output, as well as 13+1 segment output. The booth guide explained that 'It is already being tested by receiver manufacturers.'

 A reference unit of the LF 990 signal level meter with an added ISDB-Tmm signal measurement functions was also exhibited. The LF 990 signal level meter is compatible with Japanese domestic ground waves, CATV, and digital satellite broadcasts, with the added functionality of measuring the ISDB-Tmm format. 'The LF 990 is expected to launch next Spring and will ship as an upgrade option, with modifications to the LF990 base,' explained the guide.