Inter BEE 2010: ASTRODESIGN Inc. demonstrated the compact and lightweight HR-7502 2K SSD recorder.
2010.11.18 UP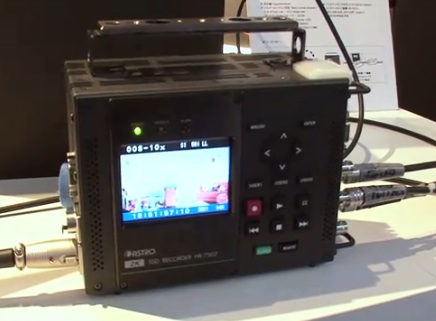 ASTRODESIGN Inc. (booth #5613) demonstrated many of its latest products and systems centering around on high-precision and large-display video content, digital broadcasting, and digital cinema, which are designed to answer customer needs.

The HR-7502 is a compact and lightweight 2K SSD recorder that is compatible with various formats. It is equipped with a 3.5-inch LCD panel that can be used to playback and check recordings; extended operation also made possible as the SSD (solid-state drive) recording device is replaceable. What's more, recordings can be made continuously while transferring files by using an exclusive file transfer tool for the SSD pack (optional). Transferred data is compatible with DPX and BWF file formats.

Other new products on exhibit included: The AH-4410/AP4411 4K-resolution high-precision camera system, HR-7512 full-spec 4K uncompressed SSD recorder, WM-3204 17-inch multi-waveform HD monitor for video-engineer stations, audio monitor with a loudness meter, one-segment receiver, flexible scan converter, and multimedia scan converter. Also, essential products for digital broadcasting such as the 56-inch DM-3410 QFHD LCD monitor, a set of 3D cameras, and a 3D-compatible LCD monitor were introduced.