Panasonic: AVCCAM AG-HMC155 Memory Card-based Camcorder/InterBEE2008
2008.11.22 UP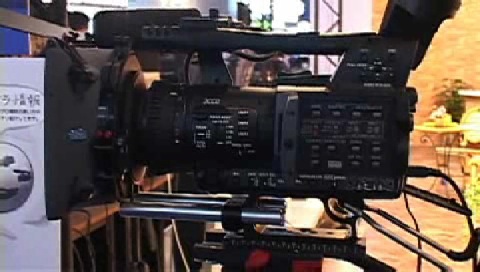 AVCCAM AG-HMC155 is compatible with SD memory cards, this is the HD tapeless version of the previous 24P-based DVD camera recorder AG-DVX100.
As it records videos into SD memory cards, it can generate easy-to-edit data files upon shooting, and the use of memory cards prevents mechanical troubles and allows for highly reliable recording.
Like the DVX100, the AG-MHC155 is ideal for use in creating films or as a sub-camera to collect news materials.
Using the same format as consumer recorders, it can be used for PR video production and other applications.
Right now we have only this full-fledged business-use model, We plan to release low-end products, shoulder-mounted cameras, and smaller-sized models in the future.