YEM Eletex Inc.: "HSS-1000" SDI Seamless Switcher /InterBEE2008
2008.11.20 UP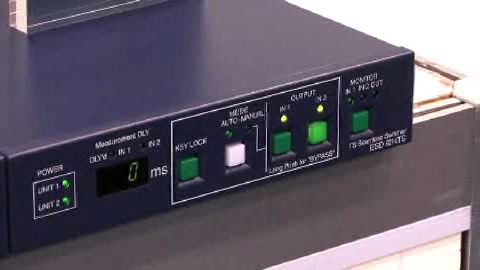 YEM Eletex is exhibiting a solution that combines two components, a TS seamless switcher and an SDI seamless switcher.
The TS seamless switcher uses a TS signal for switching without any interruptions. We have a patent with NHK for this technology including interruption-free switching.
This product was actually used by WOWOW. It was used as a paging countermeasure during a Southern All Stars concert at the Nissan Stadium.
The SDI switcher is a new product that can actually switch not only TS but also uncompressed video without any interruption.
You can't tell when a switch has actually been made. This monitor shows where the switch is stopped, but the other monitors don't change.
YEM is offering broadcasting companies and carriers this solution for seamless switching of uncompressed video.