Inter BEE 2010: D-STORM Inc. The latest all-in-one portable live video production system developed by NewTek Inc. in response to requests from ESPN.
2010.11.18 UP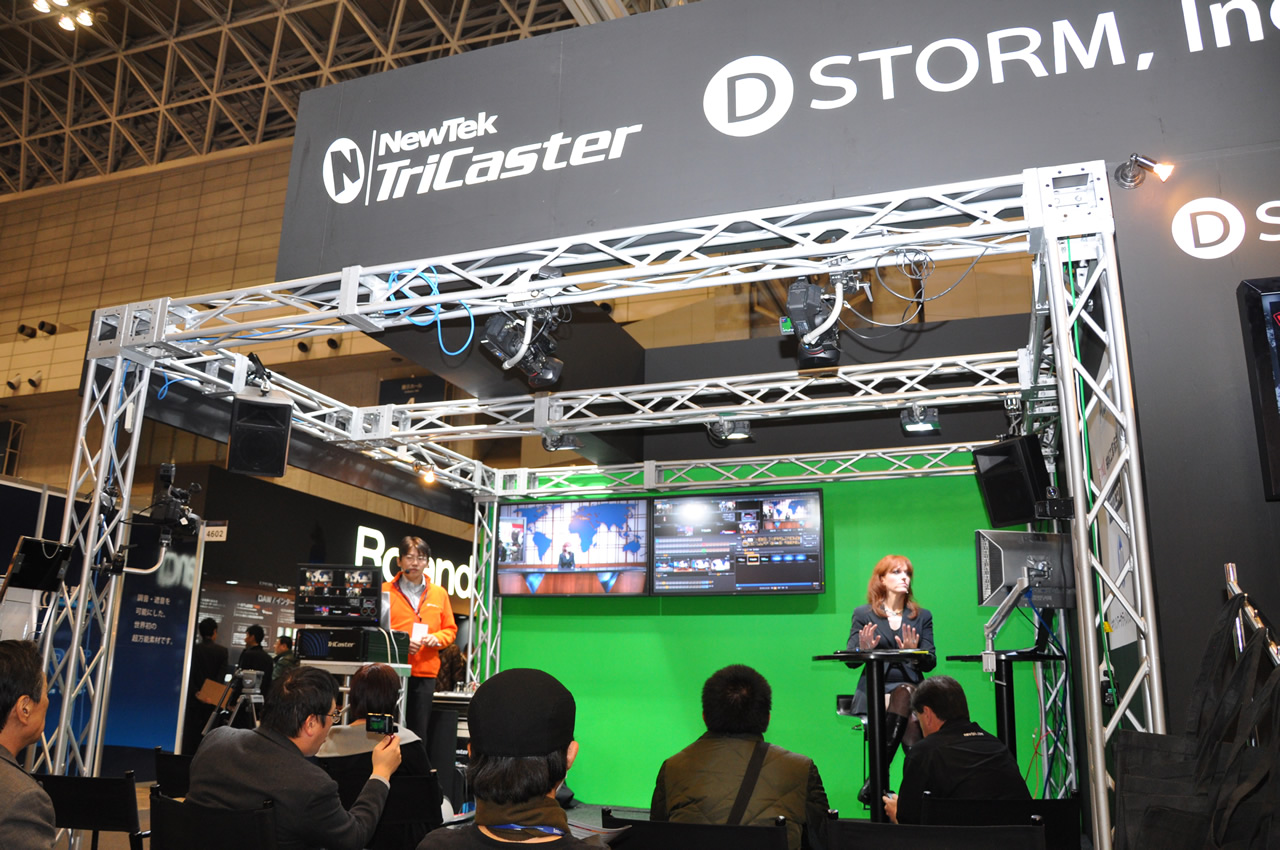 ■ TriCaster TCXD850 on show

Exhibiting at the Inter BEE 2010 exhibition currently underway in Makuhari Messe, D-STORM is offering demonstrations of the new TriCaster TCXD850 of all-in-one portable live video production system from US-based NewTek Incorporated.

This systems offers both analog and 8-channel HD/SD video inputs, as well as 8 virtual/mix channels with presets and individual overlays, and is used by ESPN in the United States. Its release to the market coincides with Inter BEE 2010 this year.

While the previously available TriCaster CXD300 was capable of handling input from three cameras (on three channels), Katsuhito Matsuo, manager of D-STORM's Video Technology Division, explains that this was expanded in the new series in response to requests for more inputs from TV stations that currently use these systems.

In addition to the 8-channel inputs, the TriCaster TCXD850 system offers a hot-swapping capability for its internal hard disk drives, auxiliary outputs, dual power supplies for redundancy, alpha inputs compatible with input from external subtitlers, insertion of live video within 3D virtual settings, and 3D movement of subtitles and pictures.

The TriCaster TCXD850 also provides stream outputs compatible with Flash and Windows Media Video. According to Matsuo, "This product introduces support for USTREAM account information input, making it easy to send content to USTREAM."

The reference price of the TriCaster TCXD850 is 3.68 million yen per system. Matsuo says that they are receiving inquiries from cable television companies, stating, "these companies are switching from SD to HD systems, and the TriCaster TCXD850 allows them to move to HDD while using SD equipment. "