[Inter BEE 2011] DSP Japan exhibits the SX62R 8-track digital recorder and Horus network audio converter
2011.11.18 UP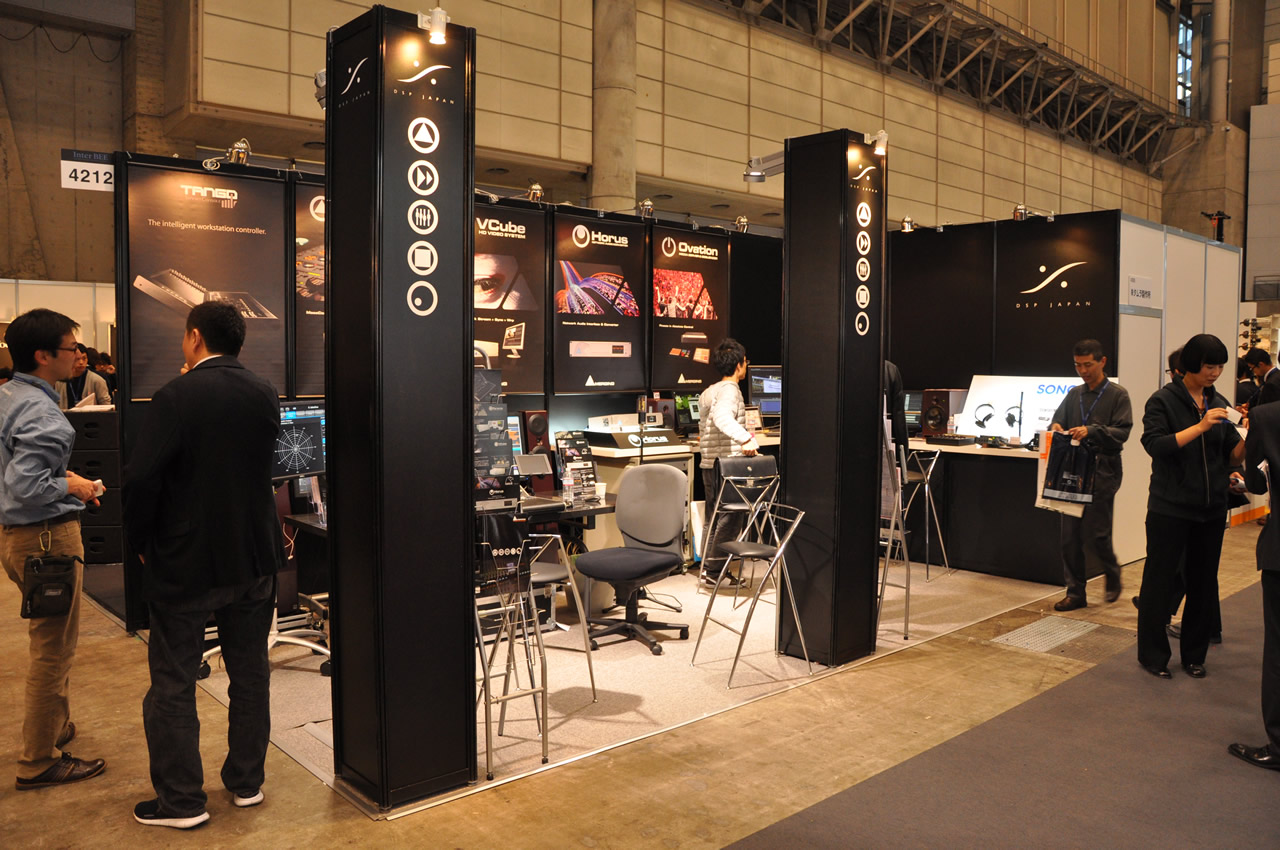 DSP Japan Ltd. exhibited SONOSAX's 8-track digital recorder, the SX62R, along with Merging Technologies' Horus network audio converter.


- SX62R 8-track digital recorder on display: offers 6 channel stereo mix function

 The SX62R allows digital audio recording on SSD drives (64GB) and CF media, supporting up to 8-track audio. It also features a high fidelity analog mixer function, which supports monitoring and six channel stereo mixing. Its recording function supports 44.1~192kHz@24bit recordings, and the file format is compatible with BFW and iXML metadata. The input includes XLR (balanced) with 6 channels, and the output is XLR (balanced) with a L/R mix. Digital I/O is also available as an optional upgrade. The unit can also be controlled using a touch-panel screen.
 Hiromi Kosuge explained that since the unit is used on-location for recordings and movie filming, 'The battery can be operated with four D batteries.'


 Merging Technologies' latest product, the high-fidelity Horus audio recorder, featuring onboard Ravenna network functionality, was also on display and being demoed at the booth.
 The Horus is a high-quality audio converter based on Ravenna, an IP-based audio network spec, and conforms with ethernet I/O standards. The Horus features AES and MADI as its core interfaces, and can also be upgraded to feature a high-function AD/DA converter interface. The AD/DA converter comes in two types, with a standard type supporting PCM up to 192kHz, and a premium type supporting DSD/DXD. Ravenna, an IP-based audio network spec, allows the user to connect to a network and use the firm's Pyramix DAW or a PC as an audio interface. This, Hiromi Kosuge explained, 'allows you to use it for a wide range of applications.'

 The Ravenna IP-based audio network spec is a newly-established multi-channel digital audio broadcast specification, which Kosuge explained 'enables you to send and receive 176 channel/1 port audio data using a single CAT-5 LAN cable.'

 At the booth, a Windows PC and Horus were linked by a LAN, with a Ravenna-compliant application installed on the Windows PC. In the demonstration, the PC application was used to interface with Horus and broadcast music from the PC over a PA and through speakers.