[NEWS] Inter BEE 2017 grows to 8 halls at Makuhari Messe; with an eye on 2020, aims to establish itself as a "comprehensive media event"
2017.7.20 UP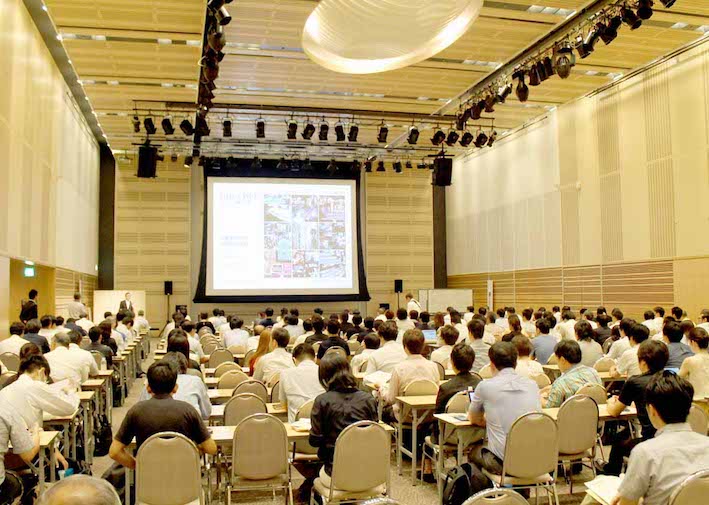 On July 20th, the exhibitor information session and booth drawing for Inter BEE 2017 were held at Sankei Hall in Otemachi, Tokyo.
Inter BEE 2017 will be held over three days, from November 15th (Wed.) to the 17th (Fri.), at Makuhari Messe. The event will be sponsored by the Japan Electronics and Information Technology Industries Association (JEITA), and run by the Japan Electronics Show Association (JESA).

•Applications on pace to surpass last year's total of over 1,000 exhibitors
The number of exhibitors at Inter BEE continues to grow every year. Last year, that number passed the 1,000 mark, setting a new record, as a total of 1,090 companies (at 1,912 booths) gave exhibitions. As of the writing of this article, 1,799 booths had already been confirmed for this year, surpassing the figure from the same point in time last year (1,680 booths). The number of pending applications for additional booths means that it is very likely that this year's event will be larger than ever before. (232 further booths were added after this time last year.) Last year's number of attendees, at 38,047, also exceeded the previous year's total. Given that, it looks as though expectations for an Inter BEE even more packed with noteworthy content than last year's edition will be that much higher. This year, the event will grow beyond the seven halls occupied last year, using all eight of the exhibition halls in Makuhari Messe's main building. This will be the biggest Inter BEE ever.

•Presenting broadcasting industry innovations to the world
The information session on July 20th was divided into morning and afternoon sessions for each category. The information presented also included an overview of Inter BEE 2017 and the topics of the exhibition.
The session began with an opening address from Takashi Kikushima, head of the administrative secretariat for Inter BEE 2017. After thanking this year's exhibitors, Mr. Kikushima made the following statement.
"Our sponsor organization JEITA is currently working toward the realization of Society 5.0, the super-smart society that will be underpinned by IoT technology, and promoting the creation of new business with a view to resolving social issues. Inter BEE has been held since 1964, when it came on the heels of the first Tokyo Olympics, and it has grown side-by-side with broadcast media. Building upon the industry's efforts to enhance broadcasting services toward the realization of a super-smart society, as exemplified by developments like 4K and 8K, we have adopted as a rallying cry our wish to convey to the world the new possibilities offered by media, in anticipation of 2020.
"The 2020 Tokyo Olympics represent an unprecedented opportunity to present broadcasting industry innovations to the world. By telling the world about the benefits of innovations in new business creation through CEATEC and Inter BEE, which will act as platforms for the social systems of every industry, we hope to contribute to the growth of all business."

•Toward an exhibition that presents everything about "Making," "Sending," and "Receiving"
Following Mr. Kikushima's address, Mr. Ishizaki, project manager for Inter BEE at the Japan Electronics Show Association, gave an explanation that included specifics on how the exhibition is to be held. He provided an explanation on the basic plans for Inter BEE 2017 as follows.
"In the midst the revolution that we call 'digital transformation,' rather than the one-way transmission of information from sender to receiver, a greater emphasis is being placed on bidirectional approaches that stress user experience (UX) in the media industry, as well. Building on trends like this one, we are positioning the core competencies of the media industry as content. We want Inter BEE to cover an even broader range of fields, as an exhibition that comprehensively presents these interrelated issues, such as how we create our content, what sort of transmission paths we use to send it, and what sort of devices are used to receive (as in watch, listen to, and experience) it, as well as how we can create content in a way that keeps up with the evolving viewing experience."

•Further expanding the territory covered by the exhibition
Mr. Ishizaki showed the floor plan for the exhibited products and exhibit areas, which will be based on the concepts of "Making," "Sending," and "Receiving." "We have broadened our range of fields over the last few years. This includes adding to the Video Production/Broadcast Equipment and Professional Audio Equipment categories by introducing the ICT/Cross Media category as well as one in which we present new expressive technologies, such as AR and VR. This means that the number of exhibitors has also increased," he explained. He then showed a diagram of what is to come. "By firmly placing areas that we had not previously covered within the Inter BEE concept, we are positioning Inter BEE as a space where exhibitors can present all aspects of media, which is to say 'Making,' 'Sending,' and 'Receiving.' Over the three-year period from 2017 to 2019, we will aim to become a comprehensive media event," he said, giving a statement of the organization's aspirations.

•This year, once again, a full lineup of special projects
In terms of special projects, this year's exhibition will feature: demos of large-format speakers (X-Speaker), headphones (X-Headphone), and microphones (X-Microphones) at Inter BEE Experience; a gathering of cutting-edge video technologies including VR and AR at Inter BEE Ignition; a search for new broadcasting business models in anticipation of 2020 at Inter BEE Connected; and the latest creative tools, sessions aimed at up-and-coming creators, and more at Inter BEE Creative. The plan for these sessions is to hold them as needed in the International Conference Hall as well as the open spaces at the exhibition venue.

•Redoubling efforts to provide information, including more extensive use of social media
Mr. Ishizaki also noted that the organizers would be stepping up their promotional efforts and working to bring visitors to the exhibition, in the hope of surpassing last year's attendance figures. In addition to strengthening Inter BEE's partnerships with its special project partners, media partners, and institutions and organizations such as colleges, universities, technical schools, cooperative organizations, and embassies, Mr. Ishizaki also made it clear that the organizers would be making greater use of social media. In addition to Facebook, Twitter, and YouTube, where information about and from Inter BEE has been disseminated in the past, organizers will be opening an official Instagram account and actively getting information out through that platform, while also assertively using the hashtag #interbee2017 for promotional purposes. Mr. Ishizaki mentioned that photo spots would also be set up at the venue during the exhibition.