KDDI R&D Laboratories: "Vista Finder" Video broadcasting system using satellite IP transfers "INMARSAT BGAN service"/InterBEE2008
2008.11.20 UP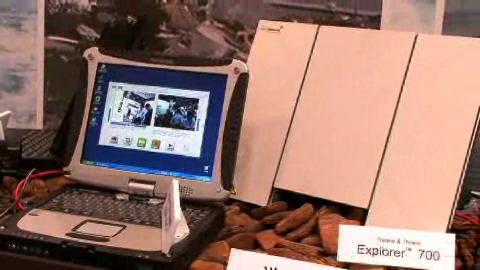 The Vista Finder system enables the user to send from anywhere in the world to a base broadcasting station first-hand broadcast-capable onsite video content.
A laptop running the Vista Finder software can compress videos taken with a camera into very small-size data.
The data can be immediately sent out via an IP network.
This system assumes the use of the INMARSAT BGAN service, so a combination of BGAN, VistaFinder, and a camera allows the user to deliver real-time videos from anywhere in the world.
The system is currently used by TBS, which uses the VistaFinder system to gather first-hand videos on various events around the world for broadcast.
This is compatible with any types of IP networks that can exchange IP data, including the satellite telecommunication protocol BGAN, the Internet, data telecommunication cards for cellular phones, and wireless LAN. Therefore it can send videos even where there is no general network.