【InterBEE 2012】Asaka to exhibit its video audio filing (VAF) SSD server "AVR-800/801PV," which is suited to broadcast mastering and uses JPEG 2000.
2012.11.8 UP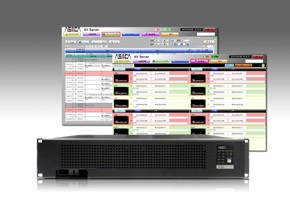 Asaka will exhibit its new 'AVR-800/801PV' VAF (Video Audio Filing) SSD server which is suited to broadcast mastering and uses the JPEG 2000 video codec. It builds RAID1 with SSD, and has a recording capability of 2 hours of video, 10,000 still images, or 5 hours of sound. It can output on up to two channels.
Asaka will also exhibit other products for material and contents storage and management. These include the 'AVR-802,' which is a new AV file device that uses the JPEG2000 video codec and can be used for VAF and production. Also on display will be the blue ray disc library devices 'AMI series,' suited to long term storage of contents. Asaka will exhibit a wide range of new products and products with new functions, such as the 'IASD‐101/102/PC01,' which is an archive material digitizing device developed by NHK ITEC.
The new 'AVR-802' AV file device is armed with two independent channels for video with KEY signal and sound material. The video codec is JPEG2000. The memory medium used is SSD (RAID 1). It has a memory capacity of 2 hours of video, 10,000 still images, or 5 hours of sound. It has a touch panel remote control as well as a range of other remote controls, which are available as optional extras. A suitable remote control can be chosen for the application be it for production subs, news subs or playing opening titles and loop material in an outside broadcasting van.
The play modes available are continuous video event play, loop play, time delay play during baseband recording and play during data transfer. Other equipped functions include editing in and out points, sound level adjustment, and fill/key frame phase adjustment. It can also import MXF, QT and Flash files.
The ASACA Blu-ray Disc Library "AMI series" is a library system loaded with a state of the art BDXL compatible Blu-ray drive. There are four models with disc holding capacities between 100 and 1450 discs. As a NAS Archive Appliance and contents ID type archive system, it realizes large capacity, high reliability, long term storage and low electricity consumption. They are suited to long term storage of video and audio contents and enables offline management of magazines (50 sheets) and single sheets. Their maximum storage capacity is 72TB, 2,400 hours (50Mbps).
The "IASD‐101/102/PC01," is an archive material digitizing device developed by NHK ITEC. It records large amounts of taped material to H.264/AAC in a short time. After recording, tape material information, proxy videos, automatic sound recognition text information and other information is made available to facilitate searching and organization. It is compatible with L size β cam series tapes, including the HDCAM and HDCAM-SR, and S size tapes.
There will be many more exhibits in addition to those mentioned so far. The "ACL-10BC" (new product) is a cassette loader, which was jointly developed with NHK ITEC. The "ATG-80H/81H" is a file keyer/DSK, which has a simple scheduler function and can automatically play still images on networks. The "DU-240" is a PinP processor that saves space by displaying HD-SDI input videos from two channels on the DVI screen to eliminate the SDI monitor for checking. Other systems that will be showcased include an L-shaped broadcasting system that can link to emergency disaster alert systems. There will also be subtitle monitors with an advertisement subtitle clear packet display function.

【InterBEE 2012】
InterBEE is a "professional exhibition for audio, visuals and communication, " where the finest broadcasting equipment, audio equipment, lighting equipment, Mobile TV, cross media, peripheral application, solutions and more, gather together from around the world. It is an exhibition that is relevant to a wide range of people involved in the media as an opportunity to find out the latest trends in the creative- and media businesses.
It will be held from Wednesday 14th November to Friday 16th November at Makuhari Messe (free entry).