【InterBEE2012】CTC Laboratory Systems to exhibit High Speed File Transfer Software 'Aspera'
2012.10.22 UP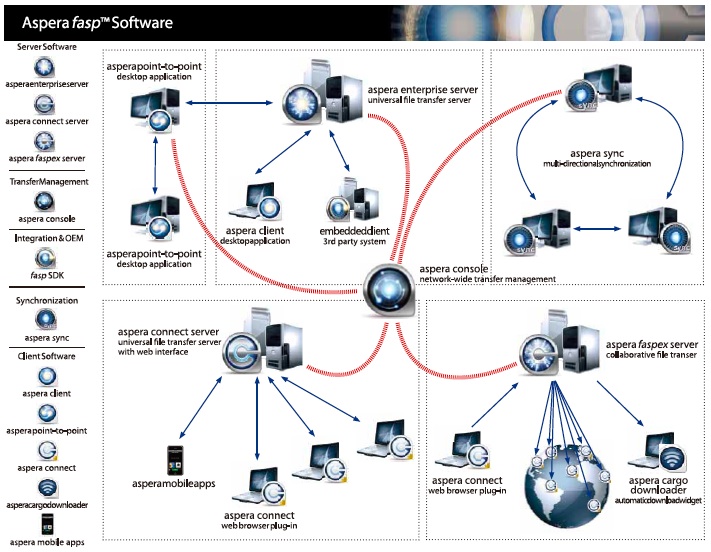 CTC Laboratory Systems (Cross Media Zone #8302) will exhibit its high speed file transfer software solution Aspera, a tool that enables the high speed movement of massive files in file-based workflows via WANs . Aspera has already proven itself in use at major broadcast companies, sports leagues and government agencies around the world as well as Hollywood studios.
What makes Aspera special is that it eliminates bottlenecks by using CTC's own fasp technology instead of FTP or HTTP. Since the API is open it is possible to integrate Aspera into existing systems.

'Though today we have a variety of environments dependent on the dynamic movement of big data resulting from the phenomenal leap in computing performance, widespread use of broadband internet and cloud storage services, it is evident that movement of bulk files is causing unexpected bottlenecks and the big data supply chain is now faced with fragmentation problems. We are at InterBEE to introduce a technology that enables the seamless transfer of big data and also show some real life examples of its application.' (CTC Laboratory Systems spokesperson)

【InterBEE 2012】
Inter BEE 2012 - The Professional Show for Audio, Video and Communications - showcases under one roof broadcast, video, lighting and audio equipment, IPTV, Mobile TV, cross-media, peripheral applications and solutions that are at the cutting edge both in Japan and internationally. As an opportunity to find out about the latest trends in the creative and media business worlds, InterBEE has relevance for anyone involved in media today.
InterBEE 2012 is at Makuhari Messe from November 14 (Wed) to November 16 (Fri) (free admission).