[Inter BEE 2014 Seminar Report] Mr. Eric Solomon of the Nielsen Company presented his speech "Aggregated Cross-platform Nielsen Ratings Contributes to the Advertising Revenue of Broadcasters."
2014.11.20 UP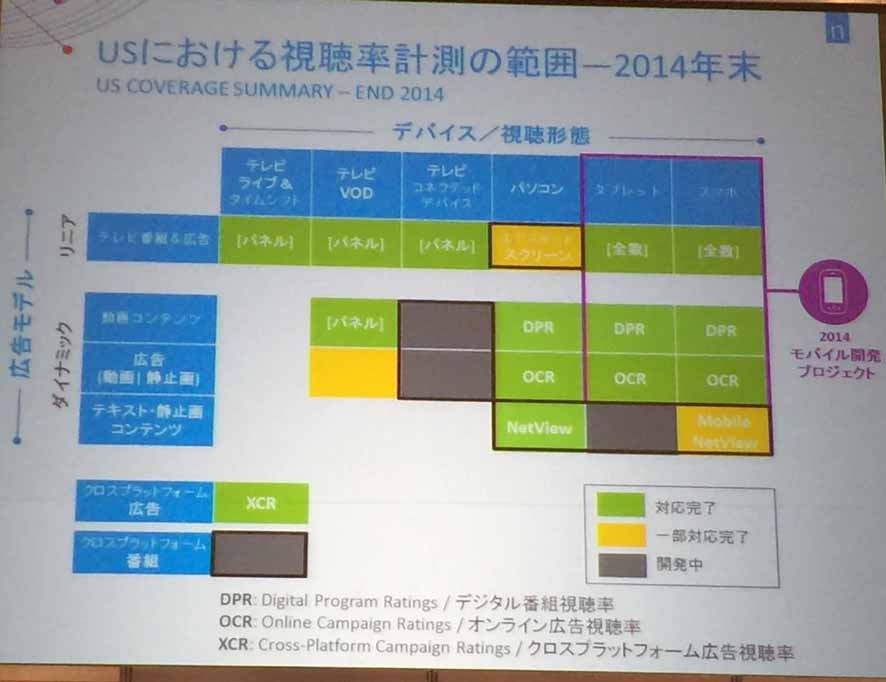 Among the "Inter Bee Connected" seminar sessions, the speech given by Mr. Eric Solomon, Vice President of Nielsen Company, has been drawing the most attention. He spoke about the latest developments in digital audience measurement of broadcast content in the United States. In the second half of this session Mr. Toshihiro Fukutoku, CEO of Nielsen Japan, also joined and led a question-and-answer session with the seminar audience.

 Rapid Expansion of Internet Viewers
Mr. Eric Solomon described, "aggregated cross-platform Nielsen rating measurements in the United States" in the first half of his presentation.
First, he carefully explained the behavior of broadcast content viewers in the United States based on the Nielsen's data. He pointed out that Internet viewership is still on the rise. The penetration of tablets has already reached 46% with continued momentum. Furthermore Netflix's OTT delivery has grown from 30% in January 2014 to 36% in September 2014.
Viewing habits of broadcasting content is also diverse; 60-70% watch live, 25-30% use a time-shift feature on DVRs, and 3-9% view content on-demand. Because of these changing habits, a means of non-live ratings measurements has become necessary.

 Development of New Ratings Measurement Technologies
This year Nielsen has expanded viewership ratings measurements beyond traditional television and PCs to include tablet and Smartphone devices. In the United States, rating measurement methods called C3 and newer C7 metrics that incorporate the DVR (digital video recorder) time-shift viewing is used. Thus, it becomes possible to account for viewer's live viewing, time-shifted viewing and on-demand viewing.
The audio fingerprint watermarking technology is key for the new measurement methods. The watermarks tracks not only the program content identification, but also which broadcast station distributed it and where it was made available for on-demand consumption.
With the use of aggregated cross-platform Nielsen Ratings, a broadcast station can implement Internet advertising for on-demand viewing thus producing additional revenue. Nielsen distinguishes between two types of advertising. One is called "linear advertising," for live broadcast viewing and the other is "dynamic advertising," for on- demand viewing. The latter structurally uses the same mechanism as Internet advertising so that one can deliver ads to a target demographic. These viewership measurement methods are critical in order to take full advantage of the broadcast content delivery in a new advertising market.
In Japan the idea of a "free on-demand service for missed broadcast content," has recently gained popularity. There have been early attempts for implementation of this system, but to derive revenue from such services metrics such as this will become a necessity.

 Interesting discussion among broadcasting stations, rating measurement companies and the advertising companies.
In the latter half Mr. Toshihiro Fukutoku, Chairman and CEO of the Nielsen Japan Co., Ltd., joined the discussion to answer questions from the audience.
From this session it is clear that the US broadcast industry is evolving within a new paradigm of media consumption driven by exciting, yet practical conversations.