[Inter BEE 2014] NAB vice chairman delivers keynote address on the plan to migrate US next-generation broadcasting to ATSC 3.0, in a speech entitled "2016 Spectrum Auction"
2014.11.20 UP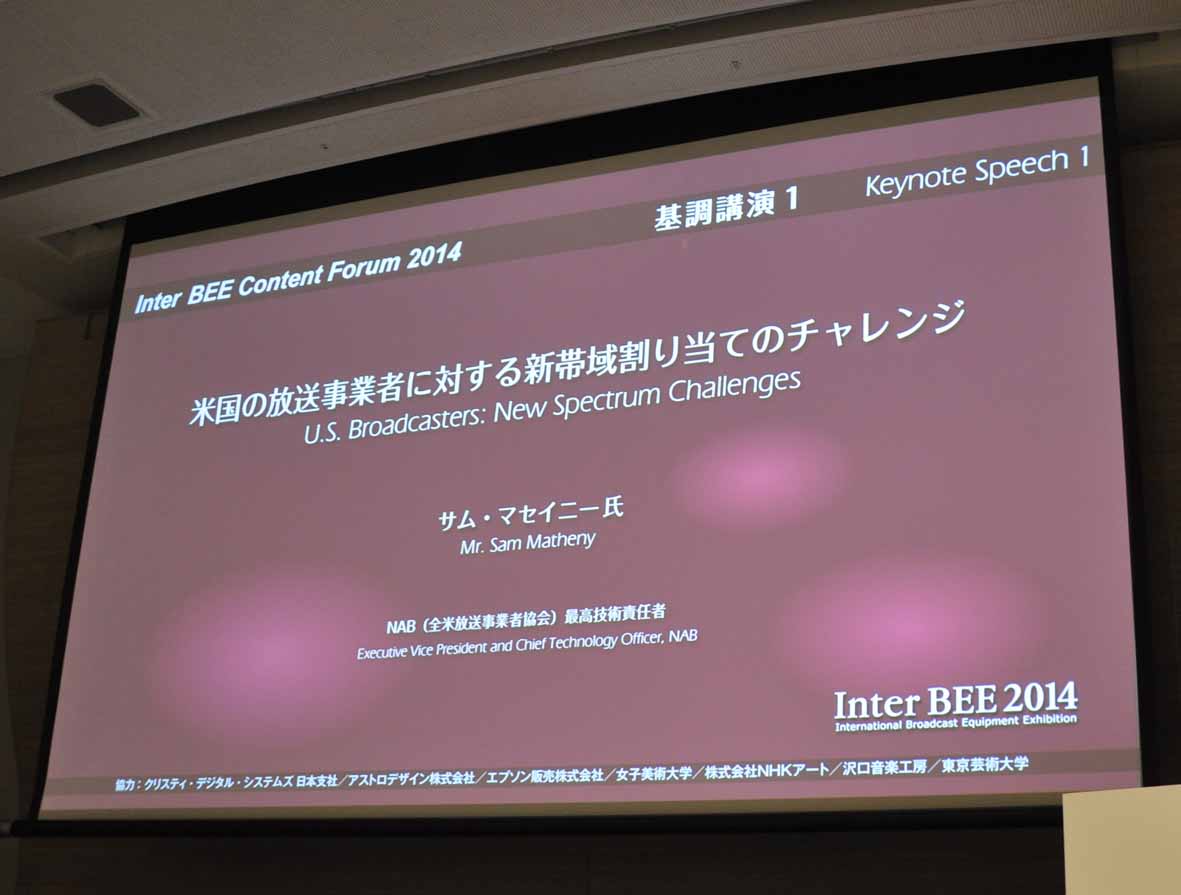 As Inter BEE 50 celebrates its 50th anniversary, yet another keynote speaker has come from afar to speak from its stage. On the first day, November 19, the keynote speaker was Sam Matheny, vice chairman and CTO (Chief Technology Officer) of NAB. Here is an abridged report of his hour-long keynote address (Koji Suginuma).

■ "NHK inspired us"
"I feel honored to be a keynote speaker at Inter BEE to welcome its 50th anniversary today. I also would like to extend my personal congratulations."
"Jim Goodman is the owner of the WRAL station where I once worked. When he saw NHK's HD demo, he fell in love, and as a result of that he began digital transmissions in July, 1996. I want to thank NHK for its trailblazing work."
The US reorganized its spectrum for digital broadcasting and is moving toward doing it again for the sake of next-generation DTV.

■ Transition plan to ATSC 3.0, the next-generation DTV standard
Next-gen DTV will handle both TV/radio broadcast airwaves and Internet. In addition to UHD, it will far surpass current DTV in many ways, such as with high dynamic range (HDR), high frame rate (HFR), wide color gamut, highly realistic audio, mobility, and personalization. ATSC 3.0 will become the standard for these things, and its draft text will be frozen by the end of next year. Some of it has already solidified. OFDM will be used for wireless. If SFN becomes practical, it will raise the efficiency of frequency utilization. The protocol will be IP with HEVC encoding.
Careful planning is essential for the transition to ATSC 3.0. It took 13 years for the US to migrate to DTV. Japan transitioned in eight years. Although this work takes time, broadcasting cannot stop progress.
The transition brought benefits to broadcasters, equipment manufacturers, and viewers. Of course, it was also good for government because they netted $20 billion by auctioning off 108MHz spectrum. With DTV came more channels, and the viewer base grew. I'm enjoying 22 channels now, even with an indoor antenna.

■ FCC plans an incentive auction
The FCC is attempting an incentive auction. This was decided by law in 2012. The restructuring of conventional airwave spectrum was considered from the point of view of new technologies and new services. However, this auction does not take technological advances into account. It is a development completely separate from the transition to next-gen DTV.
Several responses to the auction can be considered. One possible approach that is to be recognized is to completely ignore the auction, and to continue broadcasting as usual. It is also possible to give up a broadcast license by selling spectrum. Even if a broadcaster sells its own spectrum, it can continue broadcasting by sharing spectrum with other stations. Also, VHF bands can be purchased if they are put on sale. Please note that the FCC does not get involved in frequency sharing with other stations.
The auction is also complicated. First, there will be a reverse auction in which broadcasters participate (where each new bid will be for a smaller amount), that will determine how much compensation will go to broadcasters. Next will be a forward auction in which telecom operators participate (in which each new bid will be for a larger amount). After the sold spectrum is finalized, the spectrum will be reorganized.
What is difficult this time is that operators withdrawing from the broadcasting business must go off the air in three months. Spectrum restructuring will be done in three years. The NAB believes this is extremely difficult, but it is decided by law.
Businesses that do not participate in the auction are also subject to frequency reorganization. Under the law, service areas are to be kept even after the frequency reorganization. In addition to the lack of clarity on the auction and frequency reorganization details, the auction has been postponed twice. Under the current plan, the auction will take place in 2016.
MUSE Hi-Vision taught the United States about transitioning to HD. Japan and I share a vision. Broadcasting has an overwhelming strength at times of disaster. Yesterday I visited the Ministry of Internal Affairs and Communications. There, I learned that the top three information sources during the 2011 Great East Japan Earthquake were all broadcasters. These were radio, One-Seg, and TV. This cannot be done in other media.
Broadcasting's value is in its ability to deliver real-time, high-quality content for free. Our duty is to raise its value even further. We must expand this value as we go forward. I want to work with my Japanese friends to build a bright future.