BIRTV 2007 - in the Year Before the Beijing Olympics.
2007.8.24 UP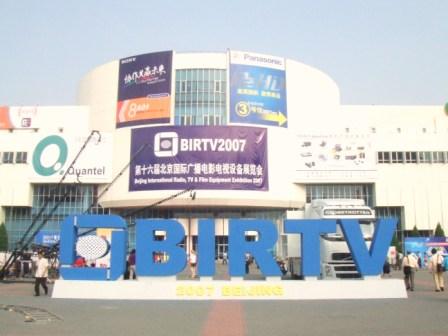 The 16th Beijing International Radio, TV & Film Equipment Exhibition or BIRTV 2007, was held for four days from August 22nd to 26th, 2007 at the China International Exhibition Center.

The exhibition saw a total of 426 exhibitors participating from both within China and overseas, with a large number of specialized booths related to video creation, new media and business, network and transmission, radio, professional audio, and cinema, arranged over a total display area of 50,000 square meters. The exhibition also announced the results of new developments in the industry to the over 55,000 visitors who attended.

Commemorating its 20th anniversary this year, Beijing International Radio, TV & Film Equipment Exhibition or BIRTV is held in China, which has the largest television broadcast network in the world with an audience of over 400 million televisions. Along with Japan's Inter BEE, NAB held in the United States, and Europe's IBC, it is one of the world's main broadcasting equipment exhibitions.

BIRTV also received praise as a successful example of Chinese broadcasting-related exhibitions, and manufacturers from China and around the world consider BIRTV to be the most important event not only for introducing their latest products to the domestic market but also for enhancing marketing activities. This year, contingents of broadcasting specialists from around the world and staff from television companies attended the exhibition, as well as distributors seeking new business partners.

BIRTV 2007 showcased displays of the latest equipment as well as the most up-to-date solutions to issues such as specialized sports video equipment aimed at the broadcasting market in China, which is now less than a year away from the Beijing Olympics. It also highlighted equipment that has been developed to address the rapidly growing needs of digital and high-definition broadcasting.

Many Japanese companies also participated in BIRTV and looking forward to events in Beijing next year, Panasonic had a relevant theme for their booth called, [The Passion of the Olympics in High Definition.]
Focusing on the transition towards HD and IT, BIRTV introduced the [P2 HD] and [DVCPRO HD] series broadcasting semiconductor memory systems as well as HD system equipment to be used as the official format for the Beijing Olympics.

Sony's theme was [Your Partner - Today and Future.], and within its booth a 4K digital theater and a 1080/50P studio was installed to display 4K digital video based upon the requested digital cinema specifications standards as decided by the DCI industry group that comprises of 7 major Hollywood studios. Sony also introduced products such as [XDCOM] devices using blue laser technology and the [BVM] series master monitors.

In addition to a HDTV system, the SK-3200P series HDTV cameras, and the SK-HD1000 and HV-HD30 box cameras, Hitachi Kokusai Electric also displayed its high-definition SK-900 and Z-3500W A/D 14-bit SDTV cameras. They also introduced a newly-developed digital FPU device and had an exhibit for their ultra-low-latency codec technology.

In cooperation with NTT, Fuji Television presented a demonstration of wireless transmission of HD signals using 120 gigahertz-band, millimeter-wave wireless technology. With conventional technology, there is a certain lag during wireless transmission of HD content, but the fact that the new technology could enable simultaneous wireless transmission of multiple HD signals without lag was proved during experimental testing in Odaiba, Tokyo in 2005, and in demonstrations at Inter BEE 2005, NAB 2006, and IBC 2006. Fuji Television and NHK hope to have this technology available soon for practical use and widely adopted. They also said that leading up to the Olympics next year, these demonstrations in Beijing were a great opportunity for their public relations activities as this technology was awarded this year's [BIRTV] award.

Chinese companies were similarly active at the exhibition, with Sobey, DAYANG, and Jetsen displaying products related to video creation and CCTVs. CMMB's mobile video transmission department was also prominently featured in their booths.