[Inter BEE 2009 Highlight Pickup!] Fixstars exhibits the "CodecSys" H.264 real-time software encoder series
2009.11.16 UP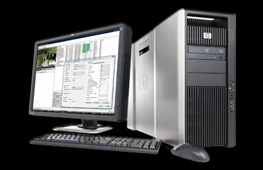 Solutions for real-time H.264 conversion, IPTV, Blu-ray production

Fixstars will exhibit an H.264 real-time software encoder series called "CodecSys" - H.264 format compatible encoding solutions developed in conjunction with the American company Broadcast International.

In addition to YUV and MPEG, the system converts uncompressed AVI, QuickTime and DPX to H.264 in real-time, while allowing for H.264 ES content output for Blu-ray along with MPEG2 TS and MP4 content output for IPTV. As a software encoder with radically improved processing speed, the system realizes much smoother work efficiencies and superlative picture quality with the performance of the standard CodecSys Pro version already proven at acTVila.

Based in Tokyo, Fixstars is a company that develops multi-core processing software and offers solutions targeted at Cell/B.E and GPU.

High-speed processing realized by optimizing Cell/B.E.

Fixstars development and support chief Keishi Chikamura explains the features of CodecSys — "Since H.264 encoding processing takes about 5 times as many computations as MPEG2, we use our multi-core software development know-how to deliver high-speed processing by optimizing Cell/B.E and achieved full-HD video conversion to H.264 in real time. Our software also offers flexibility with advantages such as customization and added functionality not found in hardware encoding systems."

CodecSys Pro features presets supporting Blu-ray and acTVila as well as a range of functions for partial re-encoding and large content volume batch encoding processing and others.

The system is configured with an HP Z800 host workstation, the company's proprietary accelerator card "GigaAccel 180" and Bluefish technologies "EPOCH" as the video capture card. Installed with a PCIe-type board PowerXCell 8i, which features improved performance of Cell/B.E., GigaAccel 180 serves to accelerate the H.264 encoding process.

To get the most out of the multi-core Cell/B.E. performance, processing for each picture element is re-written for SPE parallel operation commands. Further, data transfer timing is also optimized to maximize computational power, while the system also uses advanced task scheduling technology for parallel operation for the 8 SPE cores.


Proven track record with Blu-ray authoring and other post-production applications

After development was completed in spring this year, CodecSys Pro was officially released for implementation in July, and there are already 10 post-production organizations in Japan using the system for encoding in Blu-ray authoring and IPTV video content production applications and so forth.

Mr. Chikamura says — "As well as Blu-ray disk authoring and acTVila content production, the system can also be used for converting tape-based video media to digital as well as other applications such as large-scale surveillance camera network archiving."

"The dramatically reduced time it takes to encode footage means a lot more content can be processed, which in turn serves to streamline the whole production and editing workflow and bring about a marked increase in quality" - continues Mr. Chikamura.

The company's Inter BEE presentation will introduce actual demonstrations of Blu-ray production workflows and acTVila-compatible content creation processing using the system.

As well as retailing this turn-key system, Fixstars also provides services for implementing the CodecSys Pro algorithm into other systems, and has, for example, recently incorporated the functionality into the KaleiDATM digital asset management system in conjunction with Memory-Tech. The company aims to continue forging such alliances as a "digital partner" with this kind of system integration.

The exhibit will also include the prototype, high-end model CodecSys Enterprise. This set up will use an IBM Blade Server with a double Cell/B.E installation to encode H.264 and demonstrate even faster H.264 encoding speeds.

Mr. Chikamura says "Because the system uses blade server, it offers multi-channel support making this encoding system most suitable for streaming live broadcasts and tapeless archiving applications."
 
The company will also exhibit low-end model called CodecSys Personal released in June that employs Playstation 3 as an accelerator.