Inter BEE 2010: In dual booths, Roland presents a line-up of new products, and introduces the VR-5 IP-based all-in-one AV studio solution.
2010.11.26 UP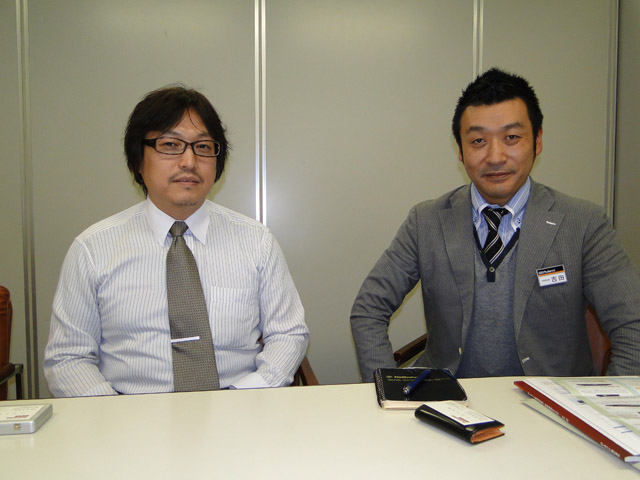 At this year's Inter BEE, Roland set up two booths for both the image and broadcasting equipment department and the professional audio department, and used demonstrations to introduce their latest equipment for use in live events. The thoroughfare between the booths was named "Roland Boulevard," from which an array of flagship products attracted a large crowd of fans.


■ Release of the VR-5 -- kicking off
the new era of network broadcasting
One of Roland's main solutions provides a self-broadcasting system package capable of live streaming delivery to YouTube and Ustream, and Roland products have recently become the standard in studios handling live content delivery over the Internet.

With the aim of further strengthening these initiatives, on the first day of the event, the Roland booths introduced the VR-5 all-in-one studio that brings together all the equipment required in Internet delivery studios.

Dual-touch monitors enable direct operation and confirmation of previews, providing audio/video mixing functionality, video effects, integrated keyers, and simple operation. In live venues, the VR-5 can output display while at the same time controlling images and sound, and also write this to SD flash memory in real time (MP4: MPEG-4 Visual recording format).

The independently developed USB interface is an industry first, and it being a USB video/audio class device is a major selling point.
Koji Iida, a RSG Sales and Marketing Group leader in Roland Corporation stated "the VR-5 also works with SD memory, and as such, I hope the concept in itself was suitable for Inter BEE."
"The VR-5 uses a USB interface, and is recognized in place of a webcam on a PC. Based upon the concept of simply juggling images around and becoming a broadcaster, this product incorporated the needs of Ustream stations and Roland users."


■ Lower the threshold of network broadcasting
Koji Iida stated "There were many comments to the effect that even if possessing a high level of creativity in program planning, users' lack of knowledge of networking combined with complicated audiovisual connections mean that making broadcasting over networks a reality is difficult. We want to lower the hurdles presented by IT and connections so that creators can concentrate on planning and creating programming. We arrived at the idea that this could be solved by using USB. However, there were no chips on the market that could meet our requirements, so we developed these on our own."

RSG Sales and Marketing Group manager Tadao Tomizawa stated that Roland also had proven experience in image processing, and this is utilized in the VR-5.
He continued. "People tend to think of Roland as an audio company, but they are also pioneers in desktop video, with over 17 years of experience with image technologies. Combining this long experience with their ability to develop audio and PC peripheral converters led to the creation of the VR-5."


■ Simple, yet designed for the high-end, the V-1600HD multi-format video switcher.
Roland has provided the ultimate system package for live content delivery, targeting personal users through to full HD systems.

In full-HD quality system packages that round out commercial hi-vision devices, the V-1600HD multi-format video switcher announced in August of this year, together with line input from Roland's multi-format video presenter enable audio editing on the mixing console; transfer of live material to a PC from the multi-format converter; and streaming delivery.

The V-1600HD is a unique all-in-one switcher, that incorporates 1 Key and 1 DSK, with picture-in-picture operation available from the touch panel. A major benefit is its ability to handle a wide range of input image formats. The built-in frame synchronizer in the V-1600HD can automatically adjust and convert mixed formats for output, therefore users can freely use cameras and input/output devices from different manufacturers.

It can switch freely between 14 image streams, and as well as being capable of both recording and of projecting onto multiple screens on stages, it also offers the unique SPAN mode feature, which utilizes two projectors to project a single, large HD image onto two connected screens.
Additionally, the multi-zoom functionality enables selective zooming of a portion of the image, providing the effect of switching between multiple cameras.

The Roland booths also showed off a number of new products, including the newest version (Ver. 2) of the "F-1" video field recorder that supports MPEG2 TS recording, the "MVS-12" multi-viewer / switcher released in September this year, live mixing consoles, format converters, and high-speed USB audio interfaces.