Inter BEE 2008 technical trends from my perspective — Part 2: Cameras.
2008.12.12 UP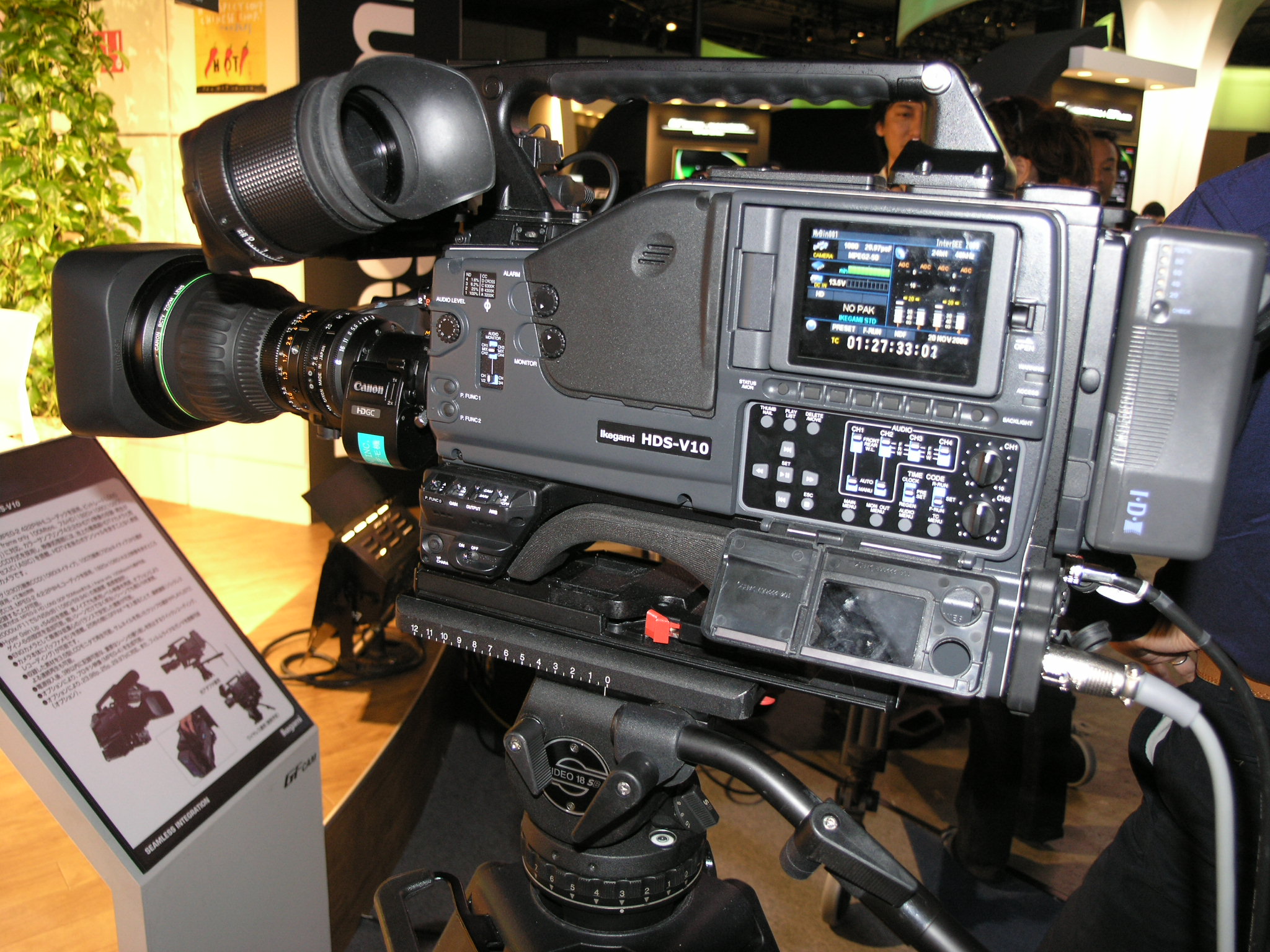 In the previous issue, I covered the various events and programs held during Inter BEE 2008 and starting from this issue I would like to focus on the most essential part of the show, the actual equipment exhibits that captured visitor attention. The huge exhibition halls of Inter BEE were divided into three stages ― Video and Broadcast Equipment, Professional Audio Equipment, and Professional Lighting Equipment ― each of which introduced an extensive range of the newest equipment, systems, and solutions via compelling video presentations and demonstrations. Some of the major trends in video-related technologies this year are as follows: Advancement in tapeless production systems, file-base operation resulting from progression in compression/transmission technologies and networking, monitors moving toward higher definition and digitization, ultra high-definition video images, and the spread of 3D video images around the world, etc. And I would like to talk in detail about each of these topics in this issue.

Attaining much publicity in recent exhibitions such as NAB in the U.S., the full-scale advancement of tapeless camcorders once again received considerable attention at this year's Inter BEE. In addition to the ongoing transition in recording media from tape, HDD, BD to semiconductor, another reason contributing to the popularization of tapeless camcorders lies in its compact design that helps to make cameras not only smaller and lighter but also more reliable. Other reasons include improved picture quality and functionality to answer the recent trends of higher definition and digitization, as well as the ability to link the camera to production activities for enhanced workflow.

The first tapeless camera was exhibited by Ikegami Tsushinki when they introduced an HDD camera at Inter BEE in 1995. Back then when tape was the predominate media, tapeless cameras received considerable attention but performance issues remained such as impact resistance and recording capacity so these products were improved upon every year. And the Editcam, released by Ikegami at this year's Inter BEE, is an excellent example of this evolution as it is boasts a recording capacity of 120GB on a hard disk drive, 32GB semiconductor memory, and HDTV/SDTV multi-format compatibility. Also, in joint development with Toshiba, the GFCAM tapeless camera using GFPAC flash memory was released in 2007 and its superseding model was displayed at Inter BEE 2008. This model offers a selection between a 2/3-inch 2.3-megapixel (1080i) 3CCD or 1 megapixel (720p) image sensor, MPEG-2 422P@HL encoding, and a recording time of 120 minutes with a 64GB capacity GFPAC flash memory (at 50Mbps). What's more, all these features help to create a lightweight body for higher mobility and operability, making this model highly suitable for news coverage and acquisition.

Sony released its tapeless camcorder that uses a Blu-ray compliant professional optical disc for media four years ago, and this product was later upgraded from SDTV to HDTV format compatibility. Sony then released its XDCAM HD that uses a two-layer disc for extended recording capability, and it was superseded by the XDCAM HD422 that delivered even higher picture quality. At this year's Inter BEE, Sony added the XDCAM EX model that uses an SxS ExpressCard flash module to its XDCAM line to further address diversifying demands. All of these cameras employ a MPEG-2 Long GOP encoding recording format, and the high-end HD422 features a 2/3-inch 2-megapixel (1920 x 1080) 3CCD image sensor, 14-bit A/D converter, 1080/59i, 50i, 25p, and 720p video format compatibility, and an approximately 95-minute recording capability at 50Mbps bit rate on a two-layer disc (50GB). What's more, the XDCAM EX Handycam employs 1/2-inch 3CMOS sensor and the same codec as the HDD422, plus it is compatible with all HD/SD formats. The XDCAM EX also features Slow & Quick Motion to enhance creativity when shooting scenes and its lenses can be exchanged freely. Compact, lightweight and providing optimum cost performance, this model is an excellent choice for video creators.

Panasonic introduced its P2 Series tapeless camera about four years ago and ever since then, the company has established a consistent product release record. The P2 card employed as a recording medium is a packaged media that is comprised of four SD memory cards, which are commonly used for digital cameras as these cards offer superb resistance to vibration and impact, long-lasting dependability, and ease of use. At this year's Inter BEE, Panasonic displayed an expanded lineup featuring products such as high-end P2 HD VariCam model offering AVC-Intra 100/50 compression technology, 2/3-inch 2.2 megapixel (1920 x 1080) 3CCD image sensor, and variable frame rates of 1-30fps (1080/59i) and 1-25fps (1080/50p). The camera is well suited to a wide range of applications from high-definition programs to filmmaking. The handheld model is equipped with 1/3-inch 16:9 progressive 3CCD image sensor and two P2 memory card slots but weighs only 1.9kg, making it the lightest model in the P2 Series. This model also features 12 - 60P variable speed modes to ensure optimum mobility, making it the ideal choice for news coverage.

France's Thomson has been selling the Infinity DMC (digital media cam) ― a Grass Valley Brand tapeless camera ― and the newest addition to their lineup is a hybrid model that uses a removable disk and semiconductor memory as its recording media. This camera also features a 2.4 megapixel CMOS sensor, HD/SD switching, and a selection of encoding formats from MPEG-2, DV25Mbps, or JPEG2000 to match any application. One interesting thing I noticed at this year's Inter BEE was that many of the products introduced by different manufacturers are actually closely interrelated such as Panasonic's P2 HD dockable camera on display at Hitachi Kokusai Electric's booth, Sony's SxS card-equipped compact multi-format camcorder for studios and ENG applications displayed at the JVC booth, and Ikegami's GMCAM at the Thomson booth.

In addition to the many compact and lightweight tapeless cameras, high-performance cameras delivering exceptional picture quality for the production of TV dramas, commercial clips and films as well as digital cinemas were on display. For example, in addition to their F23 CineAlta digital cinema camera released last year, Sony introduced the new F35 model in its lineup on display. Featuring a CCD picture sensor that provides image size similar to that of super 35mm film, the F35 offers exclusive features such as lenses, original gamma correction with a wide dynamic range, and tonal reproduction on par with film to enable video reproduction similar to that of a cinema camera. What's more, this camera is capable of recording in RGB4:4:4 at 1 to 60fps variable speeds, and ensures improved mobility thanks to wireless connectability of an HDCAM SR recorder onto the unit. Ikegami's high-end camera featured a newly developed 2/3-inch 2.3-megapixel AIT CCD image sensor, full digital processor to achieve a high 14-bit S/N ratio, and is compatible with 1080i/59, 50 and 720p formats.

Special-purpose cameras such as ultra-high speed or high-sensitivity types capable of recording images that cannot be seen by the human eye or recorded by conventional cameras, as well as ultra-compact types were also on display. NAC Image Technology, Inc.'s Hi Motion is full HD compatible camera with a 2.2-megapixel 3CMOS sensor that enables high-speed recordings of 12 to 300 fps for up to 11 seconds, and it was used at the Beijing Olympics. Nobby Tech. Ltd. displayed a high-speed camera called the Phantom Series manufactured by Vision Research of U.S., and the lineup on display also included a high-end model equipped with a ultra-high-definition CMOS sensor to enable high-speed recording of 1,000fps (at 33x speed) in full HD, a high-sensitivity model (at 8x speed), a and cost-effective 720p model (at 230x speed). Photron, Ltd. had its Fastcam, a full HD and 2,000fps high-resolution, high-speed camera on display while NEC exhibited a compact and lightweight full HD high-sensitivity camera suitable for use in dark situations as it features a 2.2-megapixel CCD image sensor and a standard-equipped infrared recording mode.

ERG Ventures introduced three ultra-compact HD cameras that weigh less than a few dozen grams. The camera developed by Iconix of the U.S. features a 1/3-inch 3CCD image sensor and is compatible with both HD/SD in 1080i/p and 720p, while the other two were manufactured by Toshiba and featured a 1/3-inch 3CCD image sensor or CMOS sensor with full HD 1080i compatibility. All three cameras offer superior color-reproducibility as expected under special recording conditions such as when used for medical applications, or as a 3D camera.

[Takehisa Ishida, visual technology journalist]
Photo 1: GFCAMs by Ikegami Tsushinki and Toshiba.

Photo 2: XDCAM EX3 Handycam by Sony.

Photo 3: P2HD VariCam by Panasonic.

Photo 4: CineAlta F35, a digital cinema camera by Sony.

Photo 5: Hi Motion, a high-speed camera by NAC Image Technology.