[Inter BEE 2009 Highlight Pickup!] Ikegami to "propose tapeless workflows for journalism" concept with a lineup including 5 new products
2009.11.17 UP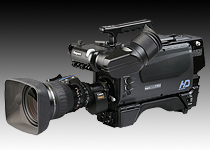 Ikegami will be exhibiting five new products with a concept "to propose tapeless workflows for journalism"

Rich lineup including the Ocris automated program transmission system

Main products on exhibit include the following:

[New products]
○ 2M/E digital video switcher, the HSS-200
The HSS-200 inherits the functionality of the existing model HSS-300 with even better cost performance.

○ Specialized digital FPU device, the PF-531
Designed to link up with tapeless devices, the PF-531 designed exclusively for digital FPU will go on show. This will be the first time the completed product is exhibited, and a demonstration expounding the equipment's excellent environmental durability is being planned.

○ Automated program transmission system Ocris
Ocris is an automated program transmission system that includes spot-compilation and 8-channel transmission with EPG linking capabilities The Ocris is an application that performs simple automated transmission in small-scale CATV stations.

○ 17-inch HDTV/SDTV full HD compatible multi-format LCD color monitor, HLM-1750WR
Ikegami will exhibit the new master-monitor class LCD color monitor 17-inch HDTV/SDTV full HD multi-format HLM-1750WR. This exhibit will complete Ikegami's 32, 24, 17, 10, 15 and 9-inch full HD monitor range, each delivering on the black reproducibility required for the master-monitor class. The company will be promoting the new model along with their current CRT 19-inch master monitor HTM-1990R.

○ Full digital 14-bit HD camera system, HDK-77EXa
Announced in May this year, the HDK-77EXa full-HD camera is a model designed for excellent cost-performance employing a 2.2 mega pixel (1080i) IT (Interline Transfer) CCD. Functionality including a switchable viewfinder means a single camera provides for highly-efficient application in both portable and studio situations.

[Ikegami's exhibit lineup]
GF Series
Camera systems
Wireless solutions
Switchers
Monitors
Megapixel network camera equipment

[Prototype exhibits]
Prototype devices to go on show will include a 3CMOS ultra-compact full HD camera, a 3D camera and H.264 HDTV IP transmission apparatus.
The ultra-compact full HD camera has been developed by Ikegami for the medical market. The camera provides a high degree of reliability required for specialist applications as well as being fully compatible with a whole range of broadcast uses.

The H.264 IP transmission system has been developed by Ikegami's CCTV division.

Further, Ikegami have made the most of their 3D know-how to progress forward from conventional 3D camera technology to offer a range of 3D solutions.

The appeal to file-based seamless device connectivity
General Manager Naoki Kashimura, Ikegami Corporate Strategy and Marketing Division, describes the concepts behind this year's presentation as follows:

"Ikegami has continued to pursue product development that delivers broadcasting solutions based on the 3 'wireless, tapeless and seamless' keywords. Our lineup is structured to offer wireless solutions centered on FPU, and tapeless solutions by the GF series. Since 2007, we have offered proposals for high-efficiency file-based, seamless equipment connectivity rooted in the concept of "system integration" as a grand three-year theme.

"Touching on these flows, the exhibit will seek to propose 'tapeless workflows for journalism' as its main concept, and through actual demonstration we invite visitors to experience first-hand the recording, editing, and transmission functionalities and performance available with the excellent connective capabilities of the editing and sever systems our lineup and new products provide. Of course, we don't expect broadcasting to switch over to new workflows all at once, but we have to acknowledge the continuing shift to modernized file-based processes in the medium to long term, and that is why our company aims to provide solutions that focus on the particular sections and improvements needed to meet these changes. The demonstration we are preparing will be as much of a hands-on experience as we can possibly provide."

As part of the "seamless" theme, Ikegami will exhibit an adapter for inserting CF card into the 32 GB flash memory GF pack. This product has already been announced at IBC and others. Another added function includes easy-to-use REC and quick-look operations using the Bluetooth feature on the GF cam. These will also be part of the hands-on experience on offer at the Ikegami exhibit.