[Inter BEE 2009 Exhibitor Information] Sony's 3D, high value-added content production workflow and next-generation technologies
2009.11.26 UP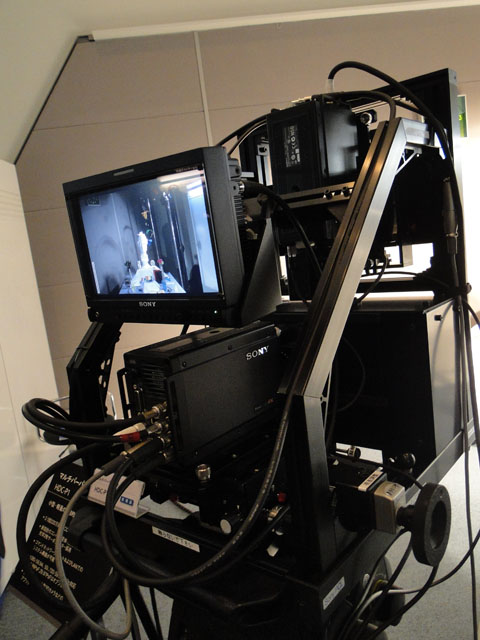 Sony exhibited at the booth floor and the company also presented 3D high value-added content production workflows and next-generation technologies in a separate room in the International Conference Center.

A large-size screen previewing of 3D content was featured at the Sony booth, and the equipment and technology used to achieve this preview were showcased in a separate room. Sony also showed 3D content using a digital cinema projector and RealD's 3D digital cinema system.

The exhibit in the separate room featured the following prototype exhibits:
 ・A 3D camera system with 2 HDC-P1 multipurpose broadcast cameras attached to a Sony PLC rig
・A stereo image processor for 3D image checking and correction
・The MVS-8000G Series Production Switcher
・The HDCAM-SR Digital Recorder SRW-5800 that realizes an L/R dual stream recording and playback

The aforementioned equipment were connected with a range of various brand non-linear editing equipment to introduce a high value-added 3D image production workflow all the way from filming and switching through to editing and transmission.

The compact and light-weight HD high-resolution HDC-P1 camera on display features a 2/3-inch 2.2 megapixel 3CCD with 2 optical servo-filters, and is scheduled for sale in February 2010. Used in conjunction with a 3D synchro-zoom lens, this combination provides a 3D camera system suitable for applications including live broadcasts.

As part of the array, the Abekas (U.S.A.) "Mira" production server that enables recording and transmission from 3D cameras was used. After first making an appearance at the NAB show in spring, Mira is already fulfilling roles in live broadcast and large scale display systems. Mira is equipped with 4 inputs/outputs, and in the demonstration Mira made synchronized 3D content recordings by configuring I/O into 2 dual systems.

When two cameras (left and right) are synchronized to work together for 3D, a miss-match between the left and right optical axis will inevitably occur. In answer to this problem, the exhibit also featured a high-speed correction processor slated for actual implementation by the beginning of next year.

Material processed in this way is then controlled with the MVS-8000G Switcher to cleverly combine two layers of 2D flying logos for transmission as 3D specifications.

For 3D content editing and production, materials stored in the SRW-5800 were edited using non-linear systems from Quantel, Avid and Autodesk via a network environment linking the gear with the switcher.

Also, a prototype multi-format transcoder was also on exhibit that can encode and transcode a wide range of formats and codec efficiently and in high-speed using the high-performance CELL/B.E multi-core microprocessor.